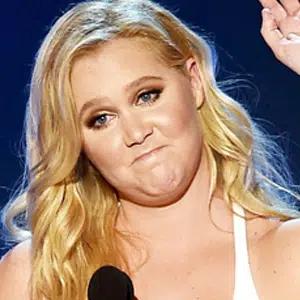 Amy Schumer was recently jogging through Chicago when she stopped in a Six Corners Mattress Firm and asked to use the bathroom. Employee Sagine Lazarre tells WGN-TV that on her way out, Schumer walked up to her and asked which mattress was her favorite. When she pointed at a $2,000 one, the comedian bought it for her as a gesture of appreciation. "I was was so shocked!"Lazarre says. After seeing the name "Amy Schumer" on the credit card, Lazarre investigated. "After she left, I Googled her name," she admits. "The lady that was right there talking to me is Amy Schumer. It was amazing. Unbelievable." The mattress came for Lazarre at the perfect time because she and her daughter just moved into a new apartment.
In this week's episode of Keeping Up With the Kardashians, Kris Jenner says that she's "done" with Caitlyn over her ex-husband's dishy new memoir, in which Caitlyn admits that she wasn't "comfortable" having sex with Kris during their 23-year marriage. "I read it and basically the only nice thing she had to say was that I was great socially at a party one time," Kris says of The Secrets of My Life. "Everything she says is all made up. Why does everything have to be that Kris is such a bitch and an a**hole?…I've done nothing but open up my home and my heart to a person who doesn't give a s**t. So I'm done."
Gwyneth Paltrow has announced that she is hosting her first "In Goop Health" wellness summit on June 10 in Los Angeles. The event will feature appearances by Cameron Diaz, Nicole Richie and Lena Dunham. It will include panel discussions, fitness and meditation sessions, organic beauty offerings, and a pop up shop. Tickets cost $500 to $1,500 and are on sale now.
Are Rob Kardashian and Blac Chyna back together? All signs point to yes! On Wednesday night, the on-again-off-again couple was spotted on a dinner date at Hollywood hotspot Tao. 
Drake has given the fan who entered his home without permission a break after choosing not to press charges. Drake's lawyer told the L.A. County District Attorney that the rapper doesn't plan to cooperate in the prosecution of the 24-year-old woman. As previously reported, the fan was discovered in Drake's home by a member of his crew. Upon being discovered, the woman was wearing one of Drake's hoodies and confessed to drinking a Pepsi, a Fiji Water and a Sprite.