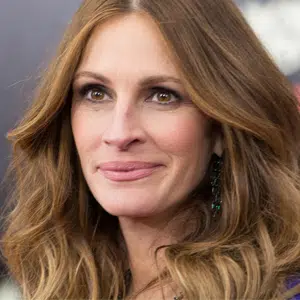 JULIA ROBERTS has been named "People" magazine's Most Beautiful Woman in the World for the FIFTH time . . . 26 years after she first won the title in 1991. She also won in 2000, 2005, and 2010. So what does she plan to do with her title? Rub it in GEORGE CLOONEY's face. He's only been "People's" Sexiest Man Alive TWICE. And she says, quote, "I'm going to mention that in my Christmas card to the Clooneys this year."
Caitlyn Jenner has admitted that she wasn't "comfortable" having sex with ex-wife Kris Jenner during their 23-year marriage. "My attitude is no different than it was in high school: I'm just not entirely comfortable with it," she writes in an excerpt from her upcoming memoir The Secrets of My Life. However, the 67-year-old Olympic medalist-turned-reality star insists that it didn't impact their sex life too often. "Since –let's not kid ourselves–everyone wants to know, Kris and I have good and frequent sex at the beginning," she confirms. TMI, Caitlyn.
How is Kim Kardashian like Emily Blunt's character in The Devil Wears Prada? She's apparently just one stomach flu away from her goal weight! On Wednesday, Kim caught flak on social media when she tweeted, "The flu can be an amazing diet. So happy it came in time for the Met [Gala], lol." (Funny enough, Blunt's Prada character made her stomach-flu remark after losing weight due to illness right before the movie's own Met Gala scene.) Needless to say, many of Kim's fans were not amused. "Kim Kardashian called influenza a diet," one Twitter user wrote, while another shared a famous Keeping Up With the Kardashians scene in which sister Kourtney scolds Kim for crying over a lost earring by telling her, "Kim, there's people that are dying."
Ed Sheeran wanted a tattoo to celebrate his song, "Galway Girl" and he to have the title in the handwriting of the actress featured in the video, Saoirse Ronan. So he asked her to tattoo him while they were in Glasgow for the taping. However, Ronan decided to have a little fun at Sheeran's expense, intentionally misspelling "Galway Girl" as "Galway Grill." Sheeran shared the news his fans at his recent Glasgow gig, and being good-natured, he said he was proud of her, because it's something he, himself, might have done. "It actually says Galway Grill. G-R-I-L-L. She really took the piss out of me – full on," he said.
Serena Williams is pregnant. She posted a picture on Snapchat of her growing belly, saying she's 20 weeks along. This is the first child for Serena and her fiancé Alexis Ohanian. They're also planning their wedding, but there's no date yet.
Disney has some huge shoes to fill with its live-action remake of "Aladdin". Robin Williams as the Genie? Who can even come close to touching that performance? Well, they may have found one of the only people who can. Will Smith is in early talks to do it. He was actually close to doing Disney's "Dumbo" remake, but that fell through for some reason. This could be an awesome fit, though. The original came out in 1992, and it was the highest-grossing movie of the year, with $217 million in the U.S. and $504 million worldwide. Madonna's ex-husband Guy Ritchie is directing the remake.