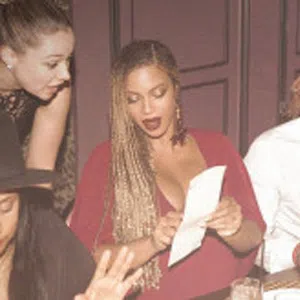 Nick Cannon revealed yesterday that the most diva thing he ever witnessed his ex-wife Mariah Carey do was listen to her hit song "Fantasy" as she gave birth to their twins Monroe and Moroccan in April 2011. Nick told Wendy Williams , "She shut the whole hospital down," Then he added, "When they was born, she made me play her music as they was coming out. It was a fantasy. They was dancing to 'Fantasy.'" Yes, that's correct; Nick and Mariah split in 2014 after six years of marriage, but have remained friendly since.
Fans of Beyoncé have turned a photo of the pregnant singer ordering food into a hilarious meme. Billboard reports that the photo in question was shared by Beyoncé earlier this week and shows her talking to a waitress while pointing at her menu. Here are 10 of the best captions written alongside the now-viral image this week:
"I actually invented Lemonade so it should be free."
"Take this $2.75 charge off here. I actually told y'all to take that soda back and then l ordered a water with lemon."
"I, as Beyoncé, will just have vegan ice water. The twins will have fried chicken, catfish nuggets, fries, mac & cheese, red beans & rice."
"Beyoncé: No, Blue has her own money."
"Beyoncé: Let me just have the…/ Waitress: How about I have them make everything on the menu and you can make a choice after seeing them!"
"Change 'Beyonce' to 'Beyoncé' and give me my damn writing credit."
"Okay, I don't know who ordered the gratuity."
"Instead of the Mahi Mahi, can I just get the one Mahi because I'm not that hungry?"
"I don't care what the menu says. Fries should come WITH my burger, not as a separate entree."
"Who is 'Gratuity' and why am I paying for her food?"
Disneyland visitors making their way through the Pirates of the Caribbean ride on Wednesday night were treated to a surprise appearance from none other than Johnny Depp, in full costume as Captain Jack Sparrow. "He acted exactly like his character in the movies," one eyewitness told E!, while another added, "It was a surreal moment for everyone on our boat! Best Disneyland experience our family has ever been a part of." Depp reportedly recited lines from the film franchise, as well as interacting with visitors as he held a sword. The next Pirates of the Caribbean installment, Dead Men Tell No Tales, hits theaters on May 29.
Kim Kardashian was on "Ellen" yesterday, and she spent a good five minutes talking about being robbed at gunpoint in Paris last year.
Kim got choked up a couple times while telling the story. But since this is Kim Kardashian, it's hard to separate the real reality from the fake, reality show reality.
Kim said she feels the robbery was "meant to happen" to her . . . because she was "definitely materialistic before," and now she's a "such a different person," who, "doesn't care to show off the way that [she] used to."
Since the robbers allegedly targeted her because she was flaunting her jewelry on social media, Kim said she's not into jewelry anymore, "It's not to say that I'll never wear jewelry again or anything like that. [But] I truly don't know if I'd ever feel comfortable . . . I truly don't know if I'd ever wear real jewelry again. Just my whole life has changed."
Now in the wake of that Ellen interview Piers Morgan wrote a column for Britain's Daily Mail about how he's not going to keep up with the Kardashian anymore because he's sick and tired of them.
Speaking about Kim's Ellen appearance, Piers wrote,
"It was Kim's first TV appearance since she was robbed at gunpoint in Paris last year, and she milked it like an over-eager farmhand in a field full of udder-bloated cows."
He said he almost believed all her talk about not being a show-off anymore, but then he caught himself, so he went to her Twitter. He wrote,
"Her most recent three Tweets all direct her 51 million followers to her 'Kimoji' merchandise website . . . in other words, as with all things Kardashian these days, it's one gigantic con trick . . .
"For a while, I enjoyed the Kardashian ride . . . but I don't find the Kardashian machine funny or harmless any more. It's grown ugly; very, very ugly . . . I want them gone from public life, [and] expunged from the airwaves."
Chris Soules' new legal team is arguing that the former Bachelor star did not flee the scene of a fatal car crash he caused earlier this week. "Soules' 911 call, released yesterday, proved that the initial knee-jerk coverage of this accident was incorrect. While initial reports suggested Chris fled the scene, the 911 call confirms that Chris in fact was the one who contacted law enforcement immediately," the statement from his lawyers reads. "During the call, he clearly identified himself and explained his role in the terrible accident. Soules attempted to resuscitate [victim Kenneth Mosher] and remained on the scene with him until emergency medical personnel arrived." Chris' preliminary hearing is set for May 2. If convicted of the felony charge of leaving the scene of a deadly crash, he could face up to five years in prison under Iowa law.
New Zealand declared this week that anyone under the age of 18 who wants to watch Netflix's hit series 13 Reasons Why will need adult supervision to do so. Entertainment Weekly reports that the country's Office of Film and Literature Classification expressed concerns about the suicide-themed drama on Thursday, noting, "13 Reasons Why brings up a lot of problems, but it doesn't really provide many solutions. Young people need guidance and support from the adults in their life in order to help keep them safe." The New Zealand office has placed the RP18 restriction on the show in hopes that it will foster conversations between at-risk teenagers and their parents.
Kate Beckinsale recently admitted that she had a crush Rob Lowe when she was a teenager. After being told this Rob responded by saying, "So amazing, she's one of my favorites." He continued saying, "That made my day. What's great about this business is you wake up one day and you go, 'Wait, this really happened, amazing." Now Kate disclosed her love for Rob on Instagram by sharing a photo of a postcard she wrote to herself as if it was from Rob. The note read: "Dear Kate, Yes I will marry you. See you soon. Love, Rob."
Iggy Azalea, Imagine Dragons and Joe Jonas' group DNCE are among the first performers named for the MuchMusic Video Awards on June 18th. The early performance slate includes Lorde, Julia Michaels and Jazz Cartier. The MMVAs, last year hosted by supermodel Gigi Hadid, will be held once again at the Much Music headquarters in Toronto. The awards show, besides airing live on the Much, CTV and VRAK channels, will live-stream on the iHeartRadio app.