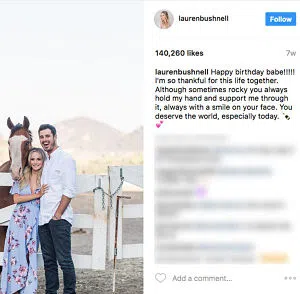 The Bachelor's Ben Higgins and Lauren Bushnell announced yesterday that they have ended their engagement. "It is with heavy hearts that we announce our decision to go our separate ways. We feel fortunate for the time we had together, and will remain friends with much love and respect for one another."
The couple met on Ben's season of the show, which premiered in January 2016.
Harry Styles admits that's he's "never felt the need" to label his sexuality. "I don't feel like it's something I've ever felt like I have to explain about myself," Harry adds that it's important to be progressive in a creative field. "It's weird for me–everyone should just be who they want to be," he adds. "It's tough to justify somebody having to answer to someone else about stuff like that." Harry, who has dated Taylor Swift and Kendall Jenner, is currently linked to food blogger and chef Tess Ward.
Odd couple alert! David Foster and Katharine McPhee (runner-up on fifth season of American Idol) enjoyed a PDA-filled dinner date at Nobu on Friday night. According to one witness, "David seen grabbing Katharine's face and kissing her cheek several times. Katharine was doing the same to David's face and they were acting as if they were a couple." The 67-year-old music producer and 33-year-old singer split two bottles of red wine and ordered several sushi dishes before leaving the restaurant together in an Uber.
Brad Pitt, who spoke openly about his split from Angelina Jolie and his decision to stop drinking in a recent interview with Rolling Stone, is no longer burdened by the skeletons in his closet. He says, "I've got no secrets. I've got nothing to hide. We're human and I find the human condition very interesting. If we're not talking about it, then we're not getting better." Brad goes onto say that he's now focused on "keeping the ship afloat" and "figuring out the new configuration of our family." But he's getting through it. "I'm not suicidal or something," he says. "There's still much beauty in the world and a lot of love. And a lot of love to be given. It's all right. It's just life."
Bill Gates took to Twitter yesterday to respond to the slew of tweets he's been getting from recent college graduates asking him to share his thoughts on life. The Microsoft co-founder and philanthropist, who dropped out of Harvard after his sophomore year, shared his advice and revealed what his greatest regret is in a series of tweets. Here are five of them:
AI, energy, and biosciences are promising fields where you can make a huge impact. It's what I would do if starting out today.
Looking back on when I left college, there are some things I wish I had known. E.g. Intelligence takes many different forms. It is not one-dimensional. And not as important as I used to think.
I also have one big regret: When I left school, I knew little about the world's worst inequities. Took me decades to learn.
You know more than I did when I was your age. You can start fighting inequity, whether down the street or around the world, sooner.
Meanwhile, surround yourself with people who challenge you, teach you, and push you to be your best self. As @MelindaGates does for me.
In the new issue of Harper's Bazaar, Taylor Swift gushes about her BFF Gigi Hadid. (So, I guess Taylor and Selena Gomez are really over…) Taylor says, "As a friend, Gigi is one of the first people I go to for advice. She has this incredible ability to see all sides of a situation and simplify it for you, to see the complexity of people… Gigi's #1 rule is to treat people the way she'd want to be treated, so she's on time (or early) to work, says hello to everyone on set, asks them how they are, and actually listens to their response." Taylor adds, "She [Hadid] is an innately kind and inclusive person who has managed to become a huge power player and businesswoman without ever compromising that."
Liam Payne has revealed why he and girlfriend Cheryl decided to name their baby boy Bear. As it turns out Liam wanted a more traditional name, but Cheryl wanted something more unusual, so naturally she won. He says he likes that Bear, as a name, is something you won't forget. He also says his son has already grown into the name. Liam and Cheryl welcomed Bear on March 22nd.
Kristen Bell has opened up about her approach to parenting her and husband Dax Shepard's two daughters, 4-year-old Lincoln and 2-year-old Delta. She says the 'one finger rule' is something they enjoy, "They said, 'Let your toddler experience things.' Like, 'I wanna touch that vase!' Rather than always saying, 'No,' you say, 'Let's do it! Let's do one finger.' So, my toddlers go around and touch everything with one finger." Kristen also reveals that she doesn't often tell her children "it's okay" when they're upset when they experience negative emotions. "Because they think, 'It's OK. I shouldn't be embarrassed. I shouldn't be sad," she explains. "So now when they get sad or embarrassed, I say, 'That's a stinky feeling, huh? I've felt it, too.' I just let them experience it, and hopefully it'll make healthy adults."
After serving up the official music video to her single "Bon Appetit" on Friday, Katy Perry announced Monday that she's coming out with a new album on June 9 called Witness, followed by a North American tour this fall. Witness will be Katy's first studio album since 2013's Prism.
When Step Up star Jenna Dewan Tatum appeared on Watch What Happens Live with Andy Cohen, she may have let more slip than she'd initially intended. Jenna, who is now married to Magic Mike actor Channing Tatum, addressed rumours of a dance-off between Justin Timberlake and Britney Spears (didn't happen!) and in the process inadvertently told the world that she dated the "Mirrors" singer. Andy asked her if she was the rebound chick post-Britney, but she said she wasn't.