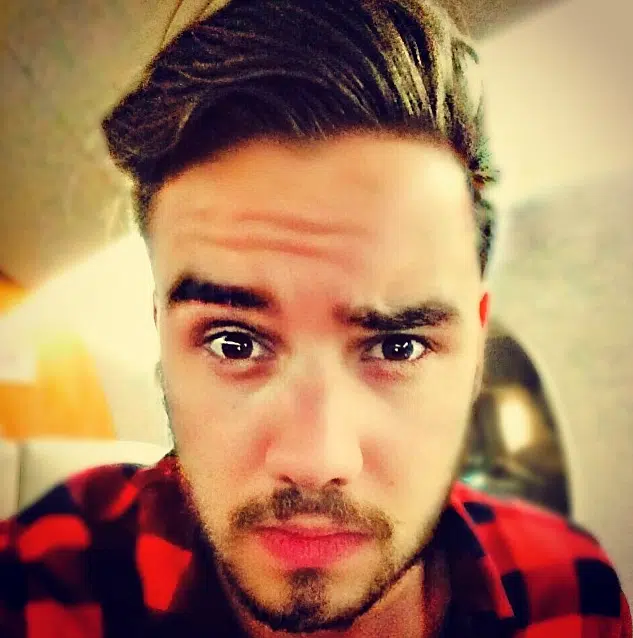 When Liam Payne was asked what he thought of his fellow One Direction bandmates solo music he was brutally honest. He said he digs the stuff that Niall is doing, but then he said, "But I think he did a great job of doing what he wanted to do. That's the way I'd put it best, I think. And I think he'd say the same thing about me."
Speaking of Harry, he did some Carpool Karaoke with James Corden last night. Harry and James also did some skits, they reenacted Notting Hill (Harry played Julia Roberts' character) and they did a scene from the Titanic where Harry delivered Kate Winslet's famous line: "Jack, I want you to draw me like one of your French girls."
Fifth Harmony singer Normani Kordei, who is the frontrunner on this season of Dancing With the Stars, has twisted her ankle just days before the show's finale. Her pro partner is Val Chmerkovskiy. Apparently the 20-year-old is going to fight through the pain to continue the competition.
Leonardo DiCaprio and his most recent Victoria's Secret model girlfriend, Nina Agdal, have broken up after about a year of expensive dinners and explosive lovemaking.
A co-writer for Selena Gomez's new single "Bad Liar" has confirmed the track is about Selena's new boyfriend The Weeknd. Songwriter Justin Tranter clarified rumours the song was about Justin Bieber after some site said it was. Tranter Tweeted: "It's actually about trying to hide magic feelings for someone new, but not being able to. Xo." Lyrics such as "Ooo, you got someone else / Tryna play it coy" also suggest that Selena fell for the "Starboy" singer while he was still dating ex-girlfriend Bella Hadid.
Kevin Hart reveals in his new memoir I Can't Make This Up that he totally bombed his audition for Saturday Night Live. In the book, Kevin reveals that he learned impressions of basketball player Avery Johnson, Robert De Niro and Denzel Washington for the tryout, but that things didn't go as planned. Specifically, he realized that "nobody in the room… knew who Avery Johnson was," and he "promptly forgot everything De Niro had even said in any movie." As Denzel Washington, Kevin just "yelled until I was embarrassed enough to stop." I Can't Make This Up hits shelves on Tuesday, June 6.
Amy Schumer's ex-boyfriend Ben Hanisch is doing okay following his breakup from Amy Schumer. Someone asked Ben's brother and he said, "Everybody's friendly. They're good." When he was asked why they broke up he said, "I'm not quite sure. I don't know all the details on what happened."
House of Cards star Robin Wright is none too pleased with President Donald Trump, but not for the reasons you may suspect.
Robin says the fifth season of House of Cards is done, but that writers are struggling over plots for the season 6 because Trump has stolen all of their ideas. So there you go, the current American government is playing out like a popular Netflix series.
Season 5 of House of Cards will be released on May 30th.
Danielle Bregoli is taking her "Cash Me Outside" schtick on the road. She is apparently going on tour where she will be lip-syncing and rapping for her alleged "fans." I hear that the tour has locked down two big-city venues so far and could earn Danielle $50,000 per event if she sells out.
Chrissy Teigen may be the author of a best-selling cookbook, but her 1-year-old daughter Luna isn't a fan of the food she prepares. If I try to steam green beans or puree them, she will not eat that," Chrissy admits on Friday's episode of The Rachael Ray Show. "She loves my mom's scalloped potatoes, she loves real food, but she will NOT eat my own food, which kind of breaks my heart. I take it personally!" The 31-year-old model goes on to admit that Luna is much more agreeable when she's being fed by her dad John Legend. "If John feeds her, she'll be like 'Dada! Dada!' and she'll eat anything!" Chrissy jokes. "Moms, you know there is just no getting around it. They just love their daddy."
Steve Harvey's ex-wife (of 12 years) is suing him for murdering her soul.
Steve and his second wife, Mary Shackelford got divorced in 2005, but here she is, 12 years later, suing Steve for $60 million. She's claiming a long list of offenses, including child endangerment . . . torture . . . conspiracy against rights . . . intentional infliction of emotional distress . . . breach of contract . . . and "soul murder."
The lawsuit states, "Soul murder is achieved by a combination of torture, deprivation and brainwashing."
Steve and Mary's divorce was very nasty . . . and she's spoken out before, claiming that Steve had many mistresses during their marriage, including his current wife Marjorie.
Six years ago, a judge reprimanded Mary for making false accusations about him. Steve hasn't commented on any of this.
You always remember your first time . . . especially if the Police are involved. Dwayne "The Rock" Johnson told his story to "Elle" magazine. It happened in a park. First mistake right there.
He said, "All of a sudden, a big spotlight came on us. Bang. You hear the cop roll down the window and say, 'Ma'am, are you okay? Will you come to the car?'
"She gets dressed, comes to the car. They say, 'Are you being attacked?' She says, 'No, that's my boyfriend.' It was a complete nightmare. Some stories are beautiful, but mine was not."