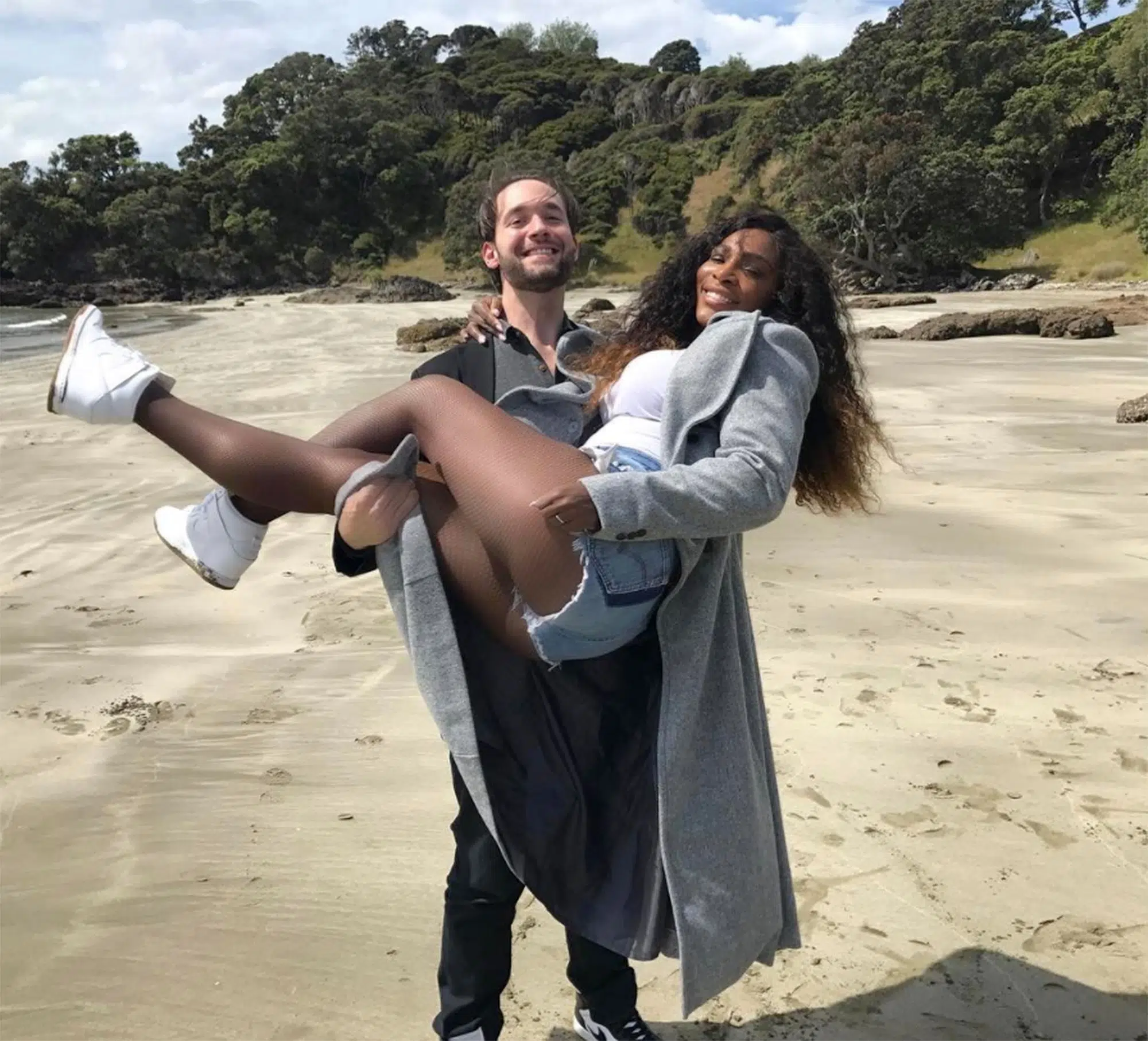 Rumours have swirled that Mariah Carey is back with her ex-husband Nick Cannon… when asked about it she said, "We were married honey. It took us two years to get divorced." "He's a great guy," she continued. "He's a great person, he's a great father." Finally, Mariah had some marriage advice for the reporter. "Don't do it." I don't think Mariah and Nick are back together… Mariah and her backup dancer were just vacationing together.
A writer for the bro-centric sports website Barstool Sports is under fire for attempting to fat-shame Rihanna. Chris "Spags" Spagnuolo shared a photo of the singer looking heavier than usual and wrote an accompanying article titled "Is Rihanna Going to Make Being Fat the Hot New Trend?" He went on to claim she was "pushing 180" and looked like she was wearing a sumo suit. The backlash against Barstool was swift and fierce. "Breathe easy, bud. Girls like Rihanna would never be into dudes like you so you don't have to worry about it," one reader tweeted. Another commented, "Barstool has always treated women like s**t. It's gross, but nothing new." Site founder Dave Portnoy removed the post on Wednesday night–but further infuriated critics by claiming it wasn't as bad as other publications were making it out to be. "I could have told you with absolute certainty that feminists would hate it and use it as an example of 'there goes Barstool being Barstool again,'" he wrote.
Serena Williams is expecting a baby girl! Her sister Venus Williams appeared to spill the beans during an interview with Eurosport on Wednesday. "What is the baby going to call you?" the reporter asked. "She's going to call me 'favorite aunt,'" Venus, responded with a laugh. "We're all like, 'Baby V, baby Lyn, baby Isha.' We all want the baby to be named after us." Serena and her fiancé, Reddit cofounder Alexis Ohanian, are expecting their first child together. The tennis superstar accidentally revealed her pregnancy via Snapchat in April.
Jennifer Lopez has revealed that her epic style has inspired friends to nickname her Barbie. She says they joke that they get to be around six different Jennifers all the time. Apparently, there is Bronx Barbie, that's when she's doing her music stuff, or Business Mogul Jennifer when she's all dressed up.
JLo says her style is an expression of who she is that day, and it changes every day.
Kendall Jenner announced yesterday that she has signed on to be the new face of Adidas. I guess that Pepsi commercial didn't really hurt her after all.
Tori Spelling and Dean McDermott have been ordered by a judge to pay the bank a $220,000 default judgment. The news came after the couple missed a subpoenaed court appearance last week regarding their on-going legal battle with City National Bank. Specifically, the bank says Tori and Dean failed to pay $185,714 plus an additional $2,407 in interest and $681 in late charges for a total of $188,803 from a 2010 loan. The bank is also asking Tori for $17,149, which she allegedly overdrew in September and has yet to repay.
In a new interview, Nicole Kidman reveals that she doesn't exchange texts with her hubby Keith Urban. "Keith and I don't ever text. We call," she explains. "That's just what we've always done. We're old school."
The fallout from Kathy Griffin's photo with President Trump's decapitated head has been massive. Despite her apology, CNN went ahead and fired her from their New Year's Eve coverage.
A statement said the photo was, "disgusting and offensive."
Things are so bad for Kathy that even the Squatty Potty doesn't want to be associated with her. Kathy doesn't work for the company . . . she just made one commercial for them. But they're pulling it.
Melania Trump may not enjoy holding her husband's hand, but she did come to his defense over the photo. Like I said, Kathy brought everyone together, no matter how improbable the alliances.
She said, "When you consider some of the atrocities happening in the world today, a photo opportunity like this is simply wrong and makes you wonder about the mental health of the person who did it."
Trump himself Tweeted this: "Kathy Griffin should be ashamed of herself. My children, especially my 11 year old son, Barron, are having a hard time with this. Sick!"
And if the severity of this hasn't hit home with everyone yet, this is where it might. Because according to at least one source, Barron just happened to see the photo on TV, and he panicked and started calling for his mother.
Yes, he thought it was real.
The first African-American "Bachelorette", Rachel Lindsay, has already had to deal with her share of idiots . . . and I'm not even counting the "Whaboom" guy.
On this week's episode, she booted DeMario Jackson when she found out he has a girlfriend.
And now this: Someone dug into Lee Garrett's Twitter and found some racist stuff. He also said he hates Islam, suggested that there's no such thing as a pretty feminist, and shared a story about people signing a petition to recognize Black Lives Matter as a terrorist organization.
There's been no word yet from Lee or ABC. But if they cast him knowing about this . . . they'll have a lot to answer for.
Pink never thought she'd be the person dropping her kids off at school and making Rice Krispies treats for bake sales. "I honestly can't believe how responsible I am," she tells Us Weekly. "All of a sudden I'm a soccer mom and doing the damn thing. No one would have guessed this for me. Honestly, I didn't realize that you could enjoy it so much." The 37-year-old singer goes on to say that she can't wait until her and husband Carey Heart's 6-year-old daughter Willow and 5-month-old son Jameson are at an age where they're horrified by everything their parents do. "Embarrassing them is the fun part!" she jokes. She adds that Willow is already getting there. "The other day, I picked up her friend, who started singing, 'Raise Your Glass,'" she recalls. "My daughter rolled her eyes and said, 'That's not even one of the good ones!'"