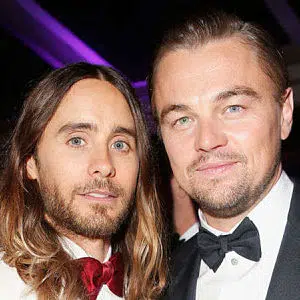 Ariana Grande paid tribute to the lives lost at her Manchester concert last month with a touching post on Instagram Wednesday. "First show back tonight. Thinking of our angels every step of the way," Ariana captioned a photo taken from below the Eiffel Tower in Paris, France. "I love you with all my heart. Grateful for and incredibly proud of my band, dancers and entire crew. I love you I love you."
Ariana suspended seven shows, including two in London, after terrorist attack at her show on May 22. After wrapping up her remaining shows in Europe on June 17, she will head to South America.
In a candid new interview with ES magazine, Jared Leto reveals that he's a loner who counts Leonardo DiCaprio as one of his only friends. "I don't have many friends so I do enjoy spending time with the few that I have," he admits. "Leo is really funny. I've known him for a very long time. But he's usually busy. There are people I'm really enamored with, but it's hard to find time to spend with them." The 45-year-old Oscar winner also shares that he's single and doesn't have a desire to have a family. "I think it's really important to be present if you have children," he explains. "I have a lot of… things to take care of."
Former Jersey Shore star Nicole "Snooki" Polizzi" has made it clear that she doesn't want her children following in her footsteps and appearing on a reality TV show. "No, goodbye. [I'd] kill them," she says. "They're going to be doctors and lawyers." Snooki admits, however, that she herself would be open to returning to the show for a reboot–to an extent. "Not for a long time because I have kids," she explains. "Like for a week." Snooki and her husband Jionni LaVelle have two kids together, 2-year-old Giovanna and 5-year-old Lorenzo.
In a new interview with, Lamar Odom's 18-year-old daughter Destiny describes her dad's previous marriage to Khloe Kardashian as "toxic." "A lot of people in our circle were confused," Destiny recalls of the period when Khloe returned to the picture following her dad's near-fatal overdose in 2015. Destiny goes on to explain that she was bullied in high school because of her dad's relationship with Khloe. "When your dad's an NBA player that's already enough, but when he's marrying a reality TV star, things are so public and you don't have a private life anymore," she adds. "It was crazy that my dad was getting married to this woman that I used to watch religiously. It was such a whirlwind, really."
George Clooney's father has opened about his sons' newborn twins after his wife Amal gave birth on Tuesday. "They are gorgeous. [My wife] Nina swears they have George's nose," says 83-year-old Nick Clooney. "Not both of them–one of them. The little boy looked like he had [George's] nose, his little profile." Nick added that he and his wife Skyped with George and Amal following the twins' birth in London. He also joked, "George–his eyes were glazed, so I'm not sure that he was sober. Now that's a joke!" Meanwhile, a George's rep said on Tuesday, "This morning, Amal and George welcomed Ella and Alexander Clooney into their lives…George is sedated and should recover in a few days." The births come mere days after Barack Obama visited the couple at their countryside mansion west of London.
Bob Saget has revealed that he loves having a girlfriend who's 23 years younger than him. (Shocker.) "I'm happier today," he gushes,"I'm the youngest 61-year-old I know!" The Fuller House star goes on to say that he wasn't looking for love when he met 38-year-old travel blogger Kelly Rizzo. "I didn't think I'd have a relationship again," he admits. "I was kind of in that 'just work, make people happy and take care of your kids until they're 90' mindset." He adds, "She's a remarkable person, and she's really talented." Bob, who has three twenty-something daughters with ex-wife Sherri Kramer, also shares that his kids adore his new flame.
Alex Rodriguez and Jennifer Lopez might not be together much longer, if there's any truth to what the "National Enquirer" is saying.
A-Rod has reportedly been sexting and exchanging naughty pics and video with a 34-year-old fitness model named Lauren Hunter. They've been friends with benefits on-and-off since 2011, and he recently started hitting her up again, according to the Enquirer's witness.
Lauren isn't Alex isn't that into JLo and that she doesn't think he's serious about the relationship. She event said when Alex and JLo are together he's probably picturing her. She says, "Jennifer is going to be shocked. She would be an idiot to believe he'd be faithful."
Heidi Klum says she decided to release a new coffee table book featuring nude photos of herself because she feels "more comfortable naked." "Walking on the runway in lingerie was always easier than doing a show with Zac Posen in a jumpsuit and heels where you have to go out and be all cool," Heidi says, "My parents have always been very free as well, maybe I'm just a hippie at heart." Heidi also opens up about why she chose photographer John Rankin Waddell to take the intimate photos featured in the book. "I felt very free doing those pictures with him, they were always very art-y," she adds. "I think nudes are beautiful and I love celebrating women's bodies." Heidi Klum by Rankin is available now.
My source tells me Britney Spears wants to have kids with her boyfriend Sam Asghari. Things are moving fast between them, according to my source, they couldn't be happier. I've heard that they have been trying to get pregnant for a couple of months. Britney is apparently willing to do whatever it takes. She has always gotten pregnant fairly easily, but she's more than willing to go through IVF if that's what it takes."
Justin Bieber and David Guetta are set to release their new collaboration "2U" this Friday. The two have garnered significant fan excitement by recruiting various Victoria's Secret Angels to promote the upcoming single.
Justin built up even more anticipation by sending out lyrics to his unreleased track in the mail. Dedicated Beliebers from across the country took to social media to post images of the lyrics letters they were sent in the mail.
In a series of clips posted to Instagram, Bieber enlists the help of Victoria's Secret models Elsa Hosk, Jasmine Tookes, Romee Strijd and Sara Sampaio to hype "2U." Stella Maxwell and Martha Hunt were also listed in a mysterious tweet by Justin on Monday. In the fifteen second clips, each girl lip-syncs along to a preview of Justin's unreleased tune with David Guetta.
Erin Andrews will never forgive her convicted stalker Michael David Barrett, who filmed her naked in a hotel room and uploaded the video online. "I have to relive it all the time," she says in a preview for this weekend's Sunday Night With Megyn Kelly. "It's shaped who I am as a person. It messed with my family. It hurt my mom and dad so bad and it still does." She continues with tears in her eyes, "You don't get any sort of pass for doing that."