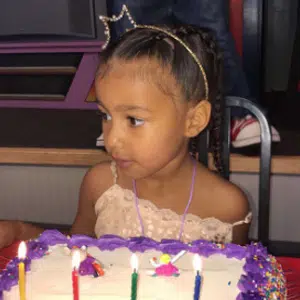 North West celebrated her fourth birthday on Thursday in a surprisingly normal way: by visiting Chuck E. Cheese. In footage shared on Snapchat, Kim Kardashian and Kanye West's first-born is seeing blowing out candles on a purple and white cake at the popular pizza chain while wearing a bedazzled crown headband. "Birthday girl," North's aunt Khloe captioned the shot. As expected, more than a few fans were surprised to see North having such a normal celebration, tweeting things such as, "Y'all, I can't tell you how happy I am that North is having her [birthday] party at Chuck E. Cheese. Like, all that money but still doing it simple."
Karrueche Tran has been granted a five-year restraining order against her ex, Chris Brown. According to TMZ, a judge sided with Tran in her legal battle against the singer. The actress/model testified in court against Brown on Thursday (June 15th), where she said that he abused her, threatened her and demanded that she return diamonds that he had given her.
Kae also said that Brown sent her threatening texts. In one message, the singer allegedly said, "I'm not being nice to you no more. If I see you out in public again and I'm there I will make you hate me even more, don't be anywhere I'm out in public, I'm going to ban you from all events."
Tran revealed other threats from Brown, such as, "B*tch I will beat the s**t out of you" and "I promise you I will make your life hell."
According to reports, Brown's attorneys questioned if Karrueche taunted the singer by saying he sold the diamonds he bought her. However, Karrueche said that the diamonds belonged to her and that she didn't need to return them. Brown's lawyers also mentioned Tran's failure to report the alleged violence of threats to the authorities earlier.
Tran was seeing a lifelong restraining order against her ex, who was not present in court and wasn't allowed to attend the hearing via phone.
The Backstreet Boys recently announced that they were expanding their Larger Than Life Las Vegas residency to add dates in November, January and February. And the group likely won't stop there – turns out they're really loving the "convenience" of being based in one place.
Asked if they'd add more than the 15 dates announced, Backstreet's Kevin Richardson said, "I think so. Just to not have to hop on a bus or a plane or unpack and pack in a new hotel room every night or whatever, to not have to travel and be able to stay in one place is very convenient for us."
Kevin adds that the Vegas schedule allows the veteran boy band to "be creative and get in the studio, and it allows us to go around and play other shows, because we're gearing up for…a new single and a new album coming up."
He adds, "We're planning on going on a world tour next year as well, we're going to be doing both. We're having a great time, and the reaction's been great, so things are good." Tickets for the newly added dates go on sale today.
Nickelback is one of the most successful rock bands on the planet. They're also arguably the most hated, although The Chainsmokers are giving them a run for their money. To this end, Chad Kroeger and his bandmates are offering the "Closer" duo advice on how to deal with critics. "Don't Google yourself," Kroeger posited, while guitarist Ryan Peake told People, "Just play for fans and just pay attention to that, because if you pay attention to people who don't like your band, it's not really why you're there."
Zoe Kravitz has opened up about living with her Big Little Lies co-star Nicole Kidman back when the Oscar-winning actress was engaged to her dad Lenny Kravitz in the early 2000s. "I hadn't seen her in a long time before Big Little Lies, but there was a point where we were all kind of living together," she tells The Edit. "I was about 13, and she would take me to see movies; she was so nice to me." Zoe added with a laugh, "I think she forgot that no one knew that." Kidman shocked fans earlier this year when she revealed for the first time that she'd been engaged to Lenny. "Well, I knew Zoë because I was engaged to her father. It's all in the family!" Kidman told The Edit. I love Lenny; he's a great guy."
It turns out the name Dimitri wasn't actually Ashton Kutcher and wife Mila Kunis' first choice to name their now 7-month-old son. "We were set on Walt, like Walt Disney. No Walter, just Walt, but then it changed last minute," Kutcher explained in a recent radio interview. "We were driving in the car and Mila turns to me and she's like, 'I don't think that our son's name is Walt. I think it's Dimitri, and also I think that Donald Trump is going to be the next president.'" He continued, "I had missed the whole name thing, because I was like, 'What are you talking about? Trump is not going to be president.' Then, like, two days later I remembered that she said it, and I was like, 'I think you're right about the name.'"
After four days of deliberations, the Bill Cosby jury cried uncle yesterday, and told the judge they were DEADLOCKED on the three sexual assault charges. And the judge basically told them to SHUT UP AND GET BACK TO WORK. He read them something that's commonly known as the Allen Charge, or the "Dynamite Charge". Although in Pennsylvania . . . where this trial is taking place, they call it the Spencer Charge. Basically, he told the jurors to re-examine their own views and opinions in order to reach a consensus.
If they come back to the judge and STILL can't make up their minds, that's a hung jury, and the judge can declare a mistrial. At that point it would be up to the prosecution to decide whether to try him again with a new jury. Of course they might not be deadlocked on all the charges. There are three, remember . . . and each one carries a possible 10 years in prison.
More and more actresses are coming out with stories about how misogynistic Hollywood can be. Emmy Rossum from "Shameless" is the latest. She says that one time her agent came to her with an offer for a "big movie". She didn't even have to audition. All she had to do was meet the director . . . IN A BIKINI. She says, quote, "He wanted to know if I was fat now. That was basically the question. Not in a bikini in the movie. Not naked in the movie. 'We really love your work, but we just want to see how tight your ass is.' Are you [effing] kidding me?"