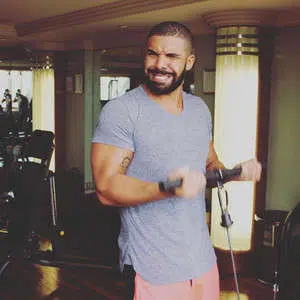 Drake was the big winner at the 2017 MuchMusic Video Awards last night. He took home the awards for Most Buzzworthy Canadian and Canadian Single of the Year for "One Dance." The night also saw Niall Horan being named Fan Favorite International Artist and Camila Cabello winning Best New International Artist.
Ariana Grande took to Instagram on Sunday to write an emotional note thanking her fans and commemorating the completion of the European leg of her Dangerous Woman tour, almost one month after the Manchester attack that killed 22 and left more than 100 injured. "Spending this time with you this month has been so very healing and special!" she wrote. "Thank you for being here. Thank you from the bottom of my heart for your generosity in supporting One Love Manchester and for helping the families as much as you possibly could. Thank you for bringing your absolute brightest, most passionate, contagious energy to these shows and for wiping my tears away. I'm immensely grateful!!!!" She added, "I hope you can feel my love, wherever you are because I'm sending you all that I've got. See you so soon."
So, we're pretty sure Beyoncé's twins are here, although all we have to go on is a Tweet from her dad, Mathew Knowles that said, "Happy birthday to the twins! Love, Granddad."
As for when she gave birth . . . it seems, based on that Tweet, that it happened yesterday, but other sources say she had them last Monday and there is some sort of minor issue that has kept them in the hospital all this time.
I've also heard that Beyoncé gave birth to a boy and a girl.
Katy Perry is likely experiencing a bit of an emotional roller coaster right now… her album sales for "Witness" are a little disappointing.
She sold 180,000 copies of her new album, which was enough to make it #1, but when you compare it to "Teenage Dream", which sold 192,000 in its first week, and "Prism" which sold 286,000 in its first week, it doesn't look that strong.
That said, Katy is still the queen of Twitter. She now has 100 million followers. Katy is trailed by Justin Bieber (96.7 million followers), Barack Obama (90.8 million), arch nemesis Taylor Swift (85.1 million), and Rihanna (74.1 million).
The Bachelor in Paradise contestant, DeMario Jackson's lawyer Walter Mosley is speaking out about allegations of sexual misconduct that led to the shut down of production on ABC's dating series.
The Bachelor in Paradise contestant is at the center of the scandal, along with fellow contestant Corinne Olympios. Multiple reports allege that an inappropriate sexual encounter took place on-set, with DeMario as the aggressor and Corrine as the victim.
Corrine also spoke out about the incident last week, referring to herself as a "victim" and saying that "although I have little memory of that night, something bad obviously took place."
DeMario's lawyer says the scandal has had a devastating impact on his client. "This has caused a lot of trauma — both physical and emotional injury. It's been difficult for DeMario and his family. He's a celebrity for all the wrong reasons."
Late last week, Justin Bieber took to Instagram to reveal that he's got a new tattoo on his leg that reads "Better at 70." The caption read: "I look back at a lot of things in my life, mistakes, insecurities. I have felt I've wasted a lot of time, it also makes me want to be better faster and longer! For me personally, I want to work every day to be BETTER AT 70." He also shared a video in which he improvises a song called "Better at 70" while accompanying himself and a friend on the piano.
Miley Cyrus' younger brother Braison made his runway debut in Dolce & Gabanna's Spring 2018 Milan Fashion Week show over the weekend. Miley took to Instagram to congratulate him, but she also threw in a little dig at the Italian fashion house:
"PS D&G, I STRONGLY disagree with your politics…but I do support your company's effort to celebrate young artists & give them the platform to shine their light for all to see!" she wrote.
It's not known if Miley is talking about Dolce & Gabbana's connection to Melania Trump, their controversial comments bashing gay adoption, surrogacy, and in vitro fertilization, or their use of animal fur in clothing. Either way, her remarks ticked off Stefano Gabbana, who commented "Ignorant!!!" on her post and then commented again saying that they would never work with her brother again: "For your stupid comment never more work with him ❤❤."
Then, Gabbana fanned the flames by making an Instagram post of his own, reusing Miley's pic and captioning it, "We are Italian and we don't care about politics and mostly neither about the American one! We make dresses and if you think about doing politics with a post it's simply ignorant. We don't need your posts or comments so next time please ignore us!!
Kevin Federline has opened about raising two boys with his ex-wife Britney Spears. Kevin didn't get to see Sean Preston and Jayden James this Father's Day because they are with their mom who is touring in Asia. Kevin is okay with it though, he says co-parenting is all about compromise. "You have to be willing to give up some of the things you would really like to do. My boys will be gone, their mom's off in Asia on tour… They are gone for the rest of the month." K-Fed, who has six kids total with three different women, including Britney, adds, "Having six, it feels like you're trying to control a basketball team. But it's worth it. All my kids are great; they get along."
Prince once offered to produce Shania Twain's album. It was after she and her husband (slash) producer Mutt Lange had broken up. She wasn't writing a lot of music, and was also suffering from a vocal cord disorder called dysphonia, which made it almost impossible to sing. Basically, she was in a bad place. She says, Prince was on her to get into the studio, but she had no voice and little motivation so it never did end up happening. She says that it her biggest professional regret. Shaina is making the round right now, promoting her new single, "Life's About to Get Good."
The judge in the Bill Cosby case declared a mistrial on Saturday, because the jury couldn't reach a verdict after 52 hours of deliberation. But he added, quote, "I remind everyone that this is not vindication or victory."
Bill is still charged with three counts of aggravated indecent assault, over a 2004 encounter with Andrea Constand. And prosecutors say they will retry him. There's no word when, and Bill is free on bail until then.