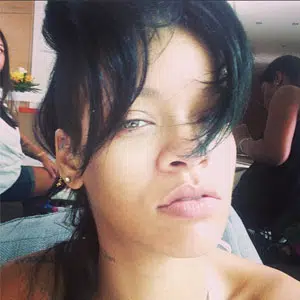 Rihanna recently reached out to a fan via direct message on Twitter. The fan asked RiRi how she got over her first heartbreak. And mentioned that he had been struggling. She messaged him writing, "Just believe that the heartbreak was a gift in itself! Cry if you have to, but it won't be forever! You will find love again and it will be even more beautiful! In the meantime, enjoy all that YOU are!!!" The fan then shared a screenshot of their conversation and captioned it, "Thank you, I love you @rihanna." That wasn't the first time Rihanna has reached out to a fan via DM… love that!
Harry Styles is back on the market! Harry was dating food blogger Tess Ward, but according to my source, they have ended their whirlwind romance after Tess realized that she was still in love with her ex-boyfriend. My source tells me Tess was in London this week, met up with her ex straight away–they've been inseparable since.
Downton Abbey fans, rejoice: An NBC Universal executive has confirmed that a movie based on the popular TV show is in the works and production will likely begin in 2018. The hope is to assemble 20 cast members from the TV series to participate in the big screen adaptation.
Kim Kardashian and Kanye West are reportedly ready for baby #3. According to my source, the couple has made a deal with a woman to act as their surrogate because Kim has a condition called placenta accreta that could be life-threatening if she were to get pregnant again. Kimye found the surrogate through an agency and have reportedly agreed to pay her $45,000, plus an extra $5,000 per kid if she winds up having multiples. The surrogate also gets a $4,000 bonus if she loses her reproductive organs due to the pregnancy (yikes!). In return, the surrogate is not allowed to drink, do drugs, handle cat litter, eat raw fish, dye her hair, use a hot tub or sauna, or drink more than one caffeinated beverage per day.
Lucy Hale has apologized for a comment she made about her weight over the weekend. The Pretty Little Liars star posted a throwback photo on Twitter of herself and her dad in honor of Father's Day. In a response to a fan she wrote, "Ugh, I was so fat." The 28-year-old actress deleted the remark soon after as critics slammed her for body shaming. She then wrote this statement: "Sometimes I forget that people are watching everything I do and I say things I don't mean. I'm extremely sorry if my comment about my weight offended anyone. Sometimes we can be our own worst enemy. I know people look up to me and I should be way more aware of what I say sometimes. Thanks for all the love and support. Hope y'all can forgive me!"
Courteney Cox is ready to become a mother again at the age of 53. She says she would carry someone else's egg and that she would love to do that with her fiancé, Johnny McDaid of Snow Patrol.
Speaking of Courteney she admits that she was doing a lot of stuff to her face to combat age, like injections and fillers, that ended up making her look worse.
She says, "I grew up thinking that appearance was the most important thing. That's kind of sad because it got me in trouble. I was trying so hard to keep up, and I actually made things worse. The next thing you know, you're layered and layered and layered. You have no idea because it's gradual until you go, 'Oh [shoot], this doesn't look right.' And it's worse in pictures than in real life. One friend [told me], 'Whoa, no more!'"
Fortunately, she was able to fix it by having the fillers dissolved. She says, "I'm as natural as I can be. I feel better because I look like myself. I think that I now look more like the person that I was. I hope I do."
Courteney thinks her face looks less "fake," because she has "movement" in it again. Courteney should talk to Nicole Kidman.
Kate Beckinsale isn't single anymore. She's got a new man . . . and he's not even HALF HER AGE! Kate turns 44 next month, and her new boyfriend Matt Rife is only 21! They've been together a few months now.
My source says everyone in Kate's circle loves Matt and are so supportive of this relationship. Apparently, he really is the sweetest guy and makes her so happy.
Matt is a comedian (slash) actor who's best known for his appearances on MTV's "Wild 'N Out".
On Tuesday, he may have been hinting at their relationship when he posted a picture of himself on Instagram, standing next to a sign for a Senior Citizens Center. And he said, "Age is just a number. Find someone you love, and take their breath away . . . even if that means putting a kink in their oxygen tank cord. #LifeAlertTypeOfLove". He later deleted it.
Ashton Kutcher has revealed that he didn't always have romantic feelings for his now-wife Mila Kunis. They've known each other for 20 years. They first met when they worked on That 70's Show together; at the time Ashton was 19 and Mila was 14. He recalls wondering if he was even legally allowed to kiss her for the show. He also said their relationship felt more like a brother/sister thing in the beginning… of course now they are married with two kids.
George Clooney has a tequila business with Cindy Crawford's husband, Rande Gerber. They are close friends and spent a lot of time drinking tequila together so they decided to make their own. One thing let to another and it has proven to be such a successful venture for them that they just sold their brand, 'Casamigos' for $1 billion.
A British company called Diageo just bought the brand for $700 million. And they'll pay up to $300 million more depending on how it sells over the next 10 years. Plus, George and Rande are staying onboard, so they'll continue to draw paychecks.