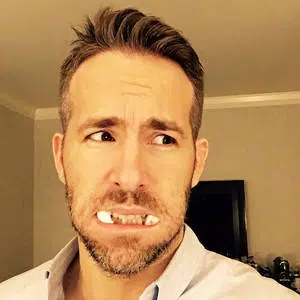 High school senior Gabi Dunn recently went through a tough breakup, so she photoshopped Ryan Reynolds over her ex-boyfriend in their prom photos and shared the revised images online. "My boyfriend and I broke up a few days after prom, so I decided to 'edit' the photos a little," she tweeted, tagging the Deadpool star. Reynolds was quick to respond. "We should photoshop me over his yearbook picture next," he wrote, along with the hashtag #DontMessWithGabi. Sounds like something Deadpool would do…
Lauren Conrad announced on Instagram Wednesday that she and husband William Tell have welcomed their first child, a son. "He's here! We're so excited to welcome Liam James Tell into the world!" Conrad captioned a picture of a cross stitch depicting the family. The 31-year-old designer and Tell, a lawyer was in the band Something Corporate from 2001 to 2004, tied the knot in September 2014. They revealed on New Year's Day that she was expecting and shared the baby's gender back in June.
Turns out, Ed Sheeran is still on Twitter – he just won't be reading anything on there any time soon. Though fans speculated that Ed would be going off Twitter for good following a recent interview, he actually took to Twitter and Instagram yesterday to clarify that he is still active on the social media site. On Instagram, he captioned a post, "Loads of hoo-har about me quitting stuff. I haven't quit anything, I'm just not reading anything." Sheeran recently said, "I've actually come off Twitter completely. I can't read it," based on the amount of abuse he receives. Instead of completely deactivating his account, though, he says that his tweets will be shared directly from his Instagram. As for reading material, he plans to stick to reading Harry Potter rather than online negativity.
Game of Thrones' Sophie Turner has revealed that the media attention on her relationship with Joe Jonas makes her feel like she's "living in a fishbowl." "It's frustrating [that] it's the most mundane things that make the news–how boring!" Sophie says in a new interview with Marie Claire. The actress goes on to explain she's also not a fan of people taking stealth pictures of her on their phones when they see her in public. "I find it really rude, and I will be rude back," she adds. "It's such an invasion of privacy. I could be out with my mum on her birthday and I will ask them to delete it. I would much rather them come up and ask for a photo. I will probably be fine with it… unless I look s**t!"
Rob Kardashian got kicked off Instagram yesterday for posting nude "revenge porn" photos of his baby-mama Blac Chyna . . . and then attacking her for allegedly being unfaithful.
It all started over the weekend, when Rob found out Chyna was cheating with some guy . . . because that guy had posted a picture of himself in their bed, wearing Rob's Versace robe.
So he went nuclear on her, which prompted them to break up for approximately the 95th time. Then she sent him a video of herself in bed with the other man . . . which Rob turned around and posted.
Then he posted the nudes, and accused her of cheating with multiple guys. He also started listing off all the stuff he's bought her, including $250,000 in jewelry and $100,000 worth of plastic surgery.
When he got kicked off Instagram, he moved his rant over to Twitter, minus the pictures.
Chyna responded by claiming Rob physically abused her, and also cheated on HER with multiple women. She also taunted him with videos of that jewelry he was complaining about.
No matter who's at fault for these relationship issues, the important thing here is that Rob posted nude pictures of Blac Chyna without her consent. So could he be brought up on charges of revenge porn? Well, one of the qualifications of revenge porn under California law is that the material is made public with the intent of causing the victim emotional distress.
And according to my source, Chyna actually liked the pics when Rob posted them on Instagram. So it might be hard to claim he caused her emotional distress.
Then again, he intended to . . . so even if he failed, there might still be a case there. And Chyna's NOT going to just let this go. Her lawyer says he's, "exploring all legal remedies and protections available."
Michael Jackson's pet chimp Bubbles is an artist now. Bubbles will be the star of an art exhibit opening in Miami on the 21st of this month. It's called "Apes That Paint", and that's exactly what it is . . . an exhibit of paintings made by apes . . . specifically, apes from the entertainment industry.
It's a charity event to benefit a group called The Center for Great Apes, which takes care of "celebrity" apes after they've been retired. That's where Bubbles lives.
Other residents include the chimps Jonah and Jacob, from Mark Wahlberg's "Planet of the Apes" remake, and Popi the orangutan, who played Clyde's girlfriend in the Clint Eastwood movies "Every Which Way But Loose" and "Any Which Way You Can".
Actor, Seth Rogen has a problem. His mother is talking publicly about sex.
Yesterday, Seth's mom Sandy Rogen Tweeted, "Falling asleep after sex is like shavasana after yoga!"
Seth could NOT deal. He replied, "Jesus [effing] Christ mom." And his sister Danya added, "Seriously. I actually gagged."
For those of you who don't know, shavasana is a yoga thing. It's actually what you do at the END of a session: You lie flat with your legs spread apart and your arms away from your sides, palms up.
It's supposed to rejuvenate the mind, body, and spirit. You know, just like sleeping after sex.
Tupac and Madonna dated briefly in the early '90s, but it didn't last. And now we know why: Because Madonna is white.
Tupac wrote a letter to Madonna in 1995, explaining why he let her go. He was in prison at the time for sexual assault.
He said, "For you to be seen with a black man wouldn't in any way jeopardize your career. If anything it would make you seem that much more open & exciting.
"But for me at least in my previous perception I felt due to my 'image' I would be letting down half of the people who made me what I thought I was. I never meant to hurt you."
He also told her, "Please be careful Madonna. Everyone is not as honorable as they seem. There are those whose hearts bleed with envy & evil. They would not hesitate to do you harm! Let my 6 bullets be proof of that!"
The letter is being auctioned off in a few weeks, with a starting bid of $100,000.
Lindsay Lohan wants everyone to back off Donald Trump. She Tweeted, "[DONALD TRUMP] IS our President. Stop bullying him, and start trusting him. Thank you personally for supporting the U.S.A."
She also said, "Donald, Ivanka, Melania, and Donald Trump Jr. are kind people. As an American, why speak poorly of anyone? #Faith. #July4th."
Trump hasn't commented, but he did share some love for Lindsay during an interview in 2004, when Lindsay was 18.
At that time, Trump said, "You have to like freckles. I've seen a close-up of her chest and [there's] a lot of freckles." And then he added, quote, "She's probably deeply troubled and therefore great in bed. How come the deeply troubled women, you know, deeply, deeply troubled, they're always the best in bed?"