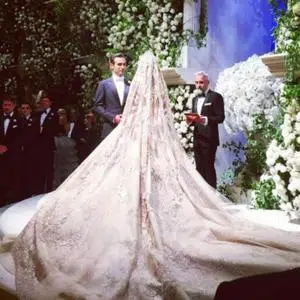 The son and daughter of two of the richest families in Russia were married in an extravagant ceremony in LA this weekend. Lolita Osmanova, the daughter of Russian oligarch Eldar Osmanov, reportedly had a $10 million price tag on her big day.
The socialite walked down the aisle Saturday in the fairy-tale wedding of her dreams. Aside from her 10-tier golden wedding cake and the $500,000 flower arrangements she picked out, the bride and groom enjoyed a private performance by none other than Lady Gaga herself at their venue in L.A.'s Dolby Theatre, which has also been the location for the Academy Awards, BET Awards and Latin Grammy Awards. Jason Derulo also took the stage for the newlyweds, performing a handful of his hits as well. For more pictures and details click here.
Rob Kardashian posted a whole bunch of graphic posts on social media Wednesday, accusing his ex-fiancée Blac Chyna of cheating on him with multiple men, using drugs and exploiting him financially. The images included a picture of her exposed genitals.
Rob was shut out of Instagram and then Twitter due to the graphic nature of his posts, but the damage was done. In California, posting nude photographs without someone's permission is illegal and defined as "revenge porn" or "non-consensual pornography." Chyna's lawyer Walter Mosley says he will explore "all legal remedies" as a result of the posts.
According to multiple reports, the maximum penalty if convicted is six months in jail and a fine of $1,000, but I'm sure they will sue and ask for millions in damages.
Rob's final tweet before being shut out of Twitter seemed to be a shout out to his family, who never really approved of his relationship with Chyna. He wrote: "I truly thought Chyna wanted to be a family and that's why I was so loyal to her but I learned my lesson and everyone else was right".
Speaking of the Kardashian's, Khloe and NBA player Tristan Thompson are definitely serious. During basketball season, Khloe flew to Tristan every week. Now that the season is done, Tristan will apparently be shacking up with Khloe in L.A.. My source tells me this will be a real relationship test to see how they do when they're together 24/7.
Ben Affleck is reportedly dating Saturday Night Live producer Lindsay Shookus, just three months after finalizing his divorce from Jennifer Garner. The two of them were spotted taking in Sam Mendes' play Ferryman last week in London (Ben is there for work right now). Apparently, it is in the early stages and they are taking it slow.
Miranda Lambert is on the cover of the August issue of "Cosmopolitan". They're calling it the "First-Ever Country Issue," and it'll be out next Tuesday. She took a "Cosmo Quiz" to promote it, and revealed a few things.
Like this one, "The last thing I googled was my boyfriend, Anderson East, to show off his cute pictures."
Her guilty pleasures are Tito's [vodka] and Cheetos. She thinks it's sexy when someone is kind. And her favourite binge watch these days is "The Golden Girls".
Activists for the Blind are Upset that Alec Baldwin has a new movie coming out next week called "Blind", where he plays a man who loses his vision in a car accident.
An advocacy group for the disabled thinks the character should have been played by a blind actor.
The group says, "We no longer find it acceptable for white actors to portray black characters. Disability as a costume needs to also become universally unacceptable."
Spencer Pratt is making fun of the fact that his former Hills co-star Lauren Conrad welcomed her first child on the same day that major drama between Rob Kardashian and Blac Chyna took over the news. Spencer retweeted Us Weekly's story about Lauren welcoming a baby boy and wrote, "Dang on #RobAndChyna day," adding an embarrassed-face emoji. Obviously, Spencer and his wife Heidi Montag are going to make sure they have their baby on a slow news day.
Jared Leto has revealed he had a "fantastic" time collaborating with Kanye West when they teamed up for a remix of the Thirty Seconds of Mars song "Hurricane" back in 2010. "We had a show in Spain, and I remember I called him up, and said, 'Hey, man. Do you want to come out and play with us in Spain? We're playing outside in the street," Jared says. "It was the night before, and he was like, 'Yeah, why not?!'" The Thirty Seconds to Mars frontman continues, "He was really generous and really kind and I just had a great time with him. I think the world of him."
Marc Anthony's latest romance is with a woman who's 20 years younger than him. (Shocker.) The 49-year-old singer is reportedly dating 29-year-old Italian model Raffaella Modugno. "Yes, we are a couple," Modugno recently confirmed to Italian magazine Oggi. "Our relationship is new so we are getting to know each other." Fans first speculated that Anthony was dating Modugno when he posted a photo on Instagram of himself lounging her on a couch and captioned it, "Making memories." However, it's worth noting that as recently as March, Anthony was "making memories" with 21-year-old model Mariana Downing.
Yesterday, Selena Gomez shared a little tease of her next track called "Fetish."