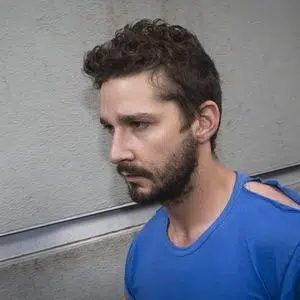 Stop everything! Shia LaBeouf is feeling remorse for his drunken arrest!
Shia LaBeouf had a full-on tantrum when he was arrested over the weekend for public intoxication. The video of his arrest was released yesterday and it sounded like Shia believed he was arrested because he was white. It almost seemed like he was race-baiting.
The latest videos have Shia telling the African-America cop he's going to hell, and telling the white cop that he must be feeling ashamed because his wife prefers black men.
Well, believe it or not, Shia is feeling remorse. He released a statement last night admitting that he sunk to a "new low." He said, "I'm deeply ashamed of my behavior and make no excuse for it.
"My actions warrant a very sincere apology to the arresting officers, and I am grateful for their restraint.
"My outright disrespect for authority is problematic to say the least, and completely destructive to say the worst . . . I've been struggling with addiction publicly for far too long, and I am actively taking steps toward securing my sobriety and hope I can be forgiven for my mistakes."
Courteney Cox, who is dating Johnny McDaid from Snow Patrol, continues to be open to having children at age 53. Of course, if they moved forward, Courteney would have to do IVF with a donor egg, and even then it could still be a struggle.  Courteney is 53, but she is healthier than a lot of women 10 years younger than her, so we will see. Johnny, by the way, is 40.
Rob Kardashian has reportedly apologized to his family for getting involved with ex-fiancée Blac Chyna, as well as for his recent cyber-bullying attack on her. Rob is very stubborn. It took him forever to admit it was a terrible idea to get involved with Chyna, but he finally has. The family apology comes after a judge ordered Rob on Monday to stay at least 100 feet away from Chyna. He is also banned from posting personal photos or information about her and her children.
Meanwhile, Blac Chyna has opened up to Us Weekly about her future dating plans and how she's dealing with online haters in the wake of her revenge-porn scandal. "I feel like the more I share [online], the more relatable I am," Chyna tells Us Weekly about her plans to continue using social media. She adds that she plans on "taking a classier route" by only responding to her followers' disses if they relate to her children or her family. As for her next man, Chyna says, "I would like somebody confident, who takes care of his business, is strong, healthy. Somebody that loves their family and treats their friends right–and treats me right."
Yesterday, the city council in Manchester, England, voted to make pop star Ariana Grande an honorary citizen in the wake of a May terrorist bombing that killed 22 people at the end of her concert at Manchester Arena.
Serena Williams sat down for a new interview where she talks about how making a ton of money has never really mattered to her. She only cares about winning. And this actually makes me believe it . . .
The first time she ever got a check for more than $1 MILLION . . . she tried to deposit it at her bank's drive-thru.
She says the check was so big, they wouldn't let her do it. She had to park and go inside.
Woody Harrelson just did a big interview with "The Hollywood Reporter", and he opened up about the time in 2002, when his wife Laura found out he had a drunken foursome with three women he met at a bar in London.
They weren't married at the time, but they'd been together since 1990 . . . after he'd hired her as his assistant in 1987.
He says three women at a bar asked if he wanted to take a, "walk on the wild side," and they went back to his place. It turned out one of them worked for a tabloid. Then they published a story about it, and he figured his relationship was toast.
But Laura's reaction when she found out made him realize how incredibly compassionate she is. Her first instinct was to feel sorry for him, because his private life was being blasted all over the news.
He says she wasn't fine with it. She was really upset, and he had to do a lot of groveling. But she eventually forgave him for it, and they're still together. They got married in 2008 and have three kids.
Christopher Nolan's new World War Two movie "Dunkirk" hits theaters next Friday. And it's being hyped with a trailer that's actually just an entire seven-minute scene from the movie. And since it isn't like a typical trailer, it's causing problems.
Apparently, people have been going out to see things like "Wonder Woman". And when the trailer for "Dunkirk" starts playing . . . and then KEEPS playing for a whole scene . . . they get confused and think they're in the wrong movie theater.
Some people have even left their seats and asked ushers to point them to the correct movie theater. Unfortunately, the seven-minute trailer isn't available online. So, if you want to see it, you'll have to go see something else and NOT leave your seat.