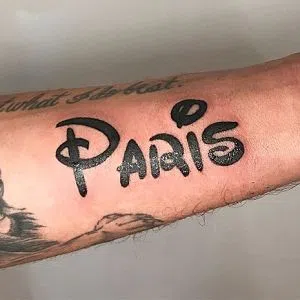 The Leftovers' Chris Zylka is very serious about his girlfriend, Paris Hilton. In fact, the actor is seemingly so committed to the reality star-turned-DJ that he got a gigantic tattoo of her first name on his forearm in fanciful Disney font. "My love just came home and surprised me with a Paris tattoo in #Disney font," Paris said on Snapchat. "I love you." The couple started dating earlier this year.
Blac Chyna's mom Tokyo Toni unleashed a transphobic, expletive-filled rant against Caitlyn Jenner over the weekend. Among other things, she calls Caitlyn a "man in a wig" in the video.
So, what has Tokyo so upset? Well, on Friday, Caitlyn co-hosted The View, where she called her estranged stepson, Rob Kardashian "stupid" for posting revenge-porn pics of his baby mama, Blac Chyna. She also admitted that she's never met Chyna and hasn't had a "serious conversation" with Rob "in years." Caitlyn's remarks came during a discussion with Mischa Barton about her revenge-porn case. Seated beside the OC actress was attorney Lisa Bloom, who's representing Chyna as she decides what sort of action to take against Rob.
Vogue has apologized after facing backlash for holding Zayn Malik and Gigi Hadid up as an example of gender fluidity simply because the couple borrows each other's clothes. In a statement the said, "We are very sorry–we missed the mark. We do look forward to continuing the conversation with greater sensitivity."
Shia LaBeouf's lawyer insists that his client is not an alcoholic, after the actor's arrest for public drunkenness and disorderly conduct in Savannah, Georgia, last weekend. Attorney Doug Andrews said LaBoeuf can't stop drinking once he starts, but he doesn't have an "uncontrollable urge" to drink. He added that Shia will not have another drink during filming "The Peanut Butter Falcon" in Georgia and will seek help when the project wraps.
Miranda Kerr gave Vogue the first look at her wedding to Snapchat CEO Evan Spiegel. Miranda wore a long-sleeved satin wedding gown created by Dior Haute Couture. She said, "A dress that fully covers you creates a sense of purity and mystery,"… which may have all been by design, after all, Miranda and Evan waited until marriage to consummate their relationship.
Speaking of their wedding, Miranda did something special for her billionaire husband on their big day. She made his favourite dinner. According to my source, Miranda prepared slow-roasted chicken with turmeric and lemon, for Evan, then a caterer replicated her recipe for the rest of the guests. The ceremony was small, only 45 guests were in attendance, and Miranda's son with Orlando Bloom, 6-year-old Flynn, was the only one in the bridal party.
The video for "See You Again" from the "Furious 7" soundtrack passed "Gangnam Style" last week to become the most-watched YouTube video ever. It's had over 2.9 billion hits since 2015.
But Charlie Puth says he almost didn't get featured on it.
He co-wrote and co-produced the song. But he was a nobody back then, and producers wanted a 'name' to sing it. So, a week before the movie came out, they said they were replacing his vocals.
But there was no way he was going to let that happen . . .
He explains, "I said, 'That's great . . . your movie comes out in a week, and I'm NOT gonna give you the song.' [Then] I hung up the phone." And after that, he says they backed down. So his vocals stayed in there, and he also ended up heavily featured in the video.
He didn't say who the producers wanted, but earlier this year, he said he originally recorded the vocals as a reference, possibly for Sam Smith.
I feel like I have seen the Carter family's dirty laundry. Read this until the end… Aaron Carter was arrested for DUI after being pulled over at 9:00 P.M. in Georgia on Saturday. Technically, he was arrested for suspicion of DUI, because he refused a breathalyzer and drug testing.
He was hit with three misdemeanors: DUI . . . possession of less than one ounce of marijuana . . . and possession of "drug related objects."
His girlfriend Madison Parker was also in the car, and she was arrested and charged with obstruction and two drug related charges. They've both posted bond and have been released.
This is Aaron's first DUI arrest . . . and it had some AMAZING timing.
Just five days before the arrest, Aaron was talking to the paparazzi about Shia LaBeouf's drunken arrest, and said, "You won't catch ME getting any DUIs. I don't have any DUIs."
For what it's worth, Aaron claims he was being targets because he's a celebrity. In a statement on Twitter, he said he was "aggressively" arrested inside an Auto Zone, after he went there looking for help with his car.
He said he has a medical license for the marijuana, and was "not in a moving vehicle while arrested and charged with DUI." He also took an angry swipe at his brother Nick, who made it sound like Aaron did need help.
Nick had Tweeted, "To my brother: I love you no matter what, and if you feel the need to reach for help, I'm here and willing to help you get better."
Chris Pine has opened up about what it was like to work alongside Oprah on the film A Winkle in Time. "I loved working with Oprah. I don't know what I like more, talking about books or acting alongside her. She's a force of nature," he gushes. "There's a lot to learn from a woman who has made this kind of impact, culturally and in the business, and you see why."
"Hot felon"-turned-model Jeremy Meeks and TopShop heiress Chloe Green were photographed packing on the PDA in L.A., just days after he filed for legal separation from his wife Melissa Meeks. Photographs show the two making out at the pool of their hotel on Friday, as well as dressing up for a night on the town. Melissa, who discovered her husband was having an affair with Chloe when pictures of them kissing on a yacht appeared online, has made it pretty evident that she's aware of the new couple's latest reunion when she posted on Instagram, "Better to be slapped with the truth than kissed with a lie."
Jay-Z sold 262,000 copies of his new album "4:44" in its first week for sale, and that was enough to take the #1 spot on the Billboard 200. It's his 14th time topping the chart, which extends his own record for most #1 albums by a solo artist.
And he'll have that record for a while. Bruce Springsteen and Barbra Streisand are tied for second with 11 apiece . . . and they aren't spring chickens. Overall, The Beatles have the most, with 19 #1 albums.
Technically, this was the second week that "4:44" was out. But it was a Tidal exclusive for Week One, and since Tidal doesn't report any data from it, Billboard ignored it.