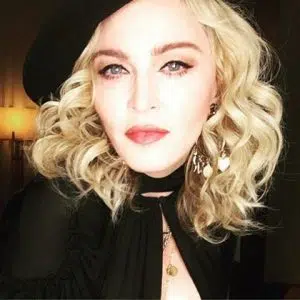 A judge in Manhattan has stopped an auction that was set to feature "highly personal items" previously owned by Madonna–including a pair of worn panties, a love letter from late rapper Tupac Shakur and a hairbrush containing strands of her hair. "I understand that my DNA could be extracted from a piece of my hair. It is outrageous and grossly offensive that my DNA could be auctioned for sale to the general public," the singer said in court papers. As part of his ruling, Manhattan Supreme Court Gerald Leibovitz ordered the New York-based Gotta Have It! Collectibles to yank 22 items from a rock-n-roll-themed auction scheduled for July 19.
Following his recent arrest for DUI refusal, Aaron Carter swears he does not drink. He says he'll occasionally have a sip of beer, but that's it. What he does ingest is medication. The 29-year-old singer says he uses marijuana to treat anxiety, chronic pain and to increase his appetite, but that he hadn't smoked for nine hours prior to his bust. He also says he's on pain medication due to a jaw injury. He noted that he takes Xanax, Propranolol for high blood pressure medication, and oxycodones for his mouth.
The director of the Game of Thrones can't understand the backlash Ed Sheeran received after his cameo on Sunday's episode. The reaction from fans was so awful, that Ed quit Twitter. He straight up, out of nowhere, deleted his Twitter account on Monday night. Jeremy Podeswa, the director, says Ed was right for the part because he needed to sing, and if people didn't know who Ed was, they wouldn't have thought twice about it.
Because Ryan Reynolds has a heart he called a fan of his, Daniel Downing. Daniel is 11 and has terminal cancer. The second Daniel's mom passed him the phone and he realised it was Deadpool, he asked if they could switch to FaceTime. Ryan happened to be on the Deadpool set; he was able to show Daniel around the set and Daniel showed off his Deadpool t-shirt that he was wearing. They chatted for about 15 minutes… and I'm pretty sure that 15 minutes out of Ryan's day made that kid's world!
Leave it to Chelsea Handler to grill Harry Styles on his four nipples. He confirmed while she was interviewing her that he does in fact of four nipples, and then he proceeded to show her where they are situated on his lower chest. Having more than two nipples is known as "supernumerary nipples" and is a condition that's more common in men than in women.
It's been a decade since Drake left Degrassi: The Next Generation to pursue a career in music, but he's still earning royalties from the show. Yesterday, Drake posted a cheque worth $8.25. He captioned it: "Degrassi money still coming in don't sleeeeeeeep…". Drake, who is currently worth an estimated $90 million, starred on Degrassi for eight consecutive seasons between 2001-2007 as a star basketball player who became paralyzed after a classmate shot him during the series' well-known school shooting episode.
What's up between Camila Cabello and Fifth Harmony?! It's been six months since Camila left the group and she has now unfollowed all of her former bandmates on Instagram. She also unfollowed the girl group's official account. Not sure what prompted her…. But in a recent interview, Dinah Hansen said, of the group post-Camila, "Let's just say we're in a better place now–there are no secrets in this circle."
I think we can all relate to what Emma Watson is feeling right now. The actress left three rings behind after getting a treatment at a spa in London, and by the time she realized she didn't have them, the spa was closed for the evening. The next morning, staffers said the rings hadn't turned up. So, Emma turned to Facebook for help, explaining that one of the rings was priceless to her: "One of them was a gift from my Mum. She bought it the day after I was born and wore it for 18 years, never taking it off, and then gave it to me for my 18th birthday. I wear this ring everyday, it is my most meaningful and special possession." Poor Emma!
Scott Disick and Bella Thorne were spotted engaging in some "extreme PDA" at the club Catch NYC on Monday night. "They were very lovey-dovey," an eyewitnes said. Interestingly, the outing came just hours after 19-year-old Bella insisted on Jenny McCarthy's radio show that she'd never been involved "sexually" with Scott.
David Beckham has a lot of tattoos, and now he has one more. He got the word "Dadda" tattooed on his neck. David and his wife Victoria Beckham have four children: Brooklyn, Romeo, Cruz, and Harper.