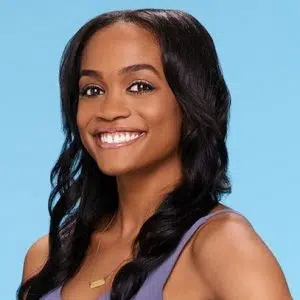 The Bachelorette, Rachel Lindsay is down to her final three suitors, and viewers are itching to see who she picks. But Lindsay is feeling quite content. She told People: "I love my fiancé. I just saw him yesterday. We just finished having our little rendezvous. We called it Happy Couples Weekend." The 31-year-old attorney admits that getting engaged on reality television does have its downside: "He's got to answer to family and friends, and so do I. And that's the kind of stuff we didn't prepare for — that's what makes it a little harder."
In the new issue of People, Blac Chyna opens up about motherhood and her rocky relationship with Rob Kardashian. In fact, she reveals that she spent most of the relationship living apart from him. They lived together at her house for two months while she was pregnant, but she says Rob stressed her out everyday and she wasn't going to be stressed while carrying so he moved out. Chyna experienced a different kind of stress after Rob unleashed a mean-spirited revenge porn attack on her in the breakup's aftermath, although she's choosing to move forward in a positive way. "If I was to go and do a very artsy, high-end photo shoot exposing my breasts, that's my choice," she says. "This is my body. It's my right. Once somebody else does it, it's just not right. I'm hoping that somehow, some way, this will let [more people] know, 'Don't do it.'"
Although Prince William married Kate Middleton in a lavish ceremony at Westminster Abbey, his younger brother, Prince Harry, seemingly prefers a more low-key route. My source tells me that Harry reportedly told girlfriend Meghan Markle "that they could get married somewhere private and elope, rather than have a showy wedding." There's a little matter of getting engaged first, of course. Either way, however, what isn't up in the air is apparently Harry's love for Meghan. According to my source, he wants to get married and have kids.
Katy Perry appears serious about wanting to end her feud with Taylor Swift. Speaking about her rival on Australia's TODAY show, Katy said, "I mean, I love her; I always have. We've had our differences, but I just continue to say, 'God bless her on her journey.'"
Ed Sheeran has shot down reports that his brief disappearance from Twitter was a result of people ridiculing his appearance on Sunday's season seven premiere of Game of Thrones. "
Last I'll say on this," he wrote on Instagram. "I came off Twitter because I was always intending to come off Twitter, had nothing to do with what people said about my Game of Thrones cameo, because I am in Game of Thrones, why the hell would I worry what people thought about that. It's clearly f**kin' awesome. Timing was just a coincidence, but believe what you want."
Ed added of the photo he included of him at the airport, "Here is an unrelated picture of me and my wonderful manager riding off into the sunset together."
On Wednesday morning, Radar Online shared a paparazzi video that they claimed showed Kevin Hart cheating on his pregnant wife with a singer from Miami. They claimed that Kevin and the brunette, named Monique, spent about 20 minutes sitting in his Lexus "canoodling" and that at one point, they got into the passenger seat together. The footage was taken on July 3 at 5 a.m. outside of a Miami hotel. Kevin was partying in Florida at the time, celebrating his 38th birthday while his wife Eniko Parish Hart stayed at home. Kevin has since responded to the allegations by posting a meme of himself laughing and captioned it, "At the end of the day, you just gotta laugh at the BS." However, this isn't the first time that Kevin's been accused of infidelity. His first wife, Torrei Hart, previously claimed that he cheated on her with Eniko.
Ben Affleck has dropped out of Netflix's Triple Frontier to focus on his health and personal life. The thriller is expected to move on without him.
The movie has been in the works since 2009. It has been through a lot of changes already: Tom Hardy and Channing Tatum dropped out in April. Ben joined in May, and now he's out. I'm sure the people involved are wondering if it's ever going to happen.
Pink posted a photo of herself cooking with her son Jameson Moon strapped to her chest Monday night and the Internet went wild. Commenters jumped on the multitasking mom calling it plain old "wrong." One commenter lashed out, saying Pink is "ridiculous to put a child in a dangerous situation," while another shared that when she cooked with her baby, the child was strapped to her in a more protected fashion: "Always wore my kid while cooking but I had her in a BACKpack… Too many things could go wrong while cooking." Still, a lot of moms had Pink's back. One wrote: "The mom shaming has to stop," adding that "My daughter cooked with me from the time she was a baby, it was a beautiful experience that we still share today." Do you think Pink was being irresponsible?
Following a shocking report which alleges that R. Kelly is keeping a cult-like harem of young women in various residences, one of the 50-year-old R&B star's former lovers confirmed much of the account. She claims that R. Kelly films all sex acts between himself and/or the "brainwashed" young women in his homes (he's got "at least three iPads" rolling at all times), will wake them up out of a dead sleep to get it on (or instruct them to get it on with each other), makes them call him "Daddy," and won't let them leave or enter rooms without his permission. "He's really f**ked up," Kim says of R. Kelly. "He's gotten off for so long. It's time." For their part, R. Kelly's reps continue to either deny or plead ignorance to all allegations.