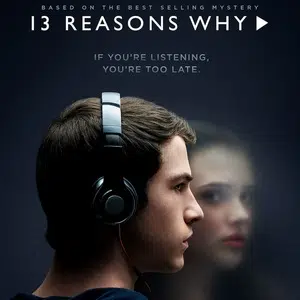 When Netflix premiered the show 13 Reasons Why, critics expressed concern that it would lead to susceptible teenagers committing suicide. And a new study published in JAMA Internal Medicine indicates that those concerns were warranted. Researchers looked at Google Trends data from the show's release on March 31 through April 18. They found that following the show's release, suicide-related internet searches went up by a whopping 19 percent. Specifically, searches for "how to commit suicide" climbed by 26 percent and "how to kill yourself" by nine percent. On a more positive note, searches for "suicide prevention" went up 23 percent and "suicide hotline number" rose 21 percent. Regardless, lead researcher John Ayers tells Global News that "the data shows that 13 Reasons Why isn't fit for public health."
Chrissy Teigen took to Twitter on Monday to hit back at a Twitter troll who suggested that President Donald Trump blocking her on Twitter was the best thing that would ever happen to her. "Congrats on peaking," the user wrote in a now-deleted post. Chrissy responded, "I have a best-selling book, great boobs, a family I love, am literally eating pasta on a lake in Italy, and I married rich." Fans applauded Chrissy for her quick comeback and even model Ruby Rose chimed in, writing, "They really are great boobs." Others weren't as impressed. "If she really is content with her life, then why the hell would she even care what some stranger over the internet is saying about her?" one wrote. Another mocked her by tweeting, "I'm vain. I brag about money because I feel it makes me better than others. But I'm probably extremely self-conscious, because I was bothered by a stranger's tweet and felt the need to tell everyone all of this." Chrissy has since deleted her tweet.
Harry Styles is dating Victoria's Secret model Camille Rowe, at least, that's what I hear.
Beyoncé is in talks to appear in and produce the soundtrack to the remake of The Lion King. Not only that, but she is in negotiations to play Nala! Disney has reportedly agreed to pay a whooping $25 million to secure Beyoncé's involvement with the project.
In other Beyoncé news, I hear that she is hard at work in the studio with the intention of releasing a new album soon. I've also heard she is working hard in the gym because she will want to support the album with a full-on tour. She is not looking to stay at home with her three children, she is going to continue to work and will take them on the road with her! I'm told that she is feeling very inspired and motivated right now.
Model Amber Rose is considering getting a breast reduction this year and wants advice from fans who've gone through the process. Amber took to Instagram yesterday to share a photo of herself in a black leotard that highlighted her ample curves and captioned it, "My boobs are stupid heavy, my back hurts and I can't wear cute lil shirts without a grandma bra… Are there any ladies out there that are much happier even though you have breast reduction scars? And no, I don't have implants so they can't just cut around the nipples. Tell me about ur experiences." Fans were happy to weigh on, but were divided on the issue. "I had a reduction almost two years ago and it was the best thing I've done for myself," one wrote. Meanwhile, another countered, "Big boobs are awesome, never change please. You inspire girls like me!"
Ryan Reynolds is known for his hilarious parenting tweets, like the time he claimed he buried his 2-year-old daughter James in the sand and only returned to shovel her out the next day. Well, Blake Lively has just revealed that Ryan's tweets are entirely fabricated. As if any of us needed her to confirm that. She says, "He may as well work for The Enquirer. When he says 'my daughter,' he's never, ever talking about her. Everything is a completely made-up scenario." She also says he often reads her his tweet ideas for pre-approval. "He'll run them by me sometimes just to make me laugh," she says. "But oh, I'm so in love with him when he writes that stuff. I mean, I'm in love with him most of the time, but especially with that."
HBO became the target of a major cyber attack yesterday. So far, an unreleased episode of Ballers and Room 104 landed online. A script allegedly from next week's fourth episode of Game of Thrones surfaced as well.
HBO chairman and CEO Richard Pleple sent an email to his staff alerting them of the breach. He said they were working around the clock to protect "our collective interests."
Sam Hunt's "Body Like a Back Road" made history this week by overtaking Florida Georgia Line's "Cruise" as the song that has spent the most weeks atop Billboard's Hot Country Songs chart. The single hit 25 consecutive weeks at the top of the chart yesterday. It has also crossed over to the pop charts and jumped into the top 10 of the Hot 100 all-genre chart.