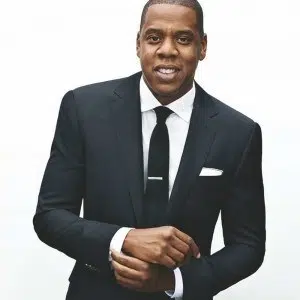 JAY-Z has a man crush! Jay has likened his friend and Coldplay frontman Chris Martin to William Shakespeare. "I have been in the industry long enough to know when I'm in the presence of a genius… and Chris Martin is just that," he continues saying, "In years to come, Britain will look back at him as a modern-day Shakespeare… He is an incredible recording artist, an incredible songwriter, but where he really comes alive is performing live." Jay advises, if you have the chance, see Coldplay on stage!
Beyoncé may soon add "NBA investor" to her list of achievements. According to my source, Bey, who is a Houston, Texas, native, is interested in buying a partial stake of the recently-for-sale Houston Rockets franchise. JAY-Z once held a less than one percent stake in his hometown Brooklyn Nets.
Real Housewives of Beverly Hills' Brandi Glanville has apologized for saying that Real Housewives of Miami star Joanna Krupa has a "smelly p**sy." (Classy stuff.) The two reality stars reached an out-of-court settlement in the 2015 defamation suit filed against Brandi by Joanna. "I want to apologize to Joanna Krupa for the statements I have made about her," Brandi said in a statement. "I regret making such statements about Joanna Krupa; I also certainly never intended my statements to be taken so seriously and out of proportion. I apologize as I never wanted my statements to affect Joanna Krupa's reputation and I wish her nothing but continued success in life."
Brandi was hit with a lawsuit after she appeared on Watch What Happens Live! and shared that her co-star Yolanda Foster's ex-husband informed her that he had an affair with Joanna and that her lady parts smelled funny.
Kanye West has filed a $10 million lawsuit against his insurers for refusing to pay up when he canceled his Saint Pablo Tour due to a mental breakdown. According to a suit filed yesterday in Los Angeles Superior Court, the insurer is "implying that Kanye's use of marijuana may provide them with a basis to deny the claim and retain the hundreds of thousands of dollars in insurance premiums paid." Kanye's lawsuit alleges breach of contract, breach of good faith and fair dealing. The rapper was hospitalized at the UCLA Neuropsychiatric Hospital Center last November and canceled his remaining 21 tour dates.
Mariah Carey has weighed in on reports that Lionel Richie is in talks to appear as a judge on the reboot of American Idol. Her advice was, don't do it! After saying that she said she was kidding, but we all know her run on American Idol was rocky at best. She did go on to say that she thought both Lionel and Katy Perry would do a great job… although Lionel has not been confirmed.
Danielle Bregoli, best known as the "Cash Me Outside" teen featured on Dr. Phil, has been sentenced to five years probation in connection to several charges. She was sentenced yesterday after pleading guilty to four charges back in June–including 2 counts of grand theft, possession of marijuana, and filing a false police report. Other charges were reportedly dropped as part of her deal.
Billie Lourd has recently opened up about her late mother Carrie Fisher's candor and humor. In an interview, she recalls a memorable moment with her mom, saying, "I remember a time when I was nine years old. I got in trouble in school for stealing something out of someone's backpack, and she picked me up and she sat me down in the car. She turned to me and said, 'Are you going to grow up to be an a**hole?' And I started crying. She talked to me like an adult my whole life. I always think that now: I don't want to grow up to be an a**hole!"
Ryan Reynolds likes a good prank. And he played his best one ever on a friend who left town for a week. Ryan painted his entire office a muddy, ugly sort of red colour. But he didn't just paint his office that colour, he painted everything inside his office; like the inside of his desk, every pencil, every pen, everything.
James Franco has revealed that he battled depression in his teens and twenties. The actor admits that he has a very addictive personality. He says at 17 he became obsessed with performing and it became everything to him. It got to the point where he didn't even socialize. That led to him feeling isolated and lonely and as a result he fell into a depression. Thankfully he recognized it and was able to get the help he needed. Now he's directing a lot more and is loving that!
"The Big Bang Theory" was renewed for two more seasons back in March . . . those will be the show's 11th and 12th. But they also might be the final two seasons, according to the show's creator, Chuck Lorre.
He was recently promoting the spin-off "Young Sheldon" . . . and he said that he could see how these two seasons "would be the end of the series."
The production costs have ballooned to $10 million per episode, but it's still delivering in the ratings, so a CBS exec said they'd like to keep it around as long as they can . . . even if that means it continues for 20 years.