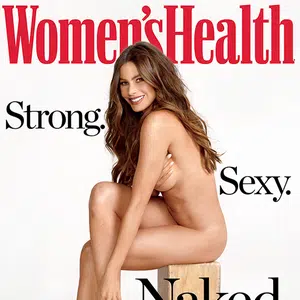 Sofia Vergara poses nude on the cover of Women's Health less than a month after her 45th birthday, because she won't let age keep her from having fun naked. Sofia believes that being naked is powerful and sensual and fun. It's been like that for her all her life. She says, "I'm Latin, so we grow up going to the beach in a G-string." In fact, she's so comfy with herself that she's even shared her bra size. "I can barely cover my boobs with two arms–I'm a 32-triple-D!" she declares. "My boobs are real, and I had a baby."
My source tells me Madonna fired an assistant during a flight from New York to Los Angeles. Apparently on the plane she told the girl, 'You're done here. Take the next plane back to NYC – you're fired.' Madonna expects her employees to be prepared. Afterward, some of Madonna's team joked that all future assistants should be fitted with a parachute, just in case Madonna wants to toss them off the plane.
Justin Bieber took to Instagram yesterday to explain his decision to cancel his Purpose tour. He wrote, "I'm so grateful for this journey with all of you… I'm grateful for the tours but most of all I am grateful I get to go through this life WITH YOU!" he continued saying, "Me taking this time right now is me saying I want to be SUSTAINABLE… I want my career to be sustainable, but I also want my mind heart and soul to be sustainable. So that I can be the man I want to be, the husband I eventually want to be and the father I want to be. This message is just an opportunity for you to know my heart, I'm not expecting anyone to understand, but I do want people to have an opportunity to know where I am coming from!"
Oprah, who has been candid about her struggles with weight, has revealed that she's not necessarily on board with the movement of women accepting their bodies at any weight. Here's what she said, "This whole P.C. about accepting yourself as you are–you should, 100 percent, [But] for your heart to pump, pump, pump, pump, it needs the least amount of weight possible to do that. So, all of the people who are saying, 'Oh, I need to accept myself as I am'–I can't accept myself if I'm over 200 pounds, because it's too much work on my heart. It causes high blood pressure for me. It puts me at risk for diabetes, because I have diabetes in my family."
Master of None star Aziz Ansari has revealed that he no longer uses the internet and has deleted email and all social media apps from his phone. He says, whenever you check your phone, it isn't even about content, it's about seeing a new thing. Once he deleted everything he realized, the things he was looking up, really weren't that important. He also said he feels much better and is currently reading 3 books.
Gwen Stefani is reportedly working on a Christmas album. She has registered a handful of holiday-themed song titles, including one she co-wrote with her boyfriend Blake Shelton. The track titles are "Christmas Eve," "My Gift Is You," "Under the Christmas Lights," "When I Was a Little Girl," and "You Make It Feel Like Christmas." That last one is the one that lists Blake Shelton as a songwriter.
Did you know that Donald Trump sued Sharknado over not being casted as the President in the movie "Sharknado 3: Oh Hell No!"?! Details at 8:40.
In January of 2015, the presidential election seemed like it was going to be between Hillary Clinton and Jeb Bush. It'd be another five months before Donald Trump entered the race.
But Trump did have his heart set on being the President . . . in "Sharknado 3: Oh Hell No!". He didn't get the gig, and that made him very angry . . . angry enough to run for the actual presidency. Sort of.
According to my source, the producers initially wanted Sarah Palin, but she turned them down.
At the time, Ian Ziering had just done "Celebrity Apprentice", so he suggested Trump. The producers agreed . . . they sent Trump an offer . . . and he said YES, and that he was "thrilled" about it.
The negotiations got serious over the next few weeks . . . but then Trump went silent. His lawyer told the producers that it was a tricky time, because Donald was thinking about running for President for real.
Time was running out, so the producers hired Mark Cuban to take the role. But when Trump heard about it, he was furious.
One of the producers says, "We immediately heard from Trump's lawyer. He basically said, 'How dare you? Donald wanted to do this. We're going to sue you! We're going to shut the entire show down!'" So, Trump, right?
For what it's worth, Trump's lawyer admits he had a dinner with Ian Ziering to discuss "Sharknado 3", but he wouldn't comment on the rest of it.
The new season of "Will & Grace" that kicks off next month isn't exactly picking up where the original show left off. They're just going to straight-up ignore some stuff. For instance, at the end of the original run, both Will and Grace were married, and each had a kid. Well, that's gone. We're back to them being single, childless, and living together. And remember how Jack and Karen moved in together? Nope. Jack is Will and Grace's neighbor again, and Karen still lives in her mansion.
Miley Cyrus writes songs in her sleep. She dreamt that she was in a car with her sister Noah and they were listening to a song on the radio and talking about what a smash it was. Then she woke up and wrote it! As for her hit song "Malibu", she wrote that in a car on her way to "The Voice".