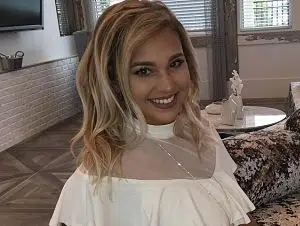 There are a lot of people out there who dream about their celebrity crush reaching out to them over social media and asking them out… well, Jessica Gober isn't one of them. Jessica works as a receptionist at a gym in Savannah, Georgia. Somehow, Justin Bieber saw a video she was featured in, and apparently, he thought she was hot, because he sent the gym a message.
It said, "Who's that girl in your last post?" And as if his intentions weren't clear, he also included the heart emoji.
Jessica was shocked when she found out. She Tweeted some screenshots, and said, "Did this actually just happen . . . LMAO. Justin Bieber just messaged the gym that I work at, and asked who I was!"
Justin didn't ask her out . . . technically, but obviously he was getting at something. Sadly, for Justin, there will not be a love connection. Jessica has a boyfriend. She Tweeted some photos of them together, and said, "I've got everything I need right here."
So, BBC accidentally aired a nude scene during its live News at Ten broadcast last week. Eagle-eyed viewers noticed that as reporter Sophie Raworth was introducing a sports story, a man sitting at a desk behind her was watching a clip of a woman standing in front of a man and taking off her top to expose her breasts. Well, True Blood star Anna Paquin has identified herself as the woman featured in video. She hit up Twitter, writing, "MY BREASTS!! SO FUNNY ON SO MANY LEVELS." The actress also expressed amusement over BBC's statement that it would be investigating the situation. She tweeted, "'Looking into the matter?' What's there to look into? My t**s photobombed the news because someone was watching #True Blood in view of camera!"
Katy Perry and Orlando Bloom were spotted getting cozy over the weekend at an Ed Sheeran concert at the Staples Center in Los Angeles. Several eyewitnesses tweeted on Saturday night that the 32-year-old pop star and 40-year-old British actor were holding hands and kissing as they watched the show. "They were holding hands and walking together," one eyewitness tweeted. The couple's reunion comes just six months after they issued a statement saying they were "taking respectful, loving space" from each other.
Amber Heard and Elon Musk have issued a joint statement about their split–marking the third time that they've inexplicably felt the need to publicly address the subject. "Having read recent articles about our relationship, we would like to speak for ourselves," the former couple said in a joint statement released Friday. "The distance has been really tough on our relationship, because we haven't been able to see each other much. All relationships have their ups and downs, of course." They added, ""People occasionally send out speculation, which has no basis in fact, without our knowledge, believing that that they have our best interests in mind… It is worth bearing in mind that events are always amplified and dramatized in a high profile relationship, whether the people involved like it or not (and we definitely don't). The reality is that this is just a normal relationship with a giant magnifying glass applied." Both the 31-year-old actress and 46-year-old entrepreneur had already issued respective statements about their breakup, which was first reported on August 6.
Modern Family star, 19-year-old Ariel Winter and Levi Madden took to Instagram on Friday to commemorate their nine-month anniversary. Levi wrote on Insta, "Happy 9 month anniversary to this beautiful woman!!! Every day is an adventure and I couldn't be happier." The couple's anniversary comes after Ariel's recent defense of her decision to date and live with a man who is 10 years older than her.
An employee at an Atlantic City Days Inn is backing up a woman's claim that Usher once had sex with her in her hotel room after inviting her onstage at one of his shows. The unnamed Days Inn employee claims that she saw Usher come into the lobby of the facility shortly after midnight on November 16, 2014. The woman he was meeting there then greeted Usher and brought him back upstairs. Usher is currently facing a group lawsuit that alleges he's had sex with several people without telling them that he has genital herpes.
Taylor Swift will not have to pay $3 million to David Mueller, the former DJ who allegedly groped her during a meet-and-greet four years ago.
David had sued her for ruining his career . . . because he was fired after her people complained to his bosses. They claimed he reached under her skirt and grabbed Taylor's naked backside, but he denies it.
The judge threw out the case against Taylor on Friday, saying she can't be held liable because David wasn't able to prove that she personally attempted to have him fired.
The book isn't closed on this yet though. The jury will still decide whether or not Taylor's team and her mother can be held liable. They were also named in the suit, and the cases against them were not thrown out.
Also, the jury will rule on Taylor's countersuit for $1. She's accusing David Mueller or sexual assault and battery, and the $1 amount is just a symbolic thing to use this as an opportunity to stand up for other women.
A final verdict is expected this week. Since the case is ongoing, David didn't comment on the judge's ruling . . . but it's considered a big blow to his lawsuit.
It may be time for Tom Cruise to stop doing his own stunts! Remember a few years back, when he clung to the side of a plane for "Mission: Impossible 5 – Rogue Nation"? Well, a recent stunt for "Mission: Impossible 6" did not go so well.
There is footage of him jumping between buildings. He leaps from some scaffolding, and clings to the side of a building. But it looks like he either over-shot it or under-shot it, and he hit the side of the building pretty hard. Afterward, he had a pretty mean limp.
There's another video from a different angle where he misses even worse, and slams into the edge of the brick building.
Of course, he was wearing a harness, so when he missed the landing, he didn't fall to his death. It looks like he could have broken a rib or two though.
Kate Winslet was pleasantly surprised that working with Justin Timberlake wasn't a "complete nightmare". The pair star together in Woody Allen's latest film, 'Wonder Wheel', set in 1950's Coney Island. Kate calls Justin "such a wonderful person". She says that she would turn to him and say, "Do you know what, Justin Timberlake? The best thing about you being in this film is that you're really not 'Justin Timberlake'. If you had really been 'Justin Timberlake' it could have been a complete nightmare, but really you're not 'Justin Timberlake' at all, you're just some guy named Justin."
(To which he replied, "Thanks. I think".)