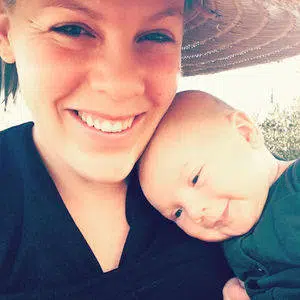 P!nk has weighed in on the feud of the decade, picking a side in the seemingly ongoing beef between Taylor Swift and Katy Perry. During an appearance on a UK radio station, P!nk was asked "Taylor or Katy?" and her answer was a somewhat hesitant: "Taylor? Is that okay?" "You can't win no matter what you say, anyway," she added. "Everyone wakes up offended." Pink also chose "Netflix and chill" over "Big night out," Instagram over SnapChat, singing in the shower over karaoke, and her hit "Get the Party Started" over her hit "So What."
Jerry Lewis died of natural causes yesterday at the age of 91. He was famous for his comedy movies from the '60s . . . his early work with Dean Martin . . . and for his annual telethon for the Muscular Dystrophy Association.
Taylor Swift's social media accounts went dark Friday, sparking speculation that she will be announcing a new album soon. Taylor's profile photo is missing from her Twitter page, profile and Facebook and all the photos have been deleted from her Instagram account. The 27-year-old singer's website taylorswift.com features a black screen. The change in Taylor's online presence has many believing the singer is preparing to announce a new album. Taylor's last project, 1989, was released in October 2014.
Beyoncé will release a limited edition How to Make Lemonade vinyl box set that comes with a 600-page coffee table book on the making of her visual album. The new book gives a peek behind-the-scenes of the making videos as "Sorry," "Formation" and more, as well as never-before-seen intimate photos of Bey, husband JAY-Z, and daughter Blue Ivy. The photo book includes lyrics from the record and personal essays in Beyoncé's handwriting.
It is available for pre-order now at beyonce.com. The $299.99 box set is estimated to ship later this summer.
Madonna launched her luxury skin care line, MDNA Skin, in Japan, Hong Kong, Taiwan and South Korea in 2014, but now, her U.S. fans will finally be able to buy it… and her Canadian fans, if we cross the border. You can't deny that her skin looks pretty flawless… so it might be worth the trip. The funny thing regarding her launch of her products in America is her approach to it; she said she was "tired of hearing people complain that they can't get it in America"… like, sorry your fans are annoying you by wanting to make you richer than you already are?! The line will launch on September 26th.
Robin Thicke is expecting his first child with girlfriend April Love Geary. The baby's due date is March 1st, which was the birthday of Robin's late father, Alan Thicke. Robin, who is 40, and April, who is 22, began dating publicly in May 2015, appearing together at the Cannes Film Festival. Robin is already a father to a 7-year-old son, Julian, whom he had with his ex-wife, actress Paula Patton. Paula and Robin separated in 2014 and divorced the following year after 10 years of marriage.
The Chainsmokers and Shawn Mendes are two of the acts featured on Dare to Live, a new MTV docu-series that follows Rory Kramer, a videographer, as he travels around with musicians and films them performing at festivals and concerts. He'll also be taking each act on an "outrageous, thrill-seeking adventure," to encourage them to "get out of their comfort zone." Other acts featured include Iggy Azalea, Steve Aoki, Krewella, Khalid and more. I've seen the trailer and it looks pretty awesome!
Miley Cyrus' music video for her new single, "Younger Now," has gotten nearly 10 million views since it was posted on YouTube on Thursday. Miley channels Elvis in the video, which is kinda fun. The song features lyrics like,
"Feels like I just woke up. Like all this time, I've been asleep. Even though it's not who I am, I'm not afraid of who I used to be. No one stays the same."
"Younger Now" is also the name of the album, which will be released on September 29th.
Kim Kardashian West is continuing on her seemingly unstoppable mission to conquer American culture. The latest victory: Kim will fill in for Kelly Ripa and co-host ABC's Live with Kelly & Ryan with Ryan Seacrest on Monday, August 28th. The Keeping Up with the Kardashians star will sit down with Eric Dane and country singer Kellie Pickler, plus share intel on the upcoming E! season of KUWTK, which Ryan Seacrest co-created.
This will be her first time co-hosting the show with Ryan, although she did previously co-host with Kelly in 2012.