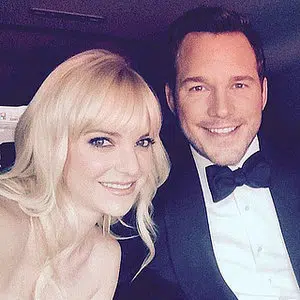 Channing Tatum recently appeared on a U.K. radio show and learned of a hopeless man's predicament: This guy named Joss wanted to propose to his girlfriend Emily, but he couldn't afford a ring. Since Emily was a fan of the Magic Mike star, Joss hoped that getting Channing involved in the proposal would make up for the lack of jewelry. Channing offered to be the ring in the proposal, he then called Emily on the phone and introduce himself before allowing Joss to take over the call. Emily responded to Joss' proposal by giggling and saying yes, but she also added, "And Channing, it's a shame I'm not marrying you. Joking, Joss!" Channing laughed, but quickly defended Joss. "I wish I was as smooth as Joss when I proposed to my wife [Jenna Dewan Tatum]," he admitted. "You got a good one, em!" He went on to deliver an impersonation of Joss suavely proposing to his girlfriend.
Katy Perry has opened up about how she and her "Feels" collaborator Calvin Harris ended their feud: "We just bumped into each other and he said, 'I think I have a song that maybe you should come check out,'" she explained in a recent radio interview. "I was like, 'Cool,' because we had always meant to work together for years and years and years." She went on to reference the Twitter feud they got into when Calvin pulled out of her tour back in 2011, "We've had little falling outs here and there," she admitted. "We'd had some public Twitter spat … Eight years or so had passed. It was time to put all that behind us." She added, "I came to the studio… he played me this one part for this new song called 'Feels' and I was like, 'Oh yeah.' This is like my favorite song off the record. I was just down to do it."
In a teaser for Sunday's episode of Life of Kylie, Kylie Jenner reveals that she feels like a new person after ending her three-year relationship with Tyga. "I've had more fun this past month than I have in like years," she admits. "Like the last three years of my life were just like a blur. I just stayed in the house all day." ow it's like, I feel like I can be more myself," The 20-year-old adds, "I feel way more free. I'm just like really, genuinely happy right now."
Chris Pratt and Anna Faris, who announced earlier this month that they were separating, are reportedly trying to salvage their relationship by attending couples therapy. My source tells me it's the first time they've ever been in counseling together and it only happened after they split. My source also says they are committed to it and are trying to keep the pressure low by doing it out of the spotlight.
Chris and Anna were married for eight years and have a 4-year-old son named Jack.
Halsey has defended her decision to appear on the cover of Playboy after a fan accused her of being a fake feminist. The exchange started after a follower commented on Instagram, "You are a feminist but you flash your boobs in Playboy magazine." The singer was quick to respond saying that she can show her boobs in Playboy, speak at the Planned Parenthood Gala with Hillary Clinton, shake her a** on 300 stages, give a speech at the United Nations, etc…you get it. She said woman are multi-dimensional.
In every interview she does, Jennifer Aniston finds herself talking about how she doesn't have any children. And of course, the tabloids have been speculating over whether or not she's pregnant for over a decade! Jennifer says,
Jennifer Aniston is sick of the tabloids speculating over whether or not she's pregnant. "Having a child, as we know, is no one's business except the couple or individual that's going through it," she tells Glamour. "Nobody's right to judge someone else's choices. No one knows what's going on beyond the four walls of your home, of these people who are having or not having children. It's a very sensitive area to go to, especially. It's sensitive to me."
Halloween lover Heidi Klum has already started preparing her costume for this fall. "I always start in the summer. Things are being built already." Her costume normally includes a lot of prosthetics to change her face and body, so I can understand that she already has people working on it. Heidi is known for her extravagant costumes, and says that this year she's going for a creepy vibe.
On Tuesday, Pennsylvania police were called to an orthodontist's office because Jon and Kate Gosselin (of Jon and Kate Plus 8) got into a huge fighting match. No arrests were made, but police escorted Kate out of the building and left their 13-year-old daughter with Jon at her request. Now, Jon's attorney says, "it should be known Jon has been aggressively and relentlessly fighting for his kids. Jon is frustrated by recent events but will not be derailed in his efforts to do what is right."
Katharine McPhee is fighting back. She and other celebrities have had private nude photos of themselves leaked online due to a hack and according to Katherine, the hack is an issue not for the celebrities whose photos were released but for everyone.
She says, "The photos that are mine I am not ashamed of. I love my body and they were taken for a man I was deeply in love with, or for no one but myself. But what is also truly disgusting is that these sites include photos that do not belong to me, and are not of my body, and I've learned this happens continually." She adds that all people – celebrities or not – should be able to have "reasonable expectations of privacy" in photographs stored on their phones and iCloud.
Melanie "Mel B" Brown is speaking out about that cup of water she threw at fellow America's Got Talent judge Simon Cowell on Tuesday night.
It all went down right after an escape-artist's act flopped and Simon likened it to Mel B's wedding night. Mel B, of course, is in the midst of a very messy divorce from Stephen Belafonte, who she says physically abused and sexually exploited her.
The former Spice Girl threw her drink on him and stormed offstage.
Host Tyra Banks piped up immediately, saying: "Mel B is out. This is live TV…this is LIVE TV!"
Mel B later said she only had one regret, and that is that it wasn't cranberry juice in her cup, because that would have made him really sticky. It sounds like they're cool.