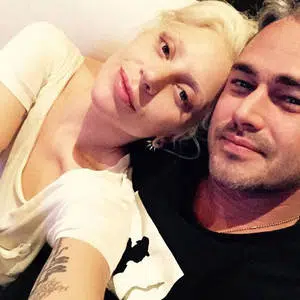 Lady Gaga's ex-fiancé Taylor Kinney showed his support for Gaga by attending her concert at Chicago Wrigley Field on Friday. Several fans took to Twitter to share news of his attendance and many took photos with him. "I met @taylorkinney111 last night and he's such a cool guy. Best drunk selfie I've ever taken," one tweeted. Gaga and Taylor ended their five-year relationship last summer. He proposed to her on Valentine's Day in 2015.
Katy Perry took a dig at Justin Bieber while hosting the MTV Video Music Awards last night. The diss came during a skit where Katy brought a fake baby onstage and suggested that babies bring more social media likes. When DJ Khaled interrupted her to explain that his 10-month-old son Asahd is the only baby worth following online, she joked, "My baby knows the lyrics to 'Despacito' unlike some other babies I know." As expected, the crowd "oohed and awed." In case you don't know what she was talking about, Justin famously forgot the words to 'Despacito' during an impromptu performance at 1 Oak in New York City last May.
In related news, DJ Khaled's 10-month-old son Asahd stole the show last night wearing a nearly $2,000 custom suit. It was a Gucci suit embroidered with little monsters (that consisted of an $820 jacket, $580 pants and $275 leather shoes).
Kendrick Lamar was the big winner at the award show, winning six of the seven categories he was nominated in. In addition to winning Video of the Year, Kendrick's visual for "Humble" won Best Hip-Hop Video, Best Cinematography, Best Direction, Best Art Direction, and Best Visual Effects. The night also saw the ladies of Fifth Harmony winning Best Pop for "Down," marking their first VMA win following the departure of Camila Cabello. Later, Pink was recognized with the Michael Jackson Video Vanguard Award–and used her acceptance speech as an opportunity to tell her 6-year-old daughter that beauty comes in all shapes and sizes.
The ladies of Fifth Harmony appeared to throw major shade at ex-member Camilla Cabello by having an unidentified fifth person fall off the stage during their performance at the MTV Video Music Awards. The moment in question happened at the top of the group's medley of "Angel" and "Down," when the stage lights revealed five women standing on risers and wearing puffy silver jackets with their faces hidden. But as the four members of Fifth Harmony lifted their hoods to show their faces, a fifth member–presumably meant to represent Cabello–fell backwards off the stage. Responses to the stunt on Twitter included, "THE SHADE!" and "Camila is probably crying in the club watching Fifth Harmony f**king Slay at the VMAs."
Taylor Swift and Ticketmaster have joined forces to launch a controversial new system that allegedly helps fans buy tickets before bots and scalpers. Fans can register on Ticketmaster's portal Taylor Swift Tix and complete various "unique activities" to earn points that advance them in line for tickets to the singer's Reputation tour. However, many of these "unique activities" involve buying Taylor merchandise and pre-ordering her album Reputation. "What Swift and Ticketmaster have essentially done is alleviate the stress and anxiety of dealing with scalpers… by making Swift herself one," writes Consequence of Sound. "What else do you call someone who charges you more than the listed price for a ticket to a concert? Not only that, Swift is charging extra to ensure a place in line for tickets—not the tickets themselves."
JAY-Z has finally revealed why he and Beyoncé named their twins Rumi and Sir. He says, "Rumi is our favorite poet, so it was for our daughter. Sir was like, man, come out the gate. He carries himself like that. He just came out, like, Sir."
Nick Jonas recently called out a fan named Zak Hanzal for making fun of his height after the two took a picture together. Hanzal shared the photo on Instagram over the weekend and captioned it, "@nickjonas u need a few more inches bruhh," along with an emoji crying with laughter. Jonas was unamused and responded in the comments section: "You need some manners 'bruh.' I didn't need to stop to take that picture with you. Just rude. Very rude." However, Jonas urged his fans to leave Hanzal alone after they began trolling him. "Hey ya'll… it's all good," he wrote. "No need to spread the hate." Hanzal has since changed his photo's caption to read, "One of the most humble superstars… MY MAN @nickjonas." According to Google, Jonas is 5'7″.
Taylor Swift is releasing her new album, Reputation, on November 10. That might seem like an arbitrary date to some, but not to Kanye West: November 10 is the 10th anniversary of his mother Donda's death. Unsurprisingly, Yeezy's fans took notice on Twitter, with one writing that Taylor selecting the release date was "an objectively ugly, trash thing to do." Furthermore, Kanye's fans think Taylor's camouflage merchandise looks too much like Yeezy's Life of Pablo duds.
Russell Brand and his girlfriend Laura Gallacher got married an intimate ceremony in the English countryside over the weekend. The couple had a New Orleans steamer boat transport friends and family to the Indian-themed reception. The 42-year-old actor and 30-year-old lifestyle blogger have child named Mabel who was treated as the event's "guest of honor." Russell proposed to Laura last summer after a year of dating. He was previously married to Katy Perry in 2010, but the two split after just two years.