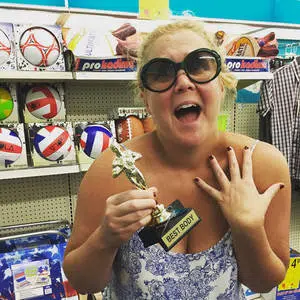 Amy Schumer recently left a $500 tip on an $80 tab for a college student who works part-time at the Union Oyster House in Boston. The restaurant owner says Amy was very nice and that he's happy for the server because she is just about to go back to school so the money will be useful.
Amy, who is currently in Boston shooting the movie I Feel Pretty, is known for being a generous tipper. Last year, she tipped a bartender $1,000 on a $77 check. During an interview Amy told Howard Stern she's a big tipper because it feels good and because she used to serve, and if someone had left her $1,000 that would have changed her month.
Kendall Jenner stepped out with her rumoured new beau Blake Griffin (NBA, LA Clippers). She was on a double date with her model pal Hailey Baldwin and Chandler Parsons. Kendall and Blake were spotted getting into a waiting car outside celeb hotspot Craig's. According to my source, this is at least the third time this month that Kendall and Blake have been seen hanging out together.
Yesterday marked the 20th anniversary of the tragic death of Princess Diana. To mark the occasion, mourners placed flowers, photos and notes near the site of the crash that killed her in Paris, while admirers of Diana did the same near the gates of Kensington Palace in London. On social media, Elton John–who adjusted the lyrics of "Candle in the Wind" to "Goodbye England's Rose" for Diana's funeral–wrote, "20 years ago today, the world lost an angel. #RIP." Meanwhile, on Wednesday, Diana's sons, Princes William and Harry, visited a memorial garden in London to draw attention to their mother's charitable work. Accompanied by William's wife, Kate, the royals "chatted animatedly with representatives from groups that Diana supported," reports the AP.
Don't be that guy! In a new interview with Cosmopolitan, Kate Hudson shares the worst party sins people commit. She says: "The worst thing a party guest could do is do a number two in the guest bathroom. Do not poop in the guest bathroom!" The biggest rule is for the host herself though. She says the host "has to be having the most fun." She adds: "I've had windows break at my house, I've had to reupholster my chairs and my sofas." Want to know more? She wrote the book on it. Pretty Fun hits shelves October 31st.
Ed Sheeran met a very special fan during his Wednesday night concert in Miami: a 1-year-old baby girl named Cooper Sheeran Smith. When the baby's parents pointed out to Ed that he had a namesake in the crowd he stopped everything and said, he had never seen a baby so calm at a concert. Then he dedicated the next song to her and joked to the audience, "I want you to be as loud as you can–'cause she's gonna be chill."
During an appearance on Ellen yesterday, Miley Cyrus cried as she discussed the devastation caused by Hurricane Harvey in Houston, Texas. "It just really makes me really upset," she admitted. "So, I really hope people know–I couldn't fake it, you know–my grandma's sitting here, and my mom's sitting here, and I go home to my seven dogs, and if I didn't have that anymore, it'd be really hard. So, I'm really happy to help in any way that I can, and I hope that people understand, and can put themselves in those people's shoes, and just know what it feels like to have everything taken away from you." Ellen DeGeneres also revealed during the segment that Miley had already donated $500,000 to aid in relief efforts.
Back in 2014, Lady Gaga bought a massive Malibu estate and turned part of the property into a farm. On that farm, she has a white horse and, according to my source, a very noisy rooster that her neighbours have had it up to here with. Apparently, they are cool with the horse, but feel the rooster has to go because it's waking them up at the crack of dawn. One neighbour allegedly said, "She doesn't live on a farm. This is a multimillion-dollar residential beach neighborhood in Malibu."
Benji Madden recently took to Instagram to share a sweet message to his wife Cameron Diaz in honour of her 45th birthday. "Happy birthday to my beautiful wife. I feel like I am the LUCKIEST guy ALIVE," he captioned a shot of the couple laughing as they snuggled on a speedboat. "I don't think anyone could ever know the depth, kindness, and compassion that I get to experience everyday thanks to my one and only. You got me til the end baby." The 38-year-old Good Charlotte rocker and Cameron got married in January 2015. They've been relatively quiet about their relationship, but this isn't the first time Benji has declared his love for Cameron in a big way. He got her name tattooed across his chest just one month after they exchanged vows.
Liam Payne says that his girlfriend Cheryl sometimes scolds him for gushing too much about her and their baby boy Bear to the press. He says, "I do get a bit overexcited sometimes I'll go home and she'll say 'What did you say that for?'" he admits. "But I'm just really happy with everything and life's great, I'm really enjoying myself and everything's really good so I can't really complain. I just like to talk about it! I'll get a cheeky ribbing sometimes and I'll say 'Ah, don't worry about it, it's fine! People know!'" The 24-year-old One Direction singer goes on to rave about how the 34-year-old pop star has bounced back into shape. "She is a superwoman. I can't believe it," he declares. "And bless her, she's done so well and she's really happy with herself at the moment."