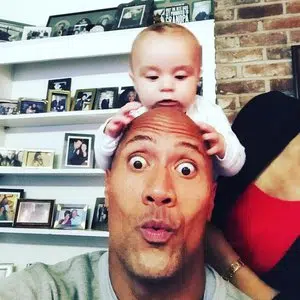 Dwayne "The Rock" Johnson has played the hero in plenty of movies, but yesterday he met a real-life hero. Dwayne welcomed 10-year-old Jacob O'Connor to the set of his upcoming movie Skyscraper. Jacob is the boy who recently rescued his two-year-old brother Dylan from drowning in a pool after remembering the actions of Dwayne's character in the movie San Andreas. Dwayne posted multiple photos of Jacob and his family's visit on Instagram. He wrote, "Ladies and gentlemen, I finally met this real life 10 yr. old hero, Jacob O'Connor…A very special day we had on our #Skyscraper set."
Days after Sharon Osbourne slammed Kim Kardashian for posing nude selfies (calling her a ho, not a feminist), Kim responded by posting another naked body photo on Insta yesterday. In the shot she is climbing a tree with nothing but black boots on.
One of the women who has accused Usher of giving her herpes is now claiming she has a sex tape with the singer on her phone. The young lady says she hooked up with Usher after his concert in Atlanta back in November 2014. She was going to the show to celebrate her 19th birthday.
Aaron Carter is counting his blessings after making it through a "severe" car accident yesterday. Aaron says the crash totalled his BMW and broke his nose. Aaron's rep has since said Aaron is resting at home and that it was fortunate that no one was hurt.
For four years it has been rumoured that Jamie Foxx and Katie Holmes are a couple. For four years they have been hiding and denying, but yesterday their love was on display in Malibu for the world to see. They were shot walking hand in hand along the beach. They were spotted a couple months back in a restaurant together, but this is different. It's nice to finally see them act like a normal couple.
Just because Dame Judi Dench is 82 years old, it doesn't mean she's done having sex. In a recent interview she had a message for older women, and that message was, 'Don't give up!' She also recommended her favourite saucy lingerie shop in London. She said, "There's a lovely naughty knicker shop–but don't buy up everything because I'm going there."
According to Will Ferrell, his co-star in Daddy's Home 2, Mark Wahlberg, doesn't sweat.
Will and Mark were on "Ellen" yesterday, and Will said, "He doesn't ever sweat . . . We've done interviews together and all the sudden I'm just breakout sweating profusely, and Mark just goes, 'What's going on, are you okay? Is there a problem?"
Mark said he does sweat when he works out. And Ellen suggested that might be why he doesn't sweat under normal circumstances.
And Will said, "I don't work out . . . I eat a lot of beef jerky, and that may be contributing to the problem."
Meghan Markle is no longer staying silent about her insanely high-profile romance with Prince Harry. The relationship is so high profile, Prince Harry was forced to issue a press release about it this past November. In it, he slammed what he characterized as racist and sexist abuse Meghan endured simply for dating him.
For the first time since they became involved last October, The Suits star discusses her relationship with Harry in the October issue of Vanity Fair. She said, "I can tell you that at the end of the day I think it's really simple, we're two people who are really happy and in love." She also mentioned that they were quietly dating for 6 months before it became news.
Jennifer Lawrence and Darren Aronofsky made an understated red-carpet debut at the Venice Film Festival. The pair didn't pose as a couple for photographers. Instead, Michelle Pfeiffer and Javier Bardem joined the duo.
Jennifer and Darren were first spotted out in public about a year ago… so it's nice to see that they're still going strong.
Although they've been tight-lipped about their romance, Jennifer did tell Vogue last month, "I've been in relationships before where I am just confused, and I'm never confused with him."
Beyoncé, George Clooney, and Oprah are just a few of the stars lined up for the big telethon going down next Tuesday for Hurricane Harvey relief.
The lineup also includes Julia Roberts, Barbra Streisand, Reese Witherspoon, Jamie Foxx, Rob Lowe, Matthew McConaughey, Dennis Quaid, Kelly Rowland, Adam Sandler, Ryan Seacrest, Michael Strahan, and Blake Shelton.
The show is called "Hand in Hand: A Benefit for Hurricane Harvey Relief". It'll air live at 8:00 P.M. Eastern on all major networks.
The money will go to several charities, including the United Way of Greater Houston, Habitat for Humanity, and Save the Children.