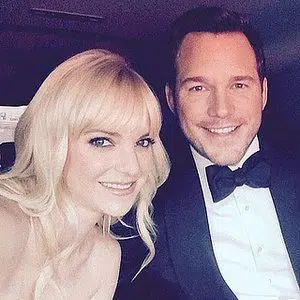 Anna Faris does not believe that people's partners should be their best friend. Anna has a new book coming out called "Unqualified". In it she writes, "I was once told that I didn't need a tight group of girlfriends because Chris should be my best friend, but I never bought that. The idea of your mate being your best friend — it's overhyped." Of course, it's a good thing she didn't give up her friends…considering she and Chris just separated after eight years of marriage. On a somewhat awkward note, Chris (Pratt) write the introduction to her book. U"nqualified" drops October 24th.
My source tells me that Johnny Depp and Angelina Jolie are hooking up. Apparently, it started with Johnny texting Angie, to joke about the rumours that they were hooking up…then those texts turned flirty and before you know it, she was inviting him over. My source says, it's nothing serious…they are just providing an escape for each other…if you know what I mean.
From what I hear, Paula Abdul would love to be back on American Idol, but the new producers don't want her. They want the show to feel new and fresh; they say that, yet we hear that Lionel Richie could be one of the judges, I wonder how Paula feels about that. I've also heard that Katy Perry has to approve of the other judges before they are offered the gig.
In a recent interview, Khloe Kardashian admits that there are certain situations her family has been through that she wishes wouldn't have wound up on their reality show, Keeping Up With the Kardashians. She says things like Kim's robbery and Caitlyn's transition should have never been filmed. She ads, "When we decide not to shoot things, people feel slighted, but when we film too much, they're like, 'Oh, you never should have filmed that.' It's a catch-22."
You're dying to know how Beyoncé celebrated her birthday, right?! Well, she did it with a $3,500 cake. The Philadelphia Cake Life Bake Shop received a call from Beyoncé's team in the week leading up to last Sunday's celebration and asked for it to be black and yellow. That's actually all I know about her birthday…she had a black and yellow cake.
A month after teasing a mystery project with Beyoncé, Laverne Cox has been revealed as the face of Bey's new Ivy Park campaign. Laverne, who is a massive Beyoncé fan, shared several photos on Instagram of the campaign writing, "I feel all tingly getting to finally share this beautiful new campaign with you all."
It's no secret that former NBA star Dennis Rodman and vagabond North Korean dictator Kim Jong-Un have nurtured a well-publicized bromance over the years. But just what do they do when they get together? Good Morning Britain asked Dennis that question yesterday, he responded saying, "We laugh; we sing karaoke; we do a lot of cool things together. We ride horses; we hang out; we go skiing. We hardly ever talk politics."
Have you heard about this? Late last week, a 24-year-old guy showed up at the doorstep of Selena Gomez's home in southern California's San Fernando Valley bearing gifts. Selena's team booted him off the property and called the police—which is where the story gets creepy. Apparently, an employee at a floral shop called the cops earlier in the day to report that the same guy tried to order a penis-shaped bouquet for delivery to Selena, but was denied.
After weeks of teasing, Dave Grohl confirmed that the pop star who will appear on the Foo Fighters' forthcoming album Concrete and Gold is none other than Justin Timberlake. I guess the two singers met at a studio in L.A. They ended up getting drunk on whiskey in the parking lot and David says he learned that Justin is a really cool guy. Then Justin came out and asked David if he could be on his album, mainly so he could tell his friends. The band decided to let him add some "la la la's" to one track. "He nailed it," Grohl jokes. "I'm telling you-the guy's going somewhere."
Following claims that one of the women accusing Usher of giving her herpes has a sex tape with the singer, her legal team has confirmed the tape doesn't exist. Apparently, it was a misunderstanding. In fact, this woman's attorney says they may not even have that hotel video surveillance that they said they did. Things are starting to look up for Usher…
In a recent interview, George Clooney says he and his wife Amal didn't plan on becoming parents. I guess at one point, after they got married, they decided that they wanted to share whatever good luck they've got and that it would be sort of self-centered to just have that belong to them. George adds that finding out they were expecting twins after getting pregnant without the help of fertility drugs shocked him and Amal. "We just sat there staring at the piece of paper they give you," he says. "I kept thinking there was a mistake."
He also spilled about how they fell in love. He says, they met through a mutual friend and he thought she was beautiful and funny and smart. After that, they spent a long time emailing and talking to each other, eventually realizing romantic feelings were growing. For the proposal, George says he got down on one knee and ended up down there for about 20 minutes because she was in shock and it took her that long to say yes.