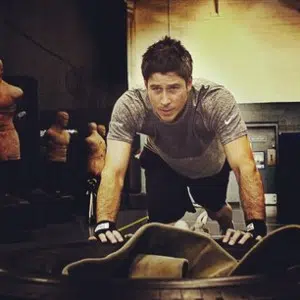 Arie Luyendyk Jr. is your new "Bachelor". It was a surprise choice, because he was on "The Bachelorette" all the way back in 2012.
U2 is working on a way to get musical instruments back into the hands of Houston musicians following Hurricane Harvey. After Bono is quoted by the site as saying; "You might recall that Edge – when Hurricane Katrina did its damage to New Orleans and destroyed the lives of so many musicians there – he put together Music Rising. And it was a really clever way of getting the musicians of the area some instruments so they could continue to live. Edge has been in discussions now to do the same in Houston. And you know, we have private ways that we will respond, but publicly that's what we're doing."
I've heard that Captain America star, Chris Evans has been sending messages to Chris Pratt's ex, Anna Faris. The two really hit it off when they filmed the 2011 romantic comedy What's Your Number? "The movie totally bombed, but their chemistry was something special, apparently. He had raved before about Chris being the luckiest guy in Hollywood. Now that Anna and Chris have split, we'll see what happens.
On Instagram Tuesday, Drake posted a photo of himself working in the studio. What many fans noticed from the shot was a giant photo of Beyoncé hung on the wall to his left. One person commented, "Drake has a 6-foot Beyoncé portrait in his recording studio." I guess he finds Bey inspirational. We know he likes her. Back in 2013 he released a track "Girls Love Beyoncé." Later that year, the pair teamed up to record "Mine."
Kim and Kanye are expecting a third baby via surrogate, and according to my source, that baby is a girl! Kim's previous two pregnancies, with North and Saint, were high-risk. Because of that she didn't want to take a chance with a third. From what we hear, the baby is due in January.
After Taylor Swift dropped her video for "Look What You Made Me Do," a lot of Beyoncé fans accused Taylor of ripping off Bey's Formation video with the black crop-topped look and the dance moves. Well, the videos director, Joseph Kahn snapped back saying Beyoncé ripped off Taylor's Bad Blood video (where she was also wearing black crop top), which came out before Formation. Joseph, who is clearly not afraid of bees Tweeted, "Come get it, Beyhive. The candy is right here."
On Ellen yesterday, Ellen gave Miley Cyrus multiple choice questions about her sex life. Normally, this would be no big deal for Miley, she's kind of an open book, but this time around her grandma was in the audience. Miley said, "She can't hear anyway, it's okay." Then she revealed that her sex life with fiancé Liam Hemsworth was most like "a commuter trip on a Concord jet." When Ellen remarked, "That means it's fast," Miley replied, "Yeah, I'm good."
Jennifer Lawrence tore her diaphragm while filming a scene in boyfriend Darren Aronofsky's new film mother! It happened in the middle of "hyperventilating for a scene." The movie, which is a psychological thriller involves a lot of crying, hyperventilating and screaming, which when you think about it, wouldn't be an easy movie for an actor to do… especially with all the different takes that are necessary.
In a new interview Rihanna reveals that she regrets the first time she had sex. When asked by magician David Copperfield about the option to disappear and reappear anywhere in the world, Rihanna said, "Ten minutes before I lost my virginity…and I'm holding you to that offer." In the same article Rihanna said she decided to wear that famous sheer dress to the CFDA Awards in 2014 because, "I took advantage of my t**ties before they go south. I saw my window, and I took it."
"Time" magazine dropped a list yesterday of 46 Women Who Are Changing the World. It's basically a list of women who were FIRST to do something. It includes a bunch of celebrities, like . . .
Hillary Clinton: First woman to win a major party's nomination for President.
Oprah: First woman to own and produce her own talk show.
Selena Gomez: First person to reach 100 million followers on Instagram.
Serena Williams: First tennis player to win 23 Grand Slam singles titles in the open era.
Aretha Franklin: First woman to be inducted into the Rock and Roll Hall of Fame.
Rita Moreno: First Latina to win an Emmy, a Grammy, an Oscar and a Tony.
Shonda Rhimes: First woman to create three hit shows with more than 100 episodes each.
Danica Patrick: First woman to lead in the Indianapolis 500 and the Daytona 500.
Barbara Walters: First woman to co-anchor a network evening news program.
Ava DuVernay: First black woman to direct a film nominated for a Best Picture Oscar.
Ellen DeGeneres: First person to star as an openly gay character on primetime TV.
Rachel Maddow: First openly gay anchor to host a prime-time news program.
Gabby Douglas: First American gymnast to win solo and team all-around gold medals at one Olympics.