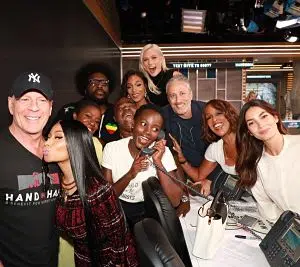 Last night's "Hand in Hand" telethon for hurricane relief raised more than $14 million . . . and counting…
The show kicked off with Stevie Wonder singing "Lean on Me" with a choir, followed by opening remarks from Leonardo DiCaprio and Jamie Foxx.
Other performers included Dave Matthews, Miranda Lambert, George Strait, Usher, Blake Shelton, Tori Kelly, Luis Fonsi, Demi Lovato, and Darius Rucker.
Celebrities including Oprah, Cher, Reese Witherspoon, Nicole Kidman, Hilary Duff, and Kelly Rowland shared real-life stories of victims and heroes from the two hurricanes.
Beyoncé, Matthew McConaughey, The Rock, Selena Gomez, Will Smith, and others spoke as well.
Phones were staffed by EVERY CELEBRITY YOU CAN NAME, including Justin Bieber, Tom Hanks, Ryan Seacrest, Justin Timberlake, Julia Roberts, George Clooney, Gwen Stefani, Stephen Colbert, Dennis Quaid . . . Adam Sandler, David Spade, Joe Jonas, Kerry Washington, Steve Buscemi, Bruce Willis, Daniel Craig, Lupita Nyong'o, Jared Leto, Jason Alexander, Jon Stewart, David Copperfield, Tracy Morgan, and Barbra Streisand.
Heck, at one point, Robert De Niro and Al Pacino were sitting right next to each other!
Property Brothers star Drew Scott has lost 27 pounds since he started training for Dancing With the Stars just 6 weeks ago. He says he is the lightest he's been in over 20 years.
Zayn Malik has revealed he doesn't keep in touch with former One Direction bandmate Harry Styles because they were never really friends. He says, they never really spoke, even when they were in the band together!
Kate Hudson is under fire for suggesting that getting a C-section is taking the easy route when it comes to childbirth. The 38-year-old mother of two's comment came after she was asked what the laziest thing she's ever done is. She replied, "Get a C-section!" Critics were quick to comment, saying things like, "Hey #KateHudson – please tell me which part of major abdominal surgery is 'lazy'? The procedure? The heal time? The 9 months of work prior?" Another wrote, "Hey Kate Hudson c sections saved my sons' lives…sorry you define that as lazy #GetAClue." Kate gave birth to her now 13-year-old son Ryder via C-section.
Nicki Minaj was an hour late for a performance at New York fashion week because her stomach was grumbling. Apparently, she was so hungry, she could not hit the stage until she got some Popeyes chicken. They had to send someone from the production team out to get it. And that wasn't the only glitch of the night, someone posted information about her appearance, and as a result thousands of uninvited people showed up.
Aaron Carter, who has had a rough go lately, reportedly took a woman to dinner in New York City this week after meeting her for the first time in Central Park. Aaron was invited to a Fashion Week party, but instead decided to have a nice, quiet vegan dinner with this young woman.
The L.A. County Dept. of Children and Family Services has opened an investigation into Blac Chyna and Rob Kardashian's daughter Dream's well-being, after becoming concerned that the baby might not be in a safe environment. The reason? Blac Chyna's alleged drug use! DCFS had actually started looking into it before the couple split this past March, so it's been an ongoing focus.
Meanwhile, Rob and Chyna continue their custody dispute. My source tells me Rob still very much resents Chyna for cheating on him and thinks she is evil. With that said, I've been told they are getting closer to hashing out a custody agreement. Each side is allegedly fine with the other having substantial physical custody, the biggest sticking point right now is that Chyna is asking for much more money in child support than Rob thinks she deserves. What a surprise!
Mindy Kaling, who starred as Kelly Kapoor on The Office, has revealed that she's open to appearing in a reboot! The Office fans can hold on to that…
Britney Spears is still under that conservatorship . . . which means that we still get to see what she spends her money on every year.
Recently published documents show Britney spent almost $11 million in 2016 . . . which is cool, because she made close to $16 million.
She spent a lot of massages, clothes and makeup.