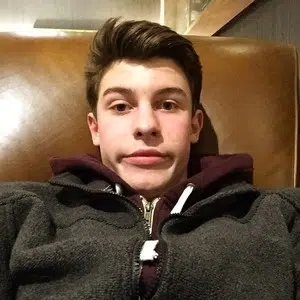 Drake saved Shawn Mendes from getting roughed up at a recent concert featuring The Weeknd.
Here's what happened: Shawn spotted Drake – whom he'd met several times before – and just wanted to say, "hi," when a "six-foot-six, three-hundred-pound security guard" unfamiliar with the 19-year-old pop star tried to restrain him.
Shawn says he was there, in the middle of The Weeknd's show, with his arm behind his back, getting shoved around by this security guard, when he saw Drake look over. He says, he saw Drake put it all together and then Drizzy walked over and told the guard to let go. Needless to say, it was an embarrassing moment, but it could have been much worse.
On yesterday's episode of Ellen, Jessica Biel made an impressive entrance by performing the lift from Dirty Dancing with the help of the show's DJ Stephen "tWitch" Boss. She then went on to dish about what her husband Justin Timberlake really thinks about her onscreen sex scenes. "It's one of those weird things that when you're married with an actor, you kind of have to be okay with," she explained. 'It's never "yeah, alright, fistbump, alright!" It's never that but you just understand it, he has to do it. You just get used to it."
Jennifer Lawrence is planning to step away from acting for a while. "I'm taking [a break]. I don't have anything set for two years," says the 27-year-old Oscar winner. When asked what she might do with all her newfound free time, J-Law joked, "I don't know. Start making pots?" J-Law has made at least one movie a year since 2010. Her new movie mother! was directed by her now-boyfriend, Darren Aronofsky.
Jennifer Aniston reveals that when husband Justin Theroux proposed in 2012, she wasn't thinking about true love–she was thinking about her nails. "I usually just buff my nails. I don't have the patience to let my nails dry. When Justin proposed, he put that freaking ring on my finger and I was like, 'Holy crap, now I'm gonna have to get manicures.'"
In unrelated Jennifer news, when she first moved to L.A. she lived in a haunted house and as a result she is a fan of New Age exorcisms. In this house she had, things would literally fall off the shelves, the televisions and stereo system would all of a sudden blast, and the coffeemaker would start making coffee. Her roommate at the time, who talked to dead people, did a little ceremony to get rid of the spirit or spirits that were haunting them. Now, Jennifer says it's part of her new home routine. "Now, every house I go to, I have a healer or a medium come through. This makes me sound like an absolute insane human being."