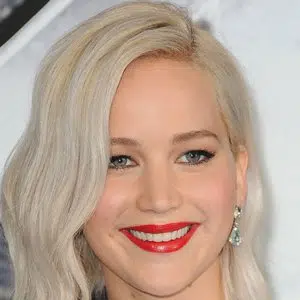 Jennifer Lawrence has developed a new bad habit: Freaking out on airplanes.
She says, "It's scary not being able to control yourself. I've recently had problems with plane anxiety and it's similar. I'm not afraid of the airplane, I'm afraid of me on the airplane and losing control of myself.
"You know when they hit an air pocket and it feels like you're falling? I did it on a night flight one time. [I yelled]. 'We're going down! It's coming down!'"
She added, "I tried to jump out of an Air France flight once. I can't believe I didn't get arrested. I got really claustrophobic and I had to get out."
It's hard to keep track of all these American Idol rumours…the latest one is that producers could make Selena Gomez an offer to judge. They think she would do a great job of pulling in a younger audience, and would also give the show a great boost through her social media. The goal right now is for them to have all the judges secured by mid-October.
Ryan Phillippe's ex-girlfriend Elsie Hewitt is suing him for $1 million. The 21-year-old Guess model claims the 43-year-old actor assaulted her when she went to pick up her belongings at his home on July 4th.
Ryan's representative issued a stark dismissal of the charges. "As a staunch advocate for the health, well-being and equality of women, Ryan is completely devastated that these false allegations have been made and circulated. Domestic violence is an incredibly serious issue and fabricated and proven false claims should not be used to unjustly slander the falsely accused. The claims are false."
Ryan was married to Reese Witherspoon from 1999 to 2007. They share two children together, Ava and Deacon. He also shares a daughter Kailani with a former girlfriend, Alexis Knapp.
Lisa Bloom revealed yesterday that she will be representing Montia Sabbag, "the woman at the center of the Kevin Hart scandal."
A press conference will be held today where Sabbag and Bloom "will speak out … about the true facts of this situation, and will announce their next legal move."
In related news, Kevin's wife, Eniko, has apparently forgiven him and there are no talks of having a divorce. According to my source, she believes Kevin is a great husband.
Leonardo DiCaprio's foundation has awarded $20 million in grants to more than 100 organizations working to make the world a more environmentally-friendly place. Leo says, "Our challenge is to find new ways to power our lives, employ millions of people and turn every individual into an advocate for clean air and drinkable water."
Former TODAY show co-host Billy Bush and his wife Sydney Davis have separated after almost 20 years of marriage.
Billy and Sydney married in April 1998 and have three daughters: Josie, 18, Mary, 16, and Lillie, 12. Their split comes nearly a year after Bush parted ways with TODAY in the wake of his controversial, leaked conversation with Donald Trump.
Marilyn Manson continued his feud with Justin Bieber yesterday by allowing Howard Stern to read his recent text conversation with Justin. Marilyn claimed that he was making the texts public in an effort to be transparent about the feud between them. "Bro, it's Bieber what's up with that article? I thought we had a pretty pleasant interaction. Also, if anything wasn't squared away with the T-shirts, I'm so sorry," he continued, "Anyway, regardless, it kind of stung seeing that if I came off as an a**hole or was just an a**hole, I'm sorry." When Justin followed the text with a series of question marks, Marilyn responded, "Words." Marilyn further explained to Stern, "That's what I say to girls when they talk."
Marilyn revealed in a recent interview that Justin took credit for making him "relevant again" by wearing a shirt featuring his face during his latest tour.
Rachel Bilson and Hayden Christensen have reportedly called it quits. The couple, who have a 2-year-old daughter named Briar Rose together, had been in a relationship on and off for almost 10 years but never married. According to my source, Hayden is back in Toronto and Rachel is back in L.A.
Jada Pinkett Smith is insisting that she isn't a Scientologist, despite claims made by fellow actress Leah Remini. In a Twitter thread about her interest in a variety of religions, Jada said, "I have chanted and meditated in some of the most magnificent temples on earth… but I am not a Buddhist." She went on to say, "I have studied Dianetics, and appreciate the merits of Study Tech…but I am not a Scientologist."
In Leah's 2015 memoir Troublemaker she alleged that Jada, her husband Will and noted Scientologist Tom Cruise once asked her to engage in an adult game of hide-and-seek they were playing.
Back in 2012, Gawker published a blind item about an unnamed male comedian's habit of masturbating in front of female peers. After comic Jen Kirkman alluded to a difficult male tour mate on a 2015 episode of her podcast (which has since been deleted), everyone jumped to the conclusion that the secret masturbator was Louis C.K.—but now Jen denies that she was referring to C.K., saying, "There are rumors out there that Louis takes his d**k out at women. He has never done that to me. I never said he did; I never implied that he did…I think this might be a case of there's nothing there. If I'm wrong, I'm wrong, and if any women want to come forward and say what he's done, I'll totally back them, because I believe women. But I just don't know any." As for Notaro, Kirkman says, "I don't know why Tig is talking about this stuff."
Avril Lavigne tops this year's list of the most dangerous celebrities to search for online. That means you're more likely to pick up a VIRUS when you search for her than any other celebrity.
For some reason, this year's top 10 is all musicians. Check it out . . .
1. Avril Lavigne
2. Bruno Mars
3. Carly Rae Jepsen
4. Zayn Malik
5. Celine Dion
6. Calvin Harris
7. Justin Bieber
8. Puff Daddy
9. Katy Perry
10. Beyoncé