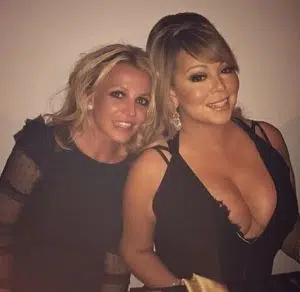 Britney Spears hit up Twitter yesterday to share a photo of herself and Mariah Carey. She captioned it, "You never know who you're going to meet at dinner parties!! Great night!" Well, the tweet quickly went viral and fans began freaking out over the two superstars hanging out together. One wrote, "QUEENS OF POP. I am shook. I can honestly die now." However, another referenced the artists' reputations for being hot messes by joking, INVITE LINDSAY LOHAN."
Salma Hayek is donating $100,000 to UNICEF to help the victims of Tuesday's 7.1 magnitude earthquake in Mexico. "After the 1985 earthquake in Mexico City, I was evacuated from my building. A lot of my friends died, including an uncle that was very, very close to me," Salma shares in an Instagram video posted on Wednesday. "I have lived through the aftermath of a disaster of this magnitude, and it's horrific… I implore to your hearts, to the goodness of your hearts and your compassion to help with anything that you can give." Salma also posted a link on her page where fans can go to donate. Meanwhile, singer Celine Dion announced she will be collecting donations towards hurricane relief during her Las Vegas shows to benefit the American Red Cross.
Gavin Rossdale has revealed he underwent "so much" therapy with ex-wife Gwen Stefani in an attempt to save their marriage for the sake of their three sons. He says he had so much therapy, he could be a counselor. He said he tried, he tried, but then he got to a place where he looks at it like there are no accidents. Like life works out how it should…he says he went to so much therapy so that when he looked back he could honestly say he did everything he could to save his marriage. Gwen and Gavin split in 2015 after 13 years of marriage.
Gwyneth Paltrow's wellness empire is everywhere, there is the blog, the magazine, the stand alone store and now Gwyneth has announced that a Goop-tastic TV show is in the works. When asked if she plans on the show being Oprah-esque, Gwyneth replied by imitating the media mogul's voice saying, "No, what we are thinking of doing is a TV show with the working title The Radical Wellness Show. I would be going into the field and talking to any number of doctors, scientists, civilians, people in crisis in Flint, Michigan, where there is something to uncover and confront about wellness." She added that they are in the brainstorming phase right now.
After revealing last week that she and husband Josh Duhamel had split after eight years of marriage, Fergie now admits that keeping their breakup under wraps was not fun. She says it got really weird for them to answer romantic questions. She adds that they are great friends and there is still a lot of love between them.
Kylie Jenner reportedly bailed on her family's interview with TODAY co-host Megyn Kelly on Wednesday because she was afraid of being asked tough questions. "She was all set to do the interview with her sisters, and she arrived to the location, ready to go, then she bailed at the last minute because she thought the questions were going to be too tough." The interview instead featured momager Kris Jenner and the rest of Kylie's siblings: Kendall, Kim, Kourtney, and Khloe. Kendall, at one point, stuck up for her sister saying, "My little sister has an insane business," she declared, citing the 20-year-old's cosmetics line. "Anyone who says they don't want their kid to be like that… is insane to me."
Janet Jackson says that she "felt like a prisoner" while she was married to Wissam Al Mana. Apparently an insider says she "felt hidden from family and friends and lead a sheltered life while she was with him. Apparently Wissam came into Janet's life at the right time, whisked in, took her to the middle east and she lived a lavish life with him. At the time she craved the privacy, but it eventually became stifling. She felt like her music was suffering and she started to resent Wissam. Now that they are separated I hear that she is talking to her ex, Jermaine Dupri.
Like a lot of comedians, Howie Mandel is worried about the danger political correctness poses for his profession. He says, "Even with the number one show on television right now, I have a fear that I'll say something that will get me in trouble."
"I have friends who are losing sponsorships. Jobs are being taken away. You're a comedian. There used to be a safety net as far as saying, 'Just joking!' There's no such thing as 'Just joking!' anymore."
Ben Affleck might be drinking . . . again. There's a photo floating around of Ben at an Emmy after-party on Sunday night, with what appears to be a mixed drink.
Supposedly, he ordered a water at the bar, but for some reason the bartender brought him a cocktail, and he proceeded to drink the whole thing.
Back in March, Ben announced on Facebook that he'd "completed treatment for alcohol addiction." There's no comment from Ben's camp.
Michael Phelps is retired at age 32 . . . he's worth more than $55 million . . . he's the most decorated Olympian of all time . . . and he has a one-year-old son. Basically, his life is perfect.
Except for one thing.
Michael says he's still getting harassed for fake-racing that shark on the Discovery Channel back in July.