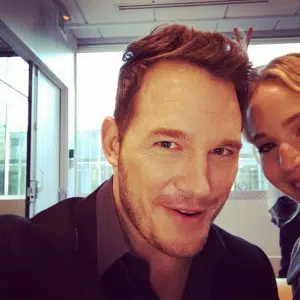 hris Pratt took a "Which Chris Are You?" Quiz Online. The quiz asks, "Are You Chris, Chris, Chris, or Chris?" . . . meaning, are you Chris Hemsworth, Chris Pine, Chris Evans, or Chris Pratt?
Well, Chris Pratt took it, and it turns out he's actually Chris Evans. He posted a picture of his results with the caption, "Dude I suck at quizzes."
Chris Evans didn't agree. He replied, "What do you mean? You aced it."
The Mindy Project's, Mindy Kaling is copping with a serious case of the jitters as she prepares to give birth. She is also excited though, she says she wants to be the fun mom; knowing she's going to be the dorky mom, she wants to be considered fun too. I think she's got that one in the bag.
Mindy, who is 38, is keeping the identity of the father to herself, but she is very open about her role model for parenthood. She says, "My mom was incredibly fierce and so devoted to us. [She] just loved us and really wanted us to be happy no matter what we did." Mindy lost her mom to cancer in 2012.
Mindy admitted that one of the things she was excited about (as far as becoming a mom goes) was being able to judge other parents. She feels like becoming a parent gives you the okay to openly criticize other parents.
Kelly Clarkson has opened up about why she decided to become a judge on The Voice, despite the fact that she was discovered on rival show American Idol's first-ever season. She understands that fans were surprised to hear she was going to do The Voice, but she was actually in talks with them for a while. And I guess her involvement makes a lot of sense for their family. Kelly's husband, Brandon Blackstock, manages Blake Shelton, so their whole family is going to be able to be in the same place while the show is being filmed. She also noted that there are no hard feelings between her and American Idol host Ryan Seacrest.
Backstreet Boy singer AJ McLean is reaching out to Aaron Carter after the troubled singer checked into rehab. AJ says he has been down that road and come out the other end so he understands. He also understands why Nick Carter hasn't reached out to Aaron. He says he gets Nick's frustration after years of trying to help his little brother. He says his wife experienced the same feelings. Aaron entered rehab on Friday following a DUI arrest and several visits from police to his home.
Billy Ray and Tish Cyrus' divorce has been officially called off. A judge dismissed Tish's divorce filing this week due to inactivity. She initially filed for divorce from the country crooner in 2013, but the couple publicly reconciled just 10 days after the split. At the time they said, "We both woke up and realized we love each other and decided we want to stay together." They also credited couples therapy for bringing them closer together. Billy and Tish have four kids, Miley, Noah, Trace, Brandi, and Braison.
Apparently, Caitlyn Jenner found out her daughter Kylie Jenner was pregnant the same way we did…my source tells me Kylie did not reach out to her personally.
For the record, Caitlyn thinks Kylie is way too young to have a baby and she feels she should have waited until she was in a long term committed relationship. Kylie and her baby daddy, Travis Scott, have not been together for that long. Kylie on the other hand, always wanted to be a young mom, and she believes that she and Travis will be together forever.
Kim Kardashian West has decided not to attend Paris Fashion Week 2017 after being robbed at gunpoint during last year's week-long event. Both Kim and her half-sister Kendall Jenner will skip the event; sister Kourtney Kardashian, however, will be in Paris for the week.
Speaking of being robbed…Jason Derulo had about $300,000 in cash and jewelry stolen from his home in Los Angeles late last week. Jason was away at the time so the theft was only discovered when a maid visited his home and saw that both a window and door had been broken. Authorities suspect that the theft may have been an inside job, since only one room was targeted. Jason is the latest in a string of L.A.-based celebrities who've had their homes targeted. Other victims include Demi Lovato, Nicki Minaj, Kendall Jenner, and Drake.
Post Malone had an epic fail moment while attempting to stage dive during his show in St. Louis, Missouri, on Sunday. He dove into the crowd, but they parted and he swiftly hit the floor. Thankfully, he wasn't badly injured and proceeded to finish the performance from the ground. Following the show, Malone tweeted, "[I] felt like Jack Black in School of Rock tonight when I staged dived [sic] and nobody caught my fat a**. Wish I had Lil Uzi [Vert's] body."
Kristen Bell recently agreed with a Twitter user who called her "the kind of person I'd be thrilled to be paired up with for a school project, but then would never want to hang out with otherwise." It's good that she has a sense of humour about these things.