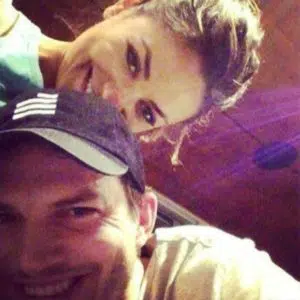 Mila Kunis and Ashton Kutcher aren't even handing out coal this Christmas. So far, they say, their Christmas tradition is no presents for the kids. Mila says last year they didn't give their 2 year-old daughter Wyatt anything, but her grandparents went overboard. She said she could see that her daughter didn't know what she wanted, she just expected stuff. Mila and Ashton gave their parents a talking to and begged them to choose just one gift for their grandkids.
American Horror Story: Cult co-creator Ryan Murphy says he edited Tuesday's episode of the show following the mass shooting in Las Vegas last week. His point of view is that he had the right to air it, but he believes the victims also have rights.
The opening sequence of the show originally featured a graphic portrayal of gun violence; it was filmed two months ago. Ryan basically said, given the tragedy in Vegas, the show didn't need that scene and it was the right thing to edit it.
On Monday, a TV reporter named Lauren Sivan spoke publicly for the first time about being sexually harassed by Harvey Weinstein in 2007. Lauren decided to go public after reading Harney's apology, which blamed his behaviour on having come-of-age "in the '60s and '70s when all of the rules about behaviour and workplaces were different." In a recent interview Lauren recalled how the movie exec lured her downstairs at New York City restaurant Cipriani by promising her a tour of the kitchen. Instead, he cornered her, tried to kiss her and masturbated in front of her. "I could not believe what I was witnessing," Lauren explained. "It was disgusting and kind of pathetic." Lauren was a reporter with the New York's News 12 Long Island at the time of the incident.
Producer J.R. Rotem and Avril Lavigne were seen holding hands as they left The Nice Guy in West Hollywood on Sunday. According to my source, the pair have been an item since at least August 31–when J.R. posted a photo of Avril on Instagram and called her "bae" in the caption. J.R. has produced songs for the likes of Lindsay Lohan, Kevin Federline, and the Cheetah Girls, but you may recognize his name because he dated Britney Spears for a few weeks in 2007, the year she shaved her head.
It appears that Emma Roberts could be at the heart of Rachel Bilson and Hayden Christensen's recent split. According to my source, Rachel found text messages between Hayden and Emma–his co-star in the upcoming film Little Italy–and ended things with her long-time beau shortly after. Rachel and Hayden called it quits last month after 10 years together. They share 3-year-old daughter Briar Rose.
You might think selling over 100 million records would make Shania Twain, I don't know . . . maybe 'nonchalant' when a new album goes to number one. No way. She posted a video gushing over her fans for their response to "Now". She said, "I'm celebrating, I'm so excited. I have a number one album and it's all because of you. So, right now I'm getting ready to work on the new tour. I want to put a great show on for you. I'm just feeling really happy and supported. Thank you."
On "The View" yesterday, Jason Ritter (son of the late John Ritter) broke the world record for most hugs in a minute. He moved the bar from 79 hugs all the way up to 86.
Jason is promoting his new sitcom Kevin (Probably) Saves the World. He says, "One of the things on the show is that I have to hug people. It's complicated," he shared. "Watch the show and you'll know what I'm talking about."
Apparently, the character of Kevin is charged with bringing light and joy back into an apocalyptic world where everyone is selfish and depressed. One of his main tactics? Hugs, of course.
Just about every celebrity relationship is a long-distance relationship . . . at least some of the time. So, they've picked up a few tips on how to deal with the separation. Here they are…
Khloe Kardashian thinks it's important to FaceTime a lot. She says, "Watch your favorite TV show over FaceTime or do something productive, like go for a run or organize your closets together."
Miles Teller says not to text, "The problem with people texting all the time is that if you're texting somebody everything you're doing throughout the day, there's no catch up. It removes the recap. I think that's important."
Claire Danes is pro-texting, to an extent. She says, "We talk a lot, we text a lot, we send each other photos of our toes . . . dumb stuff. I think it's dangerous when you go into reporting mode, when you just kind of list things you've done that day."
Nicole Kidman digs the old-fashioned love notes she gets from Keith Urban. She says, "For every single night he's away he leaves me a love letter. Every single night of our relationship."
And Amanda Seyfried says you shouldn't stray beyond your borders. She says, "Never date somebody who doesn't live in your country. It's heartbreaking and confusing and makes you go a little nuts."