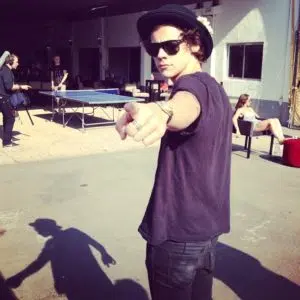 Harry Styles was groped by fans during his performance at the We Can Survive concert to benefit breast cancer awareness on Saturday. At one point, during his performance, Harry, got down on his knees near the front of the Hollywood Bowl stage and fans started reaching out and grabbing at his crotch. Harry was briefly disturbed and swatted away at their hands, then he got up and avoided that area for the rest of his performance.
The clip of him getting groped quickly circulated on social media and the hashtag #RespectHarry began trending. "This is a prime example that men are not the only ones that touch women without permission! Women also sexually assault," one person tweeted.
So, there might be some trouble on the set of American Idol. My source tells me Katy Perry and Luke Bryan have nothing in common, so there is zero chemistry there. Also, because both Luke and Lionel Richie know what Katy is getting paid, they believe there is an underlying tension, even though no one would admit it. Finally, Katy's jokes are apparently falling flat. I guess the producers are already planning to edit the awkward silence out of the show.
Jennifer Lopez was recently spotted drinking out of a crystal Stabucks cup. According to my source, her manicurist bought her the $585 cup from TaylorMade Bling. The company used Swarovski crystals on the shell and green Swarovski crystals for the Starbucks logo. Honestly, I would expect nothing less from J-Lo. Of course she should drink her coffee from a $585 cup!
John Stamos announced last night that he is engaged to girlfriend Caitlyn McHugh. John is 54 and Caitlyn is 31. They have been dating for nearly two years. John was previously married to model-actress Rebecca Romijn for seven years. They divorced in 2005.
Billionaire businessman James Packer has made it very clear that he regrets getting romantically involved with Mariah Carey. In a recent interview he said, "I was at a low point in my personal life. She was kind, exciting and fun. Mariah is a woman of substance. But it was a mistake for her and a mistake for me." He also admited that the two are no longer friends. James and Mariah ended their nine-month engagement in October 2016. He reportedly dumped her while they were vacationing in Greece, as their wedding plans were already underway. Mariah was allegedly "blindsided" by the breakup.
Speaking of Mariah… she Facebook Lived on Thursday night and it was really bizarre. It lasted about five minutes and was deleted just moments later. It showed her running around her New York apartment wearing a silk robe. She was talking about her new song "The Star" while showing off her nails and commenting on a chaise lounge that "you may recognize from Cribs."
Meanwhile, Mariah's L.A. mansion was broken into around 3 a.m. on Thursday. The burglars stole $50,000 worth of purses and sunglasses, but surprisingly took no jewelry. A ladder was found in her backyard and it's believed the criminals got in through an upper-floor window or door.
Cameron Diaz went to dinner at an exclusive and crazy expensive restaurant called Matsuhisa in Beverly Hills on Thursday. And on the way out, she dropped her wallet, which contained cash and credit cards.
A homeless woman found the wallet, but instead of taking off with it, she went into the restaurant to return it. They told her Cameron had already left, but didn't take the wallet. So once again, the homeless woman had an opportunity to steal it.
But again, she didn't. Someone called the cops, and she waited around to turn it over to them . . . with nothing missing.
George and Amal Clooney seem to have every intention of dressing up their 4-month-old twins, even though, as George admitted, they will couldn't care less.
George also recently shared that his kids just started eating solid foods. "I don't know how it goes in as a carrot and it comes out the way it comes out," he jokes. "But it was shocking… Don't feed them solid food. Until they can change their own diaper, they just get milk, that would be my advice."
The rumors were true . . . last night, Justin Timberlake confirmed that he's hosting the Super Bowl Halftime Show on February 4th.
He posted a 20-second video where he and Jimmy Fallon do a wordplay skit, where Justin asks Jimmy, "Excuse me, sir, do you have the time?" Jimmy says, "You do 'HALF time?'" And Justin says, "I DO 'half time'!"
The NFL also confirmed the news. This will be his third Super Bowl halftime show appearance . . . but his first since he exposed Janet Jackson's breast to the whole country back in 2004.
The league has yet to announce if any other artists will join him. Naturally, people are wondering if Janet might be involved, which would be cool, but that's just talk for now.