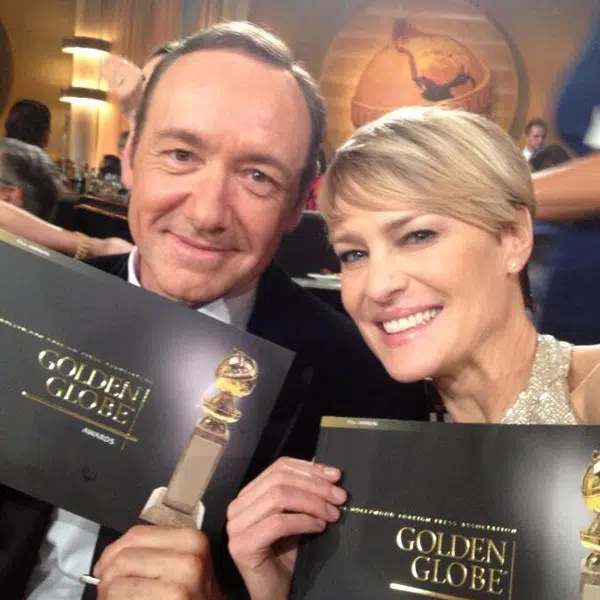 House of Cards star Kevin Spacey is getting slammed for the way he decided to reveal that he's gay.
The context is the problem, critics say. On Sunday night, Rent star Anthony Rapp accused Kevin of making a sexual pass at him when he was just 14 years old.
Kevin, then 26, allegedly "befriended Anthony while they both performed on Broadway shows, invited Anthony over to his apartment for a party, and, at the end of the night, picked Anthony up, placed him on his bed, and climbed on top of him." Anthony, now 46, says he was able to get away, and they never spoke again.
Kevin responded to the allegations via a note on Twitter, writing that he doesn't remember what Anthony is describing but that if it did happen, "I owe him the sincerest apology for what would have been deeply inappropriate drunken behavior."
What he said next is what is really getting folks upset. "This story has encouraged me to address other things about my life," Kevin wrote. "I have loved and had romantic encounters with men throughout my life, and I choose now to live as a gay man."
LGBTQ advocates say that coming out that way just furthers harmful stereotypes about gay people, as pedophilia has long been conflated with gay identity.
In the wake of the allegations and response, Netlfix has pulled the plug on House of Cards after its upcoming sixth season.
Netflix and producer Media Rights Capital released a statement yesterday: "Media Rights Capital and Netflix are deeply troubled by last night's news concerning Kevin Spacey. In response to last night's revelations, executives from both of our companies arrived in Baltimore this afternoon to meet with our cast and crew to ensure that they continue to feel safe and supported. As previously scheduled, Kevin Spacey is not working on set at this time."
Snoop Dogg is raking it in for kid's parties! A rich exec booked Snoop and DJ Khaled to perform at his Santa Monica mansion. He transformed his place into a haunted house. None of the kids or parents knew about the performance so when Snoop showed up they went wild. DJ Khaled spun, while holding his 1-year-old son. Snoop took home $1 million for the gig.
Paula Abdul hired a rabbi, a priest, a minister, and a witch doctor to cleanse her home of evil spirits. Paula claims she's witnessed strange happenings, like lights mysteriously turning on and off, for years. So, her rabbi came over and blessed the house, the priest and the minister performed cleansing ceremonies – and the witch doctor walked through every room waving a frond of burning sage.
Stranger Things star Charlie Heaton (Jonathon Byers) has apologized after being detained for alleged cocaine possession. Charlie missed the Stranger Things 2 premiere last week due to his detainment at LAX, which stemmed from small traces of cocaine. In a statement made yesterday, the British actor said, "I do want to clarify that I was not arrested or charged with a crime, and cooperated fully with the US officials at LAX. I'm sorry to all the fans and my Stranger Things family for missing the premiere. We are all so proud of this season and I would never want this story to negatively impact the show."
According to my source, Selena Gomez and The Weeknd have called it quits. I guess they have been going back and forth for a few months and finally decided to end it. Of course it was hard with him being on tour and her shooting in New York.
The Weeknd and Selena started dating in January after the The Weeknd's split from model Bella Hadid. They made their red-carpet debut as a couple at the Met Gala in late April.
Justin Bieber and Selena have had a complicated relationship over the years, and Selena's loved ones are worried about their rekindled friendship. They've gotten together three times in the last week. According to my source, Justin is out to prove to Selena and her family that he has changed and won't cause her any grief (the way he has in the past).
Meanwhile, The Weeknd went to Instagram to post a selfie after news of the breakup broke. He captioned the post, "Toronto Nights." Although he said nothing about Selena in the post, fans flooded the picture with supportive messages like, "I love you so much" and "I'm single.'
Ariana Grande's fans are freaking out after the singer debuted a new set of super-short bangs. Ariana posted a black-and-white photo on Instagram this week, in which she shows off her recently-dyed gray locks and baby bangs. Fans of the new look were quick to leave comments such as, "I don't know what I did to deserve you. The BANGS. My heart cant take it" and "I CANT BREATHE. YOU'RE TOO BEAUTIFUL." Another fan, who was less stoked about the change, compared Ariana's new bangs to those of Jim Carrey's Dumb and Dumber character Lloyd Christmas.
The King of Pop might be dead, but he makes a lot more money than most celebrities who are still above ground. For the fifth year in a row, Michael Jackson tops Forbes' list of the highest-earning dead celebrities of the past 12 months. The top 10 are below:
Michael Jackson, $75 million
Arnold Palmer, $40M
Charles Schulz (Peanuts creator), $38M
Elvis Presley, $35M
Bob Marley, $23M
Tom Petty, $20M
Prince, $18M
Dr. Seuss, $16M
John Lennon, $12M
Albert Einstein, $10M
Zayn Malik was just voted in as GQ's Best-Dressed Man in Britain. British GQ pitted Zayn against seven other stylish gents in a playoff system where fans got to vote for their faves online. The former One Directioner beat out David Beckham in the final round to win the award for the second year in a row. "Zayn is known for his effortless and experimental dress sense," the magazine writes, noting that he can pull off both streetwear and high fashion. Gigi must be so proud!
It seems that the Idol judges have taken to crashing weddings to promote the American Idol revival.
Luke Bryan was in Savannah, Georgia over the weekend doing the "American Idol" auditions. While he was there, he found out someone was having a wedding reception nearby so he made arrangements to crash it . . . while they were playing his song "Crash My Party".
The bride and groom are Austin Lipski and McKenna Neidlinger, and their families kept it quiet so Luke could surprise them on their big day. They had no idea until he walked into the room holding a bottle of champagne.
He toasted the couple, posed for photos, and then everybody danced to "Country Girl (Shake It For Me)". The video is on the "Idol" Facebook page . . . and there are photos on the "Idol" Instagram page.