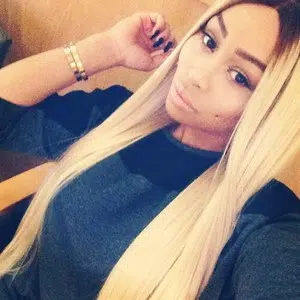 Blac Chyna has decided to pursue a career in rap music. She says she decided to be a rapper, because she is already in the entertainment industry and she knows people. Basically, she said she could have gone one of two ways, acting or rapping and she chose rapping because, quote, "Hello! I'm already around it and most of the people I already know them anyways, so, it should be really easy for me." Chyna says if she feels like she needs help or mentoring she will call up her friends like French Montana and Nicki Minaj.
Chyna hasn't released any music yet, but claims that there are plenty of labels interested in her. However, she says she's unsure whether she wants to sign a deal or stay independent.
Watch What Happens Live host Andy Cohen recently compared President Donald Trump to a Real Housewives train wreck. " [He's] like a Season 1 'Real Housewife' who hasn't figured out her hair and makeup, but he will do or say anything to stay on this show," Andy explained during a taping of Jon Lovett's Lovett or Leave It podcast as part of the New York Comedy Festival. He added, "I'm amazed he's still on the show. I would have fired him a long time ago."
Billy Corgan of the Smashing Pumpkins just compared Nickelback to porn, but he meant it as a compliment. Billy was on Joe Rogan's podcast, and Joe brought up Nickelback being a punchline, even though they're not really that bad.
Billy called Chad Kroeger an "incredible songwriter," and added, "I don't know enough about their world, but I don't think there's anything wrong if that's who you want to be." He continued saying, "Pop is predicated on satisfying. I've said many times pop is porn. It's porn, they want to get you off. It's just how they're going to get you off. I'm not that concerned with getting you off, I'm just not."
A day after attending a baby shower for her half-sister Kim Kardashian West, Kylie Jenner had an intimate shower for her own bundle-of-joy-to-be. My source tells me Kylie hosted a "pajama party"-themed shower at her Hidden Hills home on Sunday, but kept it under wraps and completely off of social media. Now, listen to this, Kylie's shower was scheduled weeks before Kim decided to throw one for herself the day before Kylie's. Not cool, right? I haven't heard whether or not Kylie was miffed, but I would be.
Lady Gaga stopped a show in Connecticut Saturday night after she noticed that a woman in the crowd got hit in the face and was bleeding. It sounds like it was just an accident, but Gaga made sure she was taken care of before restarting the show.
As staff led her away to get medical attention, Gaga said, "What we all need to remember is that there are some things that are more important than show business."
Then she started singing "Paparazzi", but stopped again to say, "Make sure to get that girl a backstage pass, too."
Meghan Markle and her co-star Patrick Adams are expected to exit Suits after the show's current seventh season. This news comes on the heels of reports that the USA network show is "close" to being renewed for an eighth season. Meghan has portrayed paralegal-turned-lawyer Rachel Zane since the show's inception in 2011. Patrick plays fellow attorney Mike Ross, whom Meghan's character is engaged to be married to. As we know, in real life, Meghan is dating Prince Harry and is allegedly on track to have her own–royal–wedding.
Modern Family's Sarah Hyland shared a revealing selfie of herself and boyfriend Wells Adams (from the Bachelorette) yesterday. The photo shows Sarah and her beau, who both appear to be naked, lying in bed while snuggling Adams' dog Carl. Sarah captioned it, "Two more reasons to smile again. My big [spoon] & furry [spoon]." Adorable! We're happy for her!
Nick Jonas is 25 years old . . . and has been rich and famous for more than half his life, but guess what? His mom still does his laundry!
In fact, he says laundry is the first thing he thinks about after going back home to visit his parents. But he's not taking advantage. She wants the job. "I ask my mom to do my laundry. She does it every time, with a big smile!
"Now that her four sons are out of the house and have their own lives . . . any chance she gets to be mom again [is] a really nice thing for her."
Mariah Carey continues to be surprised by the success of her iconic holiday tune "All I Want for Christmas Is You." She says, "The crazy thing about it is, every year it tends to increase in popularity." The song originally appeared on her 1994 Merry Christmas album. She says, "I'm very thankful that people seem to still have an attachment to it… It makes me feel good when people tell me that it's part of their lives."
The song is the most downloaded holiday song of all time with 3.2 million hits, besting classics such as "Feliz Navidad" and "Jingle Bell Rock." It also peaked at #11 on the Billboard Hot 100 last year–22 years after its release.