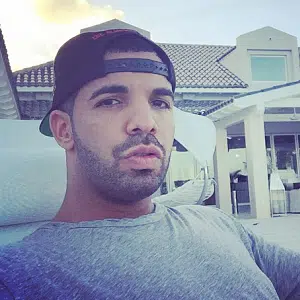 Apparently, Prince Harry and Prince William are going to make cameos as Stormtroopers in the new Star Wars movie "The Last Jedi." "Mad Max Fury Road" star Tom Hardy will also appear as a Stormtrooper. The trio are expected to share a scene together.
Drake was performing in Sydney, Australia, on Tuesday night when he noticed a man in the crowd who kept groping women. "Yo, stop that s**t," the singer told someone offstage, cutting off the song. He then pointed straight at the man and declared, "If you don't stop touching girls, I'm gonna come out there and f**k you up." He appeared to continue his tirade against the creep, but was drowned out by fans roaring their approval. Drake returned to his performance shortly after.
Kim Kardashian accidentally let slip on Wednesday's episode of Ellen that she and Kanye West are expecting a daughter when their third child arrives soon via surrogate. "We had a baby shower over the weekend… People brought toys and gifts and [North] was opening them all up the next day," Kim explained. "And she goes, 'Mom, since Baby Sister's not here, I think I need all of her toys in my room and play with them and make sure they're all okay for Baby Sister.'" Ellen DeGeneres quickly replied, "So she's a toy tester and you just told us it's a girl!" The 37-year-old confirmed that she was indeed expecting a girl and that while they haven't settled on a name for the baby, her oldest child North is already calling her "Baby Sister."
In the new issue of Redbook, Kelly Clarkson reveals that she's happiest when she's at her heaviest. "It's when I'm fat that I'm happy," she explains. "People think, 'Oh, there's something wrong with her. She's putting on weight.' I'm like, 'Oh, no!' I'm sorry, but that represents happiness in my emotional world. For me, when I'm skinny is usually when I'm not doing well."
Dakota Johnson was spotted watching a Coldplay concert in Argentina on Wednesday. A fan took to Twitter to share a photo of Dakota sitting with the crew, prompting speculation that the 28-year-old actress and 40-year-old musician were dating. Dakota's appearance in Argentina comes after the two were seen on a dinner date at a sushi restaurant in Los Angeles last month.
The Weeknd is reportedly getting over Selena Gomez by hanging out with another ex: Bella Hadid. He was photographed leaving Bella's apartment in New York City on Tuesday night. My source says, "Bella and Abel have been in contact since Abel and Selena split, but they are not back together. Abel reached out to Bella asking to hang out and catch up, and she decided to see him and see where things go. She knows that if they don't date again, they can at least be good friends." The news comes after Selena Gomez has been spotted with her old flame Justin Bieber several times in the last month.
Sam Smith says Rihanna is his "spirit animal." He says, "She inspires me a lot because I think she's just unapologetically herself and that's something that I'm trying to do." He continues, "I want to be a role model, but I don't want to be a perfect role model. Like, I go and have mad nights out, just like she would." Sam goes on to say that, like Riri, he's totally comfortable just being human. "I'm going to make mistakes, and I say the wrong thing," he adds. "And I'm quite dumb sometimes and say random s**t I shouldn't say." Preach, mister.
On yesterday's episode of The Talk, new co-host Eve made it clear that she didn't approve of Nicki Minaj's new Paper magazine cover. "I worked with Nicki, I got to know her on Barbershop… she's a nice person, she's an amazing rapper, and as a lyricist I respect her… but as a woman, from my point of view, personally, I would not be able to do that," Eve noted. "For me personally, as I started coming up in the business, I started realizing that young girls were looking up to me and younger people were looking up to me, and that, not that you want to be a role model, but it becomes what you become, it is what you are." The 39-year-old rapper added, "As I've gotten older… I'd just rather be a voice that's uplifting… I can be a voice for those girls that might not have a voice, in a different way without showing myself off… I just don't think it's right." Paper's new cover features Nicki in a "Minaj a Trois" with three different version of herself.
Cardi B recently wanted to order room service at her fancy Los Angeles hotel, but changed her mind when she opened the menu and discovered that a single bowl of cereal would set her back $7. "First of all, not even the box of cereal costs [that]," she declared. She went on to complain that even a box of brand name cereal like Cocoa Puffs wouldn't cost her that much at a New York City grocery store. "I feel like I'm getting hustled and bamboozled every single f**king day, everywhere I go," she added. Fans were quick to point out that the "Bodak Yellow" rapper has plenty of cash to spend. Some accused her of being cheap, while others praised her for being down-to-earth and judicious with her money.
Victoria's Secret supermodel Miranda Kerr and Snapchat founder Evan Spiegel are expecting their first child together. "Miranda, Evan and Flynn are looking forward to welcoming the newest member of their family," Kerr's rep said in a statement Wednesday. Flynn is Miranda's 6-year-old son from her previous marriage to actor Orlando Bloom.
Elon Musk may be one of the world's most successful entrepreneurs, but all he really wants is to be loved. In a new Rolling Stone profile, the 46-year-old Tesla founder is so shaken by his split from actress Amber Heard that he actually retreats to a bathroom for several minutes to compose himself. "I just broke up with my girlfriend. I was really in love and it hurt bad," Elon admits. "Well, she broke up with me more than I broke up with her, I think." The thrice-divorced dad adds, "I will never be happy without having someone. Going to sleep alone kills me…Being in a big, empty house and the footsteps echoing through the hallway, no one there–and no one on the pillow next to you. F**k. How do you make yourself happy in a situation like that?"