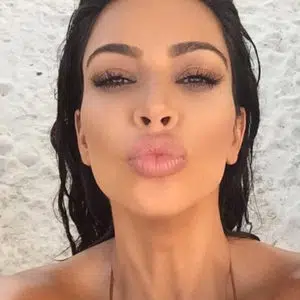 It's only been one week since Kim Kardashian's new KKW Fragrances launched, but the beauty mogul's Crystal Gardenia, Crystal Gardenia Citrus and Crystal Gardenia Oud perfumes are already sold out online. Even without actually smelling her scents, Kardashian's fans trusted the star and purchased every unit of the 300,000 produced for the initial launch. At $35 for the 30-ml. bottle and $60 for the 75 ml., assuming she produced equal amounts of each, that would total up to about $14 million in sales in under a week. Although the products aren't available on KKWFragrance.com anymore, if you live in the L.A. area, you still may be able to snag one at Violet Grey where a few are still in stock.
Gordon Ramsay routinely berates contestants on his TV shows for their poor taste – often in very colorful terms. But this week it is the celebrity chef's own taste buds that are being called into question. Gordon appeared in a TV commercial promoting a South Korean beer that can politely be described as bland. Ramsay says he is far from embarrassed by the ad, and declared that 'Cass' is the "the beer of the people" – unpretentious, affordable and the perfect antidote to the spicy, pungent flavors of Korean food.
Newlyweds Kate Upton and Justin Verlander revealed that they almost missed their wedding in Italy because of the World Series. More specifically, because of Game 7 in the world series. While Justin was playing game 7 for the Houston Astros, their families and guests were enjoying a planned wedding event in Italy without them. "Everybody's in Italy, everyone's at the venue. We had an event that night and everyone's texting us like, 'Your wedding's so pretty, wish you were here,'" Kate recalled. Fortunately, the bride and groom did make it abroad in time for the big day itself. However, Justin had to miss the victory parade in Houston.
Jennifer Lawrence, 27, and director Darren Aronofsky, 48, have split after over a year of dating. The two began seeing each other in September shortly after wrapping mother!, and their relationship continued to blossom despite their 22-year age difference. They were a very private couple, but when Jennifer did talk about Darren, she gushed. As recently as earlier this month, Jennifer and Darren joined forces to encourage college students to get out and vote.
Gwen Stefani – wants to write a musical. She says she would love to expand her horizons and create a theatre production, or be involved in another "writing thing", because she is feeling confident in her writing these days.
Cardi B's hit single "Bodak Yellow" shattered Billboard Hot 100 chart records and since it hit airwaves this summer, it's spurred a 217 percent spike in searches for Christian Louboutin shoes, according to Business of Fashion. Yep, thanks to the line, "These expensive, these is red bottoms, these is bloody shoes," search traffic for the celeb-loved red soled-stilettos has more than doubled in traffic.
When Cardi B read the news that she's bolstered the brand's traffic and has an estimated $4.5 million media value, she captioned a photo of the stats on Instagram writing, "want a free boot @louboutinworld "
It's over before it even started! Drake and Bella Hadid are "no longer talking" after sparking romance rumors when the rapper attended Hadid's 21st birthday in New York City in October, a source exclusively tells Us Weekly. "Things ended over text when he basically ghosted her," the source tells Us of the rapper, who is currently touring out of the country. Nothing too serious happened between the "One Dance" singer, 31, and the model. One source close to Drake insists the two are just friends, while other insiders have told Us they were casually dating. Hadid previously dated The Weeknd (real name: Abel Tesfaye). The pair split in November 2016 after nearly two years of dating. After the breakup, the "Starboy" singer, 27, dated Selena Gomez for 10 months before the 25-year-old "Wolves" crooner got back together with ex Justin Bieber.
Fergie says she wants to make a music video for every song on her album 'Double Dutchess '. She released her second studio LP in September, and says she has set herself the task of creating footage to accompany all 13 songs.