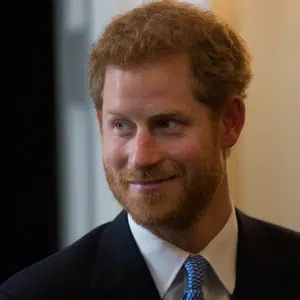 Prince Harry has reportedly asked his older brother Prince William, Duke of Cambridge, to serve as the best man in his upcoming wedding to Meghan Markle. A source close to the situation tells E! News that royal weddings don't traditionally include a "best man" but that William broke tradition by having Harry as his best man in 2011. William's children, Prince George and Princess Charlotte, will also have roles on the day of the wedding. His wife Kate Middleton, Duchess of Cambridge, will not have an official role in the nuptials. Harry and Markle will tie the knot at St. George's Chapel at Windsor Castle in May 2018.
It seems that Caitlyn Jenner is off the market. Caitlyn is reportedly dating 21-year-old college student, Sophia Hutchins. Their romance comes more than two years after Caitlyn Jenner divorced her ex-wife, Kris Jenner. Sophia is also transgender, and she was inspired to transition after watching Caitlyn's 2015 '20/20′ interview, in which she broke down her life-long struggle with gender identity.
Chris Pratt has filed for divorce from Anna Faris. Chris filed legal documents to end their marriage, citing irreconcilable differences. The pair were married for eight years.
Anna filed her response at the same time Chris filed his papers, so they essentially did it jointly. Both are requesting joint custody of their son Jack, 5.  Anna is requesting child support. Their documents are nearly identical, according to the records, and while both reserve the right to request spousal support, it is unlikely they actually will.
The pair reportedly had a prenuptial agreement.
Throughout their separation process, the pair have been amicable, and that pattern appears to be continuing. Anna is reportedly dating Michael Barrett, a cinematographer.
Sarah Jessica Parker has collaborated with GAP on a childrenswear range. They will launch a limited-edition kids line for sale both online and in stores in America, Canada, UK, France, Italy, China, Hong Kong, and Japan next year.
According to my source, Brad Pitt and Jennifer Lawrence are hooking up. Jennifer and her boyfriend, Darren Aronofsky just recently broke up, so I guess it is possible. My source says Jennifer ticks all of the boxes for Brad.
Katharine McPhee accidentally crashed a weekend wedding in Cabo San Lucas, Mexico, over the weekend and got kicked out by the bride. Apparently, she felt that the bride should've been more grateful for her presence and complained about it via an Instagram story posted by her producer friend Hilary Shor. "What bride does her own wedding security?" Katharine says snottily in a clip. Katharine is shown in bed giggling and chiming in, "I was ready to show some serious moves." BTW, Hilary captioned the video, "Bride B**ch"…just lovely.
Kim Kardashian took to Instagram yesterday to share a photo of herself at an art exhibit featuring the wax statues from Kanye West's "Famous" music video. The image clearly shows the naked wax figures of Kanye West and Taylor Swift in bed. Kim simply captioned it "Famous." However, Taylor's fans were quick to accuse Kim of throwing shade at the pop superstar and began posting rat emojis in the comments section. They went on to explain that snakes (a symbol for Taylor on her new album Reputation) eat rats (their symbol for Kim).
Speaking of Taylor, she has been unveiled as the cover model for the January 2018 issue of British Vogue. The cover shows Taylor wearing a gorgeous red dress and glowering at the camera with smoky eye makeup, dark lipstick and slicked back hair. Interestingly, Taylor's 12-page shoot inside the magazine will not be accompanied by a traditional interview; it will instead feature a poem written by Taylor "just for Vogue on the timely subject of reinvention and moving on." Taylor has yet to give an interview during the promotion of her new album Reputation.
Netflix announced yesterday that it will resume production on House of Cards in early 2018. The eight-episode sixth season won't feature Frank Underwood, the powerful politician portrayed by accused sexual predator Kevin Spacey. Instead, the season will focus on Frank's equally ambitious wife, Claire, played by Robin Wright. "We are excited to bring closure to fans," said Netflix content chief Ted Sarandos. Since Kevin's career was derailed by multiple accusations of sexual misconduct in late October and early November, speculation has been rampant that his character would simply be killed off, as he is in the book that inspired the series.