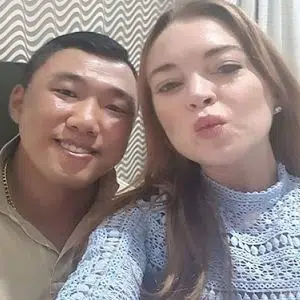 Lindsay Lohan's weird life is even weirder than you thought. Because now she's hanging out with an Asian billionaire bodybuilding arm wrestler who calls himself the Korean Hulk.
His real name is Je-Yong Ha, and he might not actually be a billionaire. There's talk that he's trying to become Internet-famous by appearing richer than he is.
But he does seem to have money, because he's got a bunch of pictures and videos on Instagram of himself and Lindsay traveling and partying. Also, he's a monster, and he is indeed a competitive weightlifter and arm wrestler.
He currently lives in Russia, which is where they might have met. My source says there's nothing romantic happening here . . . they're just friends. But they do seem to be having a good time.
Angelina Jolie has revealed that she tried to save her marriage to Brad Pitt by making the 2015 film By the Sea. She said they met working together [on 2005's Mr. & Mrs. Smith] and they worked well together so, she decided to try it again. However, it didn't turn out quite like she expected. She says, "There was a heaviness probably during that situation that carried on and it wasn't because of the film." She goes on to say that many factors affected their relationship, for example, she lost her mother, she had a mastectomy, then an ovarian cancer scare and another surgery. She says, "A piece of art can be something that's healing or something that's difficult. I don't know. I'm glad we did that film because we did explore something together. Whatever it was maybe it didn't solve certain things, but we did communicate something that needed to be communicated to each other."
Jim Carrey's sweet childhood letter to Carol Burnett finally paid off. On The Carol Burnett 50th Anniversary Special, Jim Carrey joined Carol to reminisce about the sweet letter that he sent to his hero Carol Burnett when he was only ten years old. In the letter, Jim asked her if he could be a regular on the show. He received a polite rejection letter telling him they weren't hiring children but he should stay in school and study hard. If Jim was carrying a grudge over the last few decades from the rejection, all was forgiven when she finally 'hired him' at the end of the segment.
Selena Gomez and Taylor Swift have been friends for more than 12 years and in a recent radio interview, Selena revealed how their friendship came to be. "We actually dated the Jonas brothers together! It was hysterical," she admitted of her and Taylor's brief romances with Nick and Joe Jonas, respectively. "It was amazing, because she was the girl with the big curly hair and all the bracelets and the cowboy boots. And I was definitely up-and-coming, and we just clicked." Selena jokingly added, "It was the best thing we got out of those relationships." The 25-year-old pop star went on to make it clear that all four parties are on good terms. "They're lovely, by the way," she confirmed. "We're all friends now. We were young, you know; it's a different time." Selena was also asked in the interview if she would consider collaborating with Taylor in the future. "Absolutely. She has always been there for me," the singer replied.
Speaking of Selena, she made her Instagram account private early yesterday, seemingly because a Billboard reporter wrote about her huge teddy bear.
In a since-deleted post Selena shared on her Instagram Story overnight, she wrote, "Never will I let another human guess my words ever again. Or invite them into my home. That is so hurtful. The most 'ridiculous' part of that is no one knowing my heart when I say things." Selena wrote those words over a piece of background text that appears to come from her recent Billboard cover story after she was named the outlet's Woman of the Year. The exact text that appears reads, "There's a five-foot teddy bear sprawled across the kitchen floor in Selena Gomez's North Hollywood home…[She says], 'It was a gift, and at first I thought this is so ridiculous, I can't wait until I give it away to another person.'"
The ratings for NBC's TODAY have seen a huge spike following the firing of anchor Matt Laurer, who was accused of "inappropriate sexual behavior" last week. They have killed it in the ratings this first week of December, beating Good Morning America by more than half a million viewers. The week prior, Good Morning America beat them by 110,000 viewers.
Chris Pratt says he doesn't mind being asked questions about his diet and fitness regime on a regular basis. He told Ellen yesterday, "I feel like at least a third of my job is just being a prop. I am a puppet, I get to say stuff that other people come up with and stand in an area that someone's already lit. It's great Chris made the comment after his Jurassic World co-star Bryce Dallas Howard revealed that Chris gets asked about his appearance so often when they're promoting the films that she finds herself thinking, "His body is not a commodity. He's a human being with thoughts and ideas and dreams and goals. Don't just talk about his abs!"
Glee's Naya Rivera has filed for divorce from her husband, Ryan Dorsey. This is the second time she has filed for divorce after more than three years of marriage. She filed just a week after she was arrested and charged with misdemeanor domestic battery after she allegedly hit Ryan. Naya and Ryan got married in July 2014, just three months after Naya ended her engagement to Big Sean.
Kim Kardashian seemed to reignite her feud with Taylor Swift on Monday when she posted an Instagram photo of herself at an art exhibit featuring the wax statues from Kanye West's "Famous" music video. The image clearly showed the naked wax figures of Kanye West and Taylor Swift in bed. Well, yesterday, Taylor appeared to clap back at Kim. Taylor shared a photo from her new British Vogue shoot and captioned it, "I never trust a narcissist, but they love me…" The line is featured on the track "I Did Something Bad," on Taylor's Reputation album and many believe it's about Kim K.
Hilary Duff has compared her rekindled romance with musician Matthew Koma to Selena Gomez and Justin Bieber's on-again relationship. "I mean, this is the third time that we've dated and I think that what [Gomez] says has so much merit to it," Hilary said on Tuesday's episode of The Talk. "…I think that you have history and a past with someone and love, and just because it doesn't work out the first time, the second time, as long as there's not too much damage done, then, it can always work out again." In October Hilary and Matthew decided to give it another shot five months after their first split and three moths after her brief fling with Ely Sandvik.
Beyoncé made a surprise appearance at the Sports Illustrated Sportsperson of the Year Awards last night to present Colin Kaepernick with the Muhammed Ali Legacy Award. "Thank you for your selfless heart. And your conviction. Thank you for your personal sacrifice," Beyoncé said while introducing the athlete-turned-activist. "Colin took action with no fear of consequences or repercussions, only hope to change the world for the better. To change perception, to change the way we treat each other, especially people of color." Kaepernick thanked the singer when he took the stage, noting, "I don't know if I could've asked for a better introduction." Previous Legacy recipients include Bill Russell, Kareem Abdul-Jabbar, Jim Brown, and Magic Johnson.