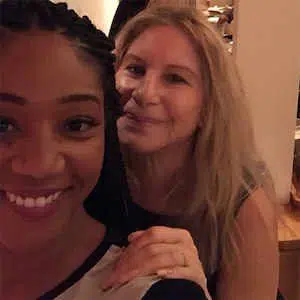 Comedian and actress, Tiffany Haddish is kind of having her big moment, thanks to the movie "Girls Trip", and her recent gig hosting "Saturday Night Live". Which means she doesn't have time to date right now.
She says, "I would like to eventually, definitely by summer time I would like to be dating somebody. I want somebody to give me butterflies. I'll adjust my schedule for butterflies."
Some guys may be a little hesitant to date Tiffany though… In her new book "The Last Black Unicorn", she talks about how she got back at a guy who cheated on her by relieving herself in his favorite pair of Jordans.
She says, "I ate a lot of corn. A lot. And I didn't chew it so well." And yes, she was there when he put them on. She told him she did it for, "All the [poop] you put me through!"
Chris Pratt loves to hunt . . . and he doesn't care who knows it. During a recent Twitter Q&A, someone asked him what his favourite animal to hunt is. He also showed Chris a picture of a deer he just bagged.
Chris said, "I like it all but it's hard to beat a good elk hunt. Congrats on your deer!"
Then another fan said, "2017 and people still hunt? STILL?? Literally how."
And Chris replied, "Literally? People hunt by using modern firearm, archery or muzzle loading equipment. There's an application process for licenses and tags which are available only during short, strictly enforced seasons.
"One must complete a hunter's safety test to be eligible. I hope this helps."
Taylor Swift reportedly has a special lock on her bedroom door. My source tells me when Taylor rented her furnished $45,000 per month apartment in New York City, one of the only changes she insisted upon was installing a top secret high tech keypad lock to her bedroom door. The additional security for her bedroom was a huge concern. If anyone got into the property without permission they could not enter where she slept. It was almost like having a panic room installed for which only she knew the code to get in and out.
According to one of my sources, Ed Sheeran was honored by Prince Charles at Buckingham Palace yesterday. Charles presented him with a Member of the Order of the British Empire Award. Ed received the award for his contributions to music and charity. He said; "My grandfather … he died on this day four years ago, so it's actually quite a nice full circle thing, I guess he'd be pretty proud."
Lorde predicted the downfall of powerful men several months before public figures like Harvey Weinstein, Kevin Spacey and Matt Lauer were accused of sexual misconduct. Back on January 29th Lorde tweeted, "These old men in power have a storm coming, the likes of which they cannot comprehend. She recently reposted the cryptic tweet, writing, "This came true I guess."
Chrissy Teigen is sick of her 'so-called' friends who are leaking and selling personal details about her private life to media outlets. Chrissy was so upset after E! Tweeted a list of her pregnancy cravings that she called on them to identify the person who gave them the information. She Tweeted: "You guys should do a service to all the celebs who give you hourly content and say who your sources are so we can get rid of the…friends in our lives who sell you stories," She also stated that this would be helpful for other celebrities as well.
My source tells me The Weeknd and Bella Hadid has confirmed the exes have "been talking, texting and FaceTiming each other" and are "still totally in love." Bella missed him and she is happy with where things are, as is he.
The Weeknd and Bella dated for 18 months after first meeting in April 2015. After they split, The Weeknd dated Selena Gomez for 10 months. When Selena recently rekindled her romance with on-off boyfriend Justin Bieber, The Weeknd reached out to Bella…or so it seems.
Gwyneth Paltrow claims disgraced producer Harvey Weinstein lied about sleeping with her while attempting to seduce other women. Gwyneth says she has heard stories from multiple women who heard her name mentioned during their alleged encounters with Harvey. Gwyneth, who says she rebuffed Harvey's advances, claims he would boast about having sex with her in an attempt to coerce others.
Nick Carter took to Twitter to wish his younger brother Aaron Carter a happy birthday on Thursday, despite their rocky relationship. "Happy birthday to my baby brother and sister @angelcarter and @aaroncarter," Nick tweeted on Thursday. Aaron quickly replied, "You're an awesome person, bro! I'm always in your corner." The 37-year-old Backstreet Boy and 30-year-old former child star feuded online earlier this year after Aaron was arrested for a DUI. Nick reached out to him on Twitter, but Aaron alleged that the two were estranged and that his brother never contacted him privately. In an interview at the time, Aaron said, "If my own blood truly cared about my well-being, why wouldn't he call me directly and have a conversation instead of making this about him through a very public forum?"