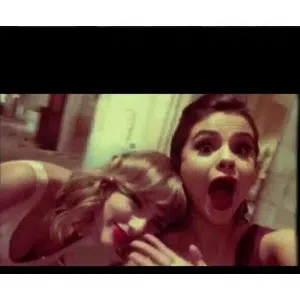 Selena Gomez shared a sweet video tribute for her long-time BFF Taylor Swift's 28th birthday! Selena posted a clip featuring the two of them making silly faces for the camera while hanging out together. She wrote, "I'm glad you were born. You write all the thoughts some aren't able to articulate. (ME!) Thank you for giving a voice to this world that is authentic and inspiring," Selena added. "I wish some knew how big your heart actually is… it's fierce, bold and freaking wild with light. I'm glad you protect that. Love you @taylorswift."
Selena was just one Taylor's many friends and fans to wish her a happy birthday. Lily Aldridge, Ryan Seacrest, and many more also shared tributes to her as well.
At the end of the day, Taylor put up a photo of herself performing at the Jingle Bell Ball in London over the weekend, thanking everyone for the well wishes and saying she couldn't have asked for a better year.
I can't say I am surprised to learn this…Mariah Carey has real reindeer at her Christmas party. She says she doesn't want to compare her Christmas celebration to others and say that hers is more festive, but then she goes on to pretty much say that.
This is embarrassing. Nick Lachey allegedly hands out cheap Christmas gifts to fans. Apparently, Nick is handing out gifts at his shows right now, but it's really just old t-shirts and merchandise that the band never sold. Thanks Nick!
A source of mine tells me that Jennifer Lopez has been teaching Alex Rodriguez how to sing. Apparently, Alex has been hitting Jennifer Lopez's at-home recording studio and is having so much fun he's putting together a CD. It is not something that will be released or sold, it is more a thing he is doing to give out to friends and family. He is having the best time dating Jennifer and has been teaching her to throw a ball, so it only makes sense she's teaching him how to sing.
Russell Brand's wife has "banned" him from joking about her pregnancy in his stand-up shows. Russel and Laura Gallacher have a 13-month-old daughter named Mabel, and he says that he carries out "rigorous joke-checks" with his partner, and that's the one subject she was quick to put a block on. I think that makes sense, you don't mess with a pregnant woman!
Billboard has released its list of the 100 best songs of 2017! Here are the top 10 songs from its annual list (check out all 100 at the link):
Selena Gomez, "Bad Liar"
Cardi B, "Bodak Yellow"
Calvin Harris feat. Frank Ocean & Migos, "Slide"
Luis Fonsi & Daddy Yankee feat. Justin Bieber, "Despacito" (Remix)
Lil Uzi Vert, "XO TOUR Llif3"
Kendrick Lamar, "HUMBLE."
J Balvin & Willy William feat. Beyonce, "Mi Gente" (Remix)
Harry Styles, "Sign of the Times"
The Weeknd feat. Daft Punk, "I Feel It Coming"
Portugal. The Man, "Feel It Still"
A Kensington Palace spokeswoman announced yesterday that Meghan Markle and her fiancé Prince Harry will be spending Christmas together. "You can expect to see the Duke and Duchess of Cambridge, Prince Harry and Ms. Markle at Sandringham on Christmas Day," she said. Sandringham is the eastern England estate where Queen Elizabeth and her close family usually spend the holiday season. According to British media, the announcement marks a break in royal protocol. Typically, royal partners must wait until they are married to be invited to the Christmas celebration.
Kirsten Dunst is pregnant! She is expecting her first child with her fiancé and Fargo co-star Jesse Plemons. The couple is reportedly planning to tie the knot in Austin, Texas, sometime next spring. Last year, Kirsten said her perfect wedding would entail "courthouse, dinner party and DJ with friends and family. I'll treat it like it would be my 40th birthday."
Aaron Carter celebrated his 30th birthday on December 7th — but he never thought that he'd get there. "I thought I would die by 30," he says. "Even when I was 13, 14, I thought, 'Oh, my God. I'm going to die.'" The former pop star goes on to say that his recent 90-day stint in rehab helped him deal with issues like the deaths of his father and sister, as well as post-traumatic stress disorder. "Life, it was pretty tough," he recalls. "I dealt with a lot of trauma, a lot of loss, a lot of loneliness. I just felt like I needed to get away." However, he now feels recharged. "I've been burnt," he notes. "My goal is to be the phoenix that rises from the ashes… It's time to act like a frickin' adult."