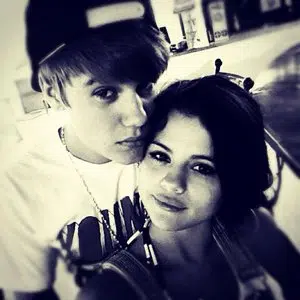 Justin Bieber whisked Selena Gomez away on a private jet from California to Washington on Saturday night. They two visited the Sugar Factory and enjoyed an evening at the candy store's chocolate lounge. People who saw them say they held hands as they enjoyed a virgin drink with two straws…yes they drank out of the same cup. At one point in the evening all eyes were on them as Justin danced around as the Pussycat Dolls' "Buttons" played. Sadly, that's when it stared going downhill. Selena didn't like all the attention they were getting so she excused herself, Justin paid for the bill and then they left shortly after.
Just call me Santa Josie for delivering this information to you the week before Christmas, Taylor Swift's app, The Swift Life has officially arrived.
The app focuses on connecting Taylor's fans to both her and each other through a shared social feed. They'll be able to collect stickers and "Taymoji" packs, post pictures, listen to music and view exclusive posts from Taylor herself. Fans will even get to check in with her cats, Meredith and Olivia.
The best part? The Swift Life is available for free from the App Store on iPhone, iPad or iPod touch. It's coming soon to Google Play. In this case, you can thank the messenger, you're welcome!
Southern California has been ravaged by fires for most of December, and now Oprah Winfrey is one of the residents evacuated due to the Thomas Fire. On Saturday, Oprah tweeted that she's "still praying for our little town." She then shouted out the efforts of the firefighters, tweeting, "God bless every firefighter and their families. Fighting 3 weeks straight. Still going. Imagine their exhaustion! #ThomasFire." Other celebrities who have been evacuated due to the fires include Ellen DeGeneres, Portia De Rossi and Rob Lowe.
Full House is one of the most popular TV sitcoms of recent memory, but one of its stars did his best to get away from it. John Stamos says, "For years I was really trying to distance myself from [Full House]." John, who played Uncle Jesse on the show continues saying, "Then I realized, it ain't going away so I better embrace it." Now, John credits Full House with providing a great life for his family and opportunities he would never had enjoyed without it.
Serena Williams may be the most dominant tennis player in the world, but she's still figuring out how to be a mother. Yesterday Serena shared her struggles on Instagram as her 3-month-old daughter goes through teething. "Teething — aka the devil — is so hard," Selena captioned a photo of child Alexis Olympia. "I almost need my mom to come and hold me to sleep cause I'm so stressed. Help? Anyone??" The new mom also reached out to fellow moms with questions about breastfeeding and many women responded, including Broadway star Audra McDonald.
Nick Jonas is a huge Game of Thrones fan, and now one of the show's stars is marrying into his family! Joe Jonas and Sophie Turner, who plays Sansa Stark on the HBO hit, announced their engagement in October, and while Nick is thrilled for them, he doesn't want his future sister-in-law to give him any spoilers. Nick says, "I'm a big Game of Thrones guy. The Red Wedding really messed me up. I don't want to spoil [the show]. I told her, 'Don't even hint.' I don't want to hear." One thing Nick said he did see coming was Joe's love for Sophie: "It was clear to me early on that this relationship was one that was meant to be," Nick said.
James Corden and his wife Julia Carey welcomed their third child to the world just a few days ago, but on last night's episode of The Late Late Show, James admitted the proud parents still hadn't chosen a name for their little one. He did mention that after their daughter was born he told the doctor that they were going to call her Beyoncé. I guess the nurse started filling out the paperwork, thinking he was serious, and he had to stop her.
David and Victoria Beckham are planning to build a huge treehouse at their house in England, making them the coolest parents ever! They bought their home near London last year for $8.6 million and have asked the council for planning permission to build a treehouse in their garden for their four children; Brooklyn, 18, Romeo, 15, Cruz, 12, and Harper, six.
Elton John will be honored with a Grammy tribute show, Elton John: I'm Still Standing. Those scheduled to perform so far include Miley Cyrus, Kesha, Miranda Lambert, John Legend, Little Big Town, Chris Martin, Maren Morris, Sam Smith and Keith Urban.
The tribute show will be recorded on January 30th at the Theater at Madison Square Garden in New York City, and will air at a later date on CBS.
The upcoming reboot of Roseanne finally has a premiere date. ABC has revealed the blue-collar sitcom will officially return on March 27. The announcement was made with a short video teaser featuring a shot of the Conner family's iconic plaid couch, accompanied by the Roseanne theme song and Roseanne Barr's iconic laugh. The teaser reads. "Same couch, same cast, same laugh."