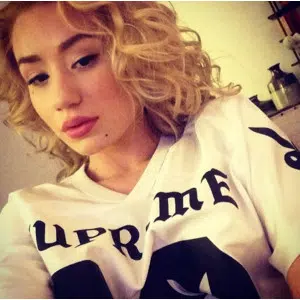 Iggy Azalea took to Twitter yesterday to shut down reports she went on a dinner date with her ex-fiancé Nick Young over the weekend. "The unfortunate thing about Los Angeles is there are not that many places people eat," Iggy wrote in response to an article by Daily Mail reporter Ryan Smith. "You can be in the middle of one of the most important dinner meetings of your life, and randomly your ex and all his friends walk in the same place." Iggy also told Ryan: "I hope all your Christmas gifts contain boxes of dried up chips of dog s**t for trying to imply I would EVER, EVER have a dinner date with my ex who created a full human behind my back." Iggy and Nick broke up in June 2016 after it was revealed that Nick knocked up his baby mama while engaged to the rapper.
In the wake of the Harvey Weinstein scandal and the #MeToo movement, Matt Damon wants everybody to start talking more about men who aren't sexual predators. "We're in this watershed moment, and it's great, but I think one thing that's not being talked about is there are a whole s**tload of guys — the preponderance of men I've worked with — who don't do this kind of thing and whose lives aren't going to be affected," he tells Business Insider. He adds, "If I have to sign a sexual-harassment thing, I don't care, I'll sign it. I would have signed it before. I don't do that, and most of the people I know don't do that." Matt's comments come in the wake of him being criticized last week for suggesting that claims of sexual harassment should be viewed differently from allegations of sexual assault.
Anna Kournikova and Enrique Iglesias are new parents. The long-time couple welcomed twins Nicholas and Lucy in Miami over the weekend after keeping the pregnancy a secret. The notoriously private couple have been dating since 2001 after meeting on the set of the 42-year-old Spanish singer's "Escape" music video. While they are not thought to be married, 36-year-old Anna has been sporting a large diamond ring and matching eternity band on her ring finger since last year. The couple were last photographed together in November 2016.
NBC is reportedly in talks to revive The Office for the 2018-2019 season. According to my source, the reboot would once again be set at Dunder Mifflin's Scranton, Pennsylvania, branch and would feature a mix of new and old cast members. Steve Carell, who starred as the branch's regional manager Michael Scott for seven of the show's nine seasons, would not be involved in the new series.
The original U.S. version of The Office ended in 2013.
Chrissy Teigen has revealed that she's struggling with intense headaches during her second pregnancy. "I love being pregnant. I like it more than not being pregnant," she tweeted yesterday. "But the headaches, my god the headaches. Someone…please help. Don't say water. Or Tylenol. Or iron. Or magnesium. I need witchcraft." The 32-year-old model announced last month that she and husband John Legend are expecting their second child. The two already share 19-month-old daughter Luna.
Eminem has revealed he has a Tinder account — and that he's actually gone on some dates, thanks to the app. "It's tough. Since my divorce I've had a few dates and nothing's panned out in a way that I wanted to make it public," the rapper tells Vulture. "Dating's just not where I'm at lately." Em goes on to explain that, in addition to the dating app, he's previously visited strip clubs to look for women. "What can I say? Going to strip clubs is how I was meeting some chicks," he notes. "It was an interesting time for me."
Ed Sheeran –drinks every day. He says he doesn't have a problem with booze because he doesn't "need" it, but he likes to have "good times". He says, "I like a drink, yeah. I have never woken up and said I need a drink but I love drinking every day".
Emilia Clarke has revealed that the 'Game of Thrones' cast has been issued a "very strict" social media ban. Last year Emilia made fans so happy by sharing candid backstage pictures of herself and co-star Kit Harington goofing around when the cameras had stopped rolling, but her Instagram followers are in for a disappointment over the coming months because everyone who works on the show have been warned about sharing anything online, in her words: "because people need to stop spoiling it for everyone. It's really frustrating."
David Guetta – wants his own song to be played at his funeral. He produced the Black Eyed Peas' 2009 single 'I Gotta Feeling' and says the song is so special to him, that its release was one of the happiest moments of his life and he wants it played when he dies.
Hip hop mogul Sean "Diddy" Combs wants to make history. Diddy announced that he wants to buy the NFL's Carolina Panthers. He posted a video to Instagram with the caption, "Attention to the Carolina PANTHERS!! ATTENTION NFL! This is a chance to make history!!! There are NO AFRICAN AMERICAN MAJORITY OWNERS IN THE NFL!!!! I WOULD LIKE TO BUY THE CAROLINA PANTHERS!!! Let's GOOOOOOO!!!!! Spread the word. Tell the world! No joke."
In the video message, Diddy said, "I need to send a message out to everybody in the beautiful state of North Carolina: I would be the best NFL owner that you can imagine . . . I will immediately address the Colin Kaepernick situation and put him in the running for next year's starting quarterback. It's just competition, baby, it's just competition. But also, I would have the best halftime show, the best selection of music and we would win Super Bowl after Super Bowl."
Over the weekend, Jerry Richardson, 81, announced that he will be selling the franchise he bought with a group of investors in 1993. The owner is currently under investigation for workplace misconduct which includes allegations of sexual harassment and the usage of a racial slur towards a team scout.
After Diddy's announcement, Golden State Warrior star Steph Curry, said via Twitter, "I want in!" Diddy responded, "Holla at me, let's get it!" Curry was raised in North Carolina and is a long-standing Panthers fan.
Colin Kaepernick also tweeted, "I want in on the ownership group! Let's make it happen!"
The team is valued at $2.3 billion. Diddy's estimated net worth is $820 million.