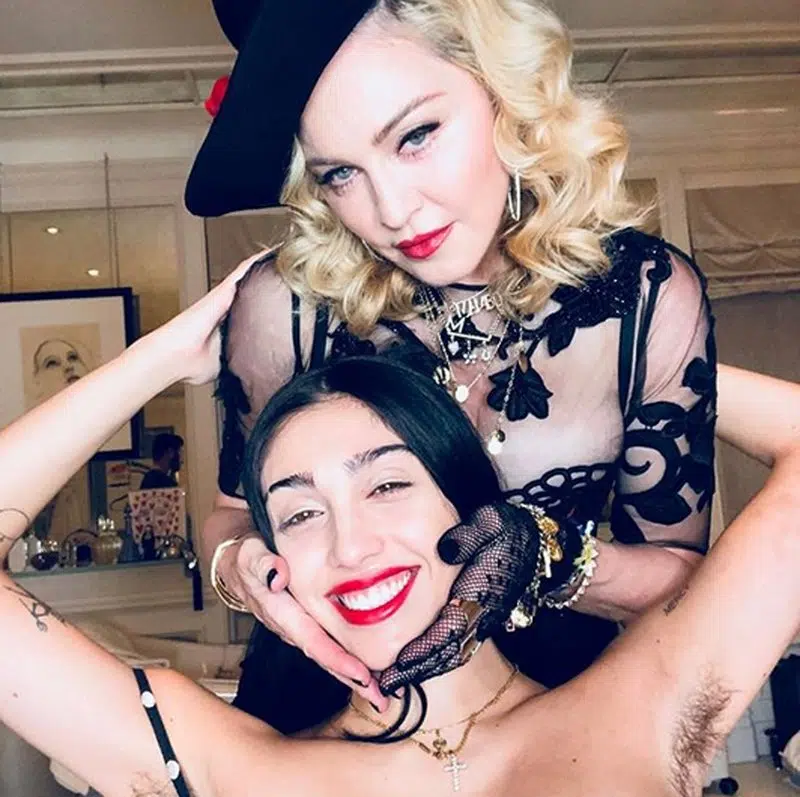 Britney Spears spent the first day of 2018 with her boyfriend Sam Asghari. The 36-year-old took to Instagram on Monday (January 1st) to share a sweet video of herself and her 23-year-old model beau cuddling and having some fun with filters.
Meanwhile, after four years of gigs at The AXIS at Planet Hollywood Resort & Casino, Britney rang in the new year with her final Las Vegas residency show on New Year's Rockin' Eve with Ryan Seacrest to the delight of fans.
During the sold-out show, Britney performed her biggest hits while dancing across the stage. She also experienced plenty of costume changes during her set.
She also had the full support of Sam who couldn't help but express how proud he was of his girlfriend, "4 years of legacy, 4 years of greatness, a change in entertainment for the better!" he wrote on Instagram. "Extremely proud of my baby for kicking ass again tonight, but this time to end #pieceofme In Vegas after 4 years of residency. What a night. Happy New Year. #GOAT#britneyspears"
Madonna rang in 2018 with her family. The 59-year-old entertainer took to Instagram on Sunday night to share photos celebrating the new year with her friends and family – including 21-year-old daughter Lourdes Leon.
"We are Ready For You 2018! ♥️♥️♥️♥️♥️♥️♥️ #llove ♥️" Madonna captioned the photo of herself wearing a black lace dress while her daughter wore a strap-less dress showing off her unshaven armpits.
Lourdes is one of the many young stars who doesn't conform to body hair removal standards, and laid out in the sun often with her underarm hair on display.
It has been over six years since Amy Winehouse passed away and her dad Mitch is opening up about how he has been visited by his late daughter's ghost. Mitch says that Amy's ghost visits him at his home in Kent, England regularly. "After three years I was thinking maybe that one day she will come back in some shape or form, and she does come back – not physically, but spiritually – all the time," he said in a new interview. "Her spirit comes and sits on the end of my bed. She just sits there and it looks just like her with her beautiful face and she looks at me," Mitch added. "I say to her, 'Are you all right?' because I get ¬nervous with her being there. But it is comforting in a way to know she is here and around me." Mitch says that Amy's ghost appears more frequently around her birthday, September 14th.
Camila Cabello posted a video on New Year's Eve, a present to her fans for always being there for her. The video is a montage of childhood home videos and behind-the-scenes footage, plus clips of Camila and various fans singing along to the opening track on her upcoming album.
Mariah Carey returned to Times Square for her highly anticipated performance on Dick Clark's New Year's Rockin' Eve 2018 and while her performance went well, she still called the moment a disaster.
In between her performances of "Vision of Love" and "Hero," Mariah asked if it would be okay for her to go take a sip of tea. She said, "I'm just going to take a sip of tea if they'll let me. They told me there would be tea," Then she couldn't find it and said, "Ugh, it's a disaster. Okay, well, we'll just have to rough it. I'm going to be just like everybody else with no hot tea."
Still, Mariah was able to redeem herself after her performance at the event last year went horribly wrong when she couldn't hear the music in her ear.
Mariah gave a triumphant performance – and – after the show, she did end up finding the tea!
And Halsey and G-Eazy shared a kiss on stage as the clock struck midnight on New Year's Eve as they hosted a party in Miami. Needless to say they are kicking off the New Year very much together and looking strong!
A list of the top pop culture events you can look forward to this year includes the kick-off of the Winter Olympics next month . . . the "American Idol" reboot . . . three new Broadway musicals based on "Frozen", "Mean Girls", and "Harry Potter" . . . and the new Mary Poppins sequel this December.
Zac Efron was on "The Graham Norton Show" and he talked about a phone call he once had with Michael Jackson. He was about 20 years old and says he started crying when Michael said he was a fan. Then Michael started crying too when Zac told him what a huge inspiration he was growing up.
Carrie Underwood has revealed even more details about that "hard fall" she took on her front porch back in November. That's the one where she broke her wrist and had to have surgery.
Well, she told her fan club members on Sunday that the fall caused severe cuts to her face that required stitches.
She said, "I'll spare you the gruesome details, but when I came out of surgery the night of my fall, the doctor told [my husband] Mike that he had put between 40 and 50 stitches in."
It sounds like Carrie didn't want to tell anyone because she wanted to heal first and then see what it looked like. But she's admitting now that although she's on the mend, she's also "not quite looking the same."