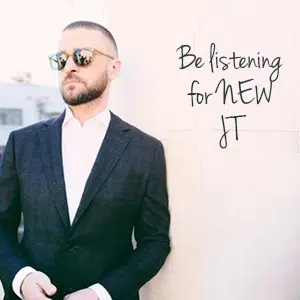 Now we now that "Filthy" is the title of Justin Timberlake's first single from his anticipated new album, Man of the Woods. The new song is due to debut with a music video this Friday and Justin says it should be played "very loudly."
"Filthy" was co-written and co-produced by Justin, Timbaland, and Danja with additional writing credits from James Fauntleroy and Larrance Dopson. The music video for "Filthy" was directed by award-winning director Mark Romanek.
According to a press release, the "dance heavy video features Justin as a modern day inventor presenting his latest creation to the world."
Following "Filthy" and leading into the February 2nd Man Of The Woods album launch, Justin will release three additional music videos, each with their own individual style and color from three different directors. The additional songs will be released weekly starting on January 18th leading up to the release of the full album.
The album will feature collaborations with the Neptunes, Alicia Keys and country artist Chris Stapleton. To say I am excitement is a massive understatement.
Sarah Silverman has agreed to help a stranger from Texas, who she met last week after he called her a vulgar word on Twitter.
It started when Sarah Tweeted that she was open to understanding more about Trump supporters and their beliefs. She seemed sincere about it, but a guy named Jeremy Jamrozy didn't buy it. He responded with one word . . . the C-word.
Sarah didn't ignore him or block him . . . instead, she Tweeted, "I believe in you. I read your timeline, and I see what you're doing, and your rage is thinly veiled pain. But you know that. I know this feeling. P.S., My back [pain] sucks too. [Try to] choose love. I see it in you."
This led to a wildly deep back and forth, where Jeremy said that he can't "choose to love" people, because he was abused as a child. He also said he's too poor to get help for some medical problems with his back.
Eventually, Jeremy apologized for the C-word . . . and Sarah said she didn't care, and started asking if there were any doctors in San Antonio willing to help him out.
Jeremy said tips started pouring in, and that Sarah had also offered to cover his medical treatment. He'd already raised a little cash on his own . . . and now he's paying it forward by giving THAT money to others who need help.
Obviously, Demi has a history of dating younger guys, which makes this somewhat believable. Most famously, she was married to Ashton Kutcher, who's 16 years younger. But Nick is a full three decades younger than she is.
There is a rumour that 55-year-old Demi Moore might be secretly hooking up with 25-year-old Nick Jonas. They say her daughter Rumer introduced them.
Nick seems to have a thing for older woman too though… He dated Kate Hudson for a while, who's 13 years older. And he was also with Australian singer Delta Goodrem, who's eight years older than him.
We're about to start drowning in awards shows again. The Golden Globes are this Sunday, followed by the People's Choice Awards on Wednesday. Then the Oscar nominees get announced January 23rd.
Obviously, a lot of the same people get nominated for multiple awards each year. So, what do they do with all those statues they win? Most people assume every A-list actor has a massive trophy room, but that's not always the case.
Here are 10 of the weirdest things actors have done with their Oscars . . .
1. Russell Crowe won Best Actor for "Gladiator" in 2001, and reportedly kept his statue in a chicken coop at his ranch in Australia.
2. Timothy Hutton won an Oscar for "Ordinary People" in 1981, and thought it would be funny to keep it in his fridge to mess with his friends when they went to grab a beer. He put it in there around 2005, and admitted it was still there in 2010.
3. Kate Winslet won an Oscar for "The Reader" in 2009, and said she put it in her bathroom. Apparently, it's fairly common. Jodie Foster, Emma Thompson, Susan Sarandon, and Sean Connery have all said they keep their Oscars in the bathroom.
4. Jared Leto won Best Supporting Actor for "The Dallas Buyers Club" in 2014. And the first place he decided to put it was in his kitchen.
5. After Kevin Costner won two Oscars for "Dances with Wolves" in 1991, he put them in his underwear drawer so they wouldn't get stolen.
6. Ben Affleck gave his Oscar to his mom after he won for "Good Will Hunting" in 1998. And Jennifer Lawrence put her Oscar for "Silver Linings Playbook" on her parents' piano at their home in Kentucky.
7. At one point, Whoopi Goldberg's Oscar for "Ghost" ended up in a trashcan at an airport 40 miles east of L.A. She sent it out to get cleaned, and someone stole it. Apparently, they got nervous and ditched it, but a security guard found it.
8. Tilda Swinton won for "Michael Clayton" in 2008. And in her speech, she said she was giving her Oscar to her agent. Which she actually followed through with.
9. Anna Paquin won Best Supporting Actress for "The Piano" when she was only 11 years old. And she used to keep her Oscar on the floor next to her shoes.
10. Goldie Hawn eventually put her Best Supporting Actress Oscar in her meditation room after she won for the movie "Cactus Flower" in 1970.
According to my source, Cameron Diaz and Benji Madden are having a hard time getting pregnant. My source tells me they have tried IVF, acupuncture, all the tricks, but nothing is working. Despite their struggles my source says they are stronger than ever, and although Cameron is the one physically going through everything Benji has been an incredible support system to her.
After taking a year off Ed Sheeran released a big album in 2017, in fact, his album was the biggest album of 2017, with sales exceeding 2,764,000 units. Ed dominated Billboard's recently released Year In Review, standing at No. 1 on 16 of their year-end charts including Top Artist of the Year and Hot 100 Song of the Year for "Shape Of You."
Furthermore, ÷ is one of only two titles released in 2017 to surpass the 1 million mark in pure album sales, and the only album of the year to have two singles go to No. 1 on the Billboard Hot 100.
The Backstreet Boys are already thinking about Valentine's Day. In an interview with Vegas magazine, the guys discuss their plans for next month's romantic holiday.
"We will be in Las Vegas doing our next leg of our Las Vegas residency," A.J. McClean says. "Hopefully, we will all have our wives out with us. My wife doesn't really like Valentine's Day. So I will make both my daughters my two Valentines – that will be fun."
Kevin Richardson adds, "My go-to is to switch it up, mix it up. Surprise her, every time! It keeps the fuego going."
While the Boys are busy planning a dream Valentine's Day, they're also thinking about their dream collaborators. For Howie Dorough, it's Bruno Mars. "He is a very talented artist," Howie says. "We all love and respect his music. I had a chance to see his show in Vegas – an amazing artist, very talented. It would be an honor for him to sing something with us."
A.J. thinks a BSB/Imagine Dragons mash-up would be cool. "I had a chance to meet those guys at a charity event in Las Vegas," he says. "They are all really big fans of us, as we are of them. That would be something really epic."
The Backstreet Boys will kick off the next leg of their Vegas residency on February 2nd at The AXIS at Planet Hollywood.