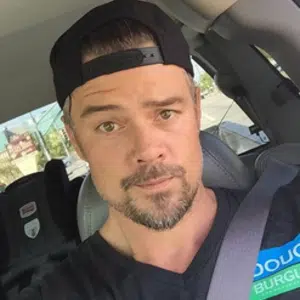 My source tells me that Jennifer Garner and Josh Duhamel may be secretly dating. The two of them did a move together ('Love, Simon') and there was a lot of talk at the time about them hooking-up. Everyone who saw them on set together said they had really obvious chemistry. Jen had already filed for divorce from Ben and Josh was already separated from Fergie so they were well within their rights, but apparently Ben was still jealous at the time.
During last night's Critics' Choice Awards, host Olivia Munn made a sarcastic toast to "all the good guys in Hollywood." Olivia and actress Niecy Nash raised their glasses onstage to "that studio executive who had me meet him in the hotel conference room instead of his actual hotel room" and "that famous actor who didn't treat me like crap after I said I didn't want to get drinks with him after the show." Olivia then addressed rumors that Mark Wahlberg made $1.5 million to reshoot All the Money in the World, while his co-star Michelle Williams made less than $1,000. "I do want to say thank you to the producers for paying Niecy and I the same amount of money and Mark Wahlberg $1 million," she declared. "He took a pay cut, so that's really nice and generous of him. Thank you so much."
As it turns out, an actress getting paid less than 1% of what her male co-star makes isn't as unusual as it sounds. It all comes down to contracts, according to a new report.
In a preview for her Friday appearance on The Wendy Williams Show, Lindsay Lohan reveals that she's creating her very own island. She told Wendy that she is going to start a lipstick line, and after that she is going to design an island – Lohan Island. She jokingly told Wendy, that she's "out-Trumping Trump with the name Lohan. She also shares that she's creating a second Lohan Nightclub in Greece. When Wendy asked if someone who is trying to be sober should have a club, Lindsay said, "It's really fun to watch other people look ridiculous."
Kendall Jenner is a very successful model, but she still often finds the pressure to live up to the hype to be too much.
Kendall opens up to her BFF and fellow model Cara Delevingne in an interview for the February issue of Harper's Bazaar.
Regarding fame, Kendall says she has had to grow up pretty fast and that sometimes, when things aren't going the way she planned she freaks out. On those days she says she wants to quit and go live on a farm and not talk to anyone and just "exist in the middle of nowhere."
In the interview she also discusses her anxiety saying, "I literally wake up in the middle of the night with full-on panic attacks." One of the things that causes her anxiety is going online. She says, "You see everyone saying the worst things to each other, and it's hard to stay positive. It's hard not to get eaten alive by all the negativity."
Finally, she tells Cara that she wants to have kids, but no time soon… she is after all, only 22 years old.
John Mayer wants you to write him a letter. He doesn't care about a "like" or a retweet, he wants a letter.
In an Instagram post, John wrote: "2018: a return to naturalism. Let's correspond. Real paper. Real ink. Real names. Here's the plan: get yourself a typewriter (@californiatypewriter and Etsy have some great ones) and send me a one page, properly formatted letter (formal or informal) and I will reply to a few every morning. Include return envelope/postage if you're overseas."
Megyn Kelly was talking about weight loss on her show yesterday, and she said she is pro fat-shaming, when it comes to her, personally.
She said, "Some of us WANT to be shamed. When I was in law school, I was gaining weight, I said to my stepfather, 'If you see me going into that kitchen one more time, you say, "Where you going, fat a**?"' And it works!"
It's hard to say how serious she was. She did seem sincere about it motivating her, but then she seemed to back off a bit.
Megyn's guest was the "Fit Mom" Maria Kang, and she said that her husband tries to hold her to her goals by doing things like scolding her if she sleeps in too long . . . and if he catches her eating chips, he'll take the bag from her.
Megyn wasn't cool with that. She said, "If my husband did that, there would be retribution later."
Britney Spears closed out her residency at Planet Hollywood's Axis theater on New Year's Eve in grand style: Not only did she set a box office record for the venue, but she also set the record for the highest gross from a single show at a Vegas theater residency. Now, Britney has signed a new deal to return to Las Vegas, but this time at the Park Theater at the Monte Carlo resort. It's the same place where Lady Gaga will stage her residency in December, and where Bruno Mars, Ricky Martin and Cher all rotate as headliners. The new gig will start in 2019. My source tells me, "They made the offer and she just couldn't refuse. She loves Vegas!" Not only that, but staying in one place makes it easier for Britney to spend more time with her sons, 12-year-old Preston and 11-year-old Jaden.