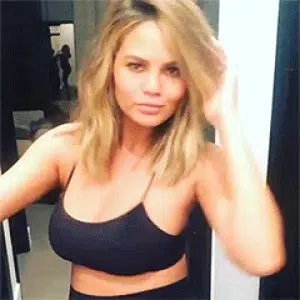 Early Thursday morning, Chrissy Teigen (who is pregnant) revealed on Twitter that she ran home having to pee, only to find that the toilet in her bathroom had gone missing. She Tweeted, "I got home today and ran to go pee pee, you know when you're so close to the bathroom so you kind of release because you know you're about to pee? Well, I did that and my toilet was gone." She then offered photographic proof of the missing toilet, prompting Questlove to tweet, "Where's @chrissyteigen's toilet?" Husband John Legend then jumped in to explain. "We're upgrading our regular toilet to one of those fancy Japanese ones that opens itself and washes your butt. Apparently, our contractor decided there should be a toilet-less transition period." When a fan feared they'd have nowhere to relieve themselves, Legend replied, "We have other bathrooms!"
James Van Der Beek took to Instagram yesterday, on throwback Thursday no less, to pay tribute to the 20th anniversary of Dawson's Creek. The 40-year-old actor shared a photo from 1997 of himself and co-stars Katie Holmes, Michelle Williams and Joshua Jackson. "I'd known these people all of seven days when this pic was taken. Twenty years ago this week," he captioned the shot. "The little pilot we shot in that small town for that fledgling network aired, changed our lives and launched our careers. Thank you to the Wilmington, North Carolina crew and community who raised us and kept us sane. Thank you to the many talented writers and producers who gave of your hearts, talents and put up with us. And thank you especially to the fans of the show." The actor added, "Thank you to anyone who's ever expressed appreciation for the work we did. It makes me feel proud to be associated with these three fine people (and the rest of the cast), and proud to have been a part of #DawsonsCreek. This one will always have a special little place in my heart."
Oprah Winfrey hasn't commented on any presidential aspirations since her epic speech at the Golden Globes, but "InStyle" magazine just released an interview that was conducted a month ago . . . and in it, she talked about how 'Oprah 2020' is NOT going to happen.
She said, "I've always felt very secure and confident with myself in knowing what I could do and what I could not. And so, it's not something that interests me. I don't have the DNA for it . . .
"I met with someone the other day who said that they would help me with a campaign. That's not for me."
She also talked about how people are trying to convince her to run by selling her buddy Gayle King on the idea . . . but she says even Gayle admits that it wouldn't be good for her, although it could be good for everyone else.
Again, the interview happened a month ago . . . before the Globes speech that sparked the Oprah 2020 hysteria. But no matter how fired up some people got . . . chances are, her DNA hasn't changed in the past few weeks.
Jessica Simpson is the latest celebrity to learn the hard way that you can't post a photo of yourself that you don't own. According to a lawsuit, the paparazzi agency Splash News and Picture Agency (one of the biggest in the business) is suing Jessica over a photo she posted to social media last year. The agency claims Jessica took the image from them without permission, edited out their copyright information, and posted the pic to her Instagram and Twitter accounts. The photo now seems to be deleted from both places.
(Kinda weird, though, that they can take pics of her without her permission, own them, publish them, and sell them!)
Cardi B and Offset shut down rumors they're no longer engaged during an event in New York City this week. Cardi was seen showing off her massive engagement ring at a private listening party for Migos' new album Culture II at GoldBar on Wednesday. "Offset made sure everyone in the room saw her ring and knew that she is most definitely his girl," an eyewitness confirms. Culture II is out today, while Cardi is set to perform with Bruno Mars at the Grammy Awards on Sunday night.
Kylie Jenner's baby bump has finally made its debut after paparazzi caught her surveying a construction site in Hidden Hills, California. The 20-year-old was spotted with mom Kris Jenner and BFF Jordyn Woods while wearing a loose-fitting, all-black ensemble. Meanwhile, rumour has it that Kylie is due to give birth to her first child with rapper boyfriend Travis Scott in early February.
Speaking of the construction site, Kyle reportedly purchased the 7-acre property with privacy in mind. I hear she wants to build a farm, garden and have a horse stable.
Last year, Casey Affleck won a Best Actor Oscar for his turn in Manchester by the Sea. But in a break with tradition, a rep for Casey confirmed Thursday that he won't present this year's Best Actress award at the March 4 ceremony. In fact, he won't even be attending, as the #MeToo movement has brought renewed scrutiny to a sexual harassment lawsuit two women brought against Casey for his behavior on the set of the 2010 Joaquin Phoenix mockumentary I'm Still Here.
Casey denied the allegations and ultimately reached an out-of-court settlement with his accusers that prohibits all parties from talking about the case. However, in a 2017 interview with The Boston Globe, he alluded to the situation by saying, "I believe that any kind of mistreatment of anyone for any reason is unacceptable and abhorrent, and everyone deserves to be treated with respect in the workplace and anywhere else."
The 60th annual Grammy Awards is making its way to the Big Apple on Sunday! The show will air live from Madison Square Garden at a new time, 7:30 pm. The event will be hosted by James Corden, making him the master of ceremonies for the second year in a row.
Kendrick Lamar has been announced to open the show with a special performance, alongside U2 and Dave Chappelle. Other performers include Bruno Mars, Cardi B, SZA, Alessia Cara, Khalid, Logic, Lady Gaga, DJ Khaled, Rihanna, Bryson Tiller, Childish Gambino, Sam Smith, Elton John, Daddy Yankee and Luis Fonsi, Little Big Town, Kesha, P!nk, Patti Lupone with Ben Platt, Chris Stapleton with Emmylou Harris, Sting, Gary Clarke Jr. with Jon Batiste and Miley Cyrus.
This is the Grammys first time in NYC in 14 years.