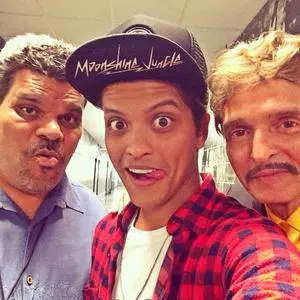 On Saturday's debut episode of The Van Jones Show, JAY-Z called Beyoncé his "soulmate" and revealed that it took a lot of effort for them to get past his infidelity. He said, "You can be in love, and you can love someone, but if you haven't experienced love and you don't understand it, and you don't have the tools to move forward, then you're going to have complications."
He went on to say, "For us, we chose to fight for our love, for our family. To give our kids a different outcome. To break that cycle for black men and women." He added, that it was far from easy, but after going through it he can said the other side of it is beautiful.
Fans of both Lady Gaga and Taylor Swift think the singers are working on new music together, thanks to an accessory Gaga wore to the Grammy's last night. Gaga complemented her black gown with a black snake ring on her finger–which looks like the one Taylor is currently selling on her website. On fan tweeted, "Snake?? Wow, she's supporting Taylor!" Another added, "OMG. Gaga is wearing a snake ring! Her Reputation era."
In a recent interview Camila Cabello got candid about why she really left Fifth Harmony in 2016. She said with the experiences she had with the girl group in the studio, she became super curious about song writing. So much so, that in the second year she was in the group, she wanted to start song writing for other people. However, as she got older and shared more personal thoughts, she didn't want to give those songs away, she wanted to sing them herself… and that's when she knew she had to break from the group and walk out on her own.
Last night's "Grammys" weren't afraid to get political. The show started with a powerful performance from Kendrick Lamar that ended with several backup dancers in red hoodies getting shot dead.
It also included a brief cameo by Bono and The Edge from U2, and two spoken-word interludes by Dave Chappelle.
In one of them, he said, quote, "I just wanted to remind the audience that the only thing more frightening than watching a black man being honest in America, is being an honest black man in America."
Later in the show, a speech about the Time's Up movement by Janelle Monae led into Kesha singing "Praying", backed by a choir that included Cyndi Lauper, Bebe Rexha, and Camila Cabello.
Cabello also gave a speech about immigration and the Dreamers, which segued into a pre-recorded performance by U2 on the Hudson River, with the Statue of Liberty in the background. (The show took place in New York.)
Pink didn't do anything political . . . because she didn't do anything during her performance. She just stood in front of a microphone in jeans and a T-shirt and sang "Wild Hearts Can't Be Broken". It was weird not to see any theatrics from her.
As for the actual awards, Bruno Mars was the big winner with SIX, including three of the biggest: Album of the Year for "24K Magic", Record of the Year for the single of the same name, and Song of the Year for "That's What I Like".
Kendrick Lamar was right behind him with FIVE.
JAY-Z came into the night with eight nominations . . . more than anyone else. And he went home with exactly zero Grammys.
Things are looking good for Justin Bieber and Selena Gomez. As we know, the rekindled their romance again about two months ago. This time around it's different for them though. My source says, Justin is behaving like a gentleman and showing how much he cares about her. He's is a lot more open about his feelings towards Selena, which has been a big sign of him maturing. He is also keeping in better touch with her while they are off doing their own thing.
I have also heard that he has smoothed things over with Selena's Mom, who publicly spoke about how displeased she was that her daughter got back together with the Biebs.
Tony Bennett caused Twitter to get fired up on Sunday, after he appeared to intentionally block Rihanna while she was accepting the Grammy for Best Rap/Sung Performance for her appearance on Kendrick Lamar's song "Loyalty." Tweets from the Rihanna Navy included, "Tony Bennett, MOVE OUT OF THE WAY FOR RIHANNA" and "Tony Bennett staying in the shot. Move over old man. Give Rihanna some room." Bennett eventually stepped aside so that RiRi could thank Lamar for choosing her to be on the track. Later in the evening, Rihanna took the stage to perform "Wild Thoughts" with DJ Khaled and Bryson Tiller.
A photo surfaced on Instagram over the weekend that showed 34-year-old Scott Disick and 19-year-old girlfriend Sofia Richie out with his three children. Kendall made it clear that she didn't approve of their romance by commenting, "Awww Scott and his kids." Many fans applauded Kendall for sticking up for her sister (and Scott's baby mama) Kourtney Kardashian. However, others called her out for being a hypocrite and pointed out that 38-year-old Kourtney is dating 24-year-old model Younes Bendjima. Another chimed in that Kendall's 61-year-old mom Kris Jenner is dating 36-year-old Corey Gamble. "Isn't your mama with a guy almost 30 years younger than her?" the critic asked.
Now, on the topic of people dating others who are much older… or younger… Comedian Dane Cook took to Instagram over the weekend to gush about his girlfriend Kelsi Taylor, who is 26 years younger than him. The 45-year-old comedian shared a photo of himself and the 19-year-old singer and captioned it, "Be a warrior, not a worrier. The next few months are work hard/ play hard ones. I'm grateful to my friends and fans who continue to support my artistic endeavors. I can't get to where I'm going without this foundation of support… My gf @itskelsitaylor who quite simply is a gift. #bestlaughs." Dane also shared a selfie of the two of them that he captioned, "#relationshipgoals." Kelsi is an aspiring musician from California.
Chrissy Teigen and John Legend's daughter Luna has a big personality–just like the outspoken model. But she hopes the couple's second child will take after dad. "I hope baby two is like John a lot," Teigen tells Entertainment Tonight. "Baby Luna's more like me… and I realized I can be difficult." Legend goes on to say that he isn't at all troubled by the idea of having another family member like Teigen in the house. "I'm very much in love with my wife and my daughter so if the next baby has any of their characteristics I'll be very happy," he gushes.