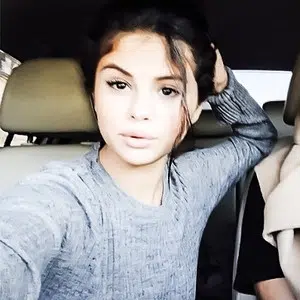 Justin Bieber and Selena Gomez were spotted hanging by the pool yesterday at the Montage hotel in Laguna Beach. Witnesses say they were relaxing under an umbrella together having a serious conversation.
It's rumoured Selena will be in NYC tomorrow for Coach's New York Fashion Week show, which means they might not be physically together on Valentines Day (which is Wednesday, but the way), but they are still going strong as a couple!
Ed Sheeran has a tattoo that says "Galway Grill" instead of "Galway Girl" but he meant to do it! Ed was filming a video in Galway with a friend and asked her to handwrite "Galway Grill" on his arm to serve as a template for his tattoo.
Ed's manager thought it would be really funny if she misspelled "Girl" and put "Grill" instead. He said cocktails played a big part in that decision.
Camila Cabello is dating a 30 year-old life coach named Matthew Hussey. They were spotted kissing on a Mexico beach on Friday. Apparently, she was following him as a fan of his work before they ever started dating. They got to know each other and now are very much together.
If it wasn't already clear that Kim Cattrall is not a fan of her Sex and The City co-star, Sarah Jessica Parker, then it is now because Kim seriously unloaded on SJP on Instagram.
It all started when Kim got blamed for being the one keeping the Sex and The City 3 movie from being made. Then Kim's brother was found dead, and Sarah tried to reach out to her.
On Saturday, Kim posted a message telling Sarah, "I don't need your love and support." But the caption was even worse. She said, "Your continuous reaching out is a painful reminder of how cruel you really were then and now.
"Let me make this VERY clear. (If I haven't already) You are not my family. You are not my friend. So I'm writing to tell you one last time to stop exploiting our tragedy in order to restore your 'nice girl' persona."
She also posted the link to a "New York Post" article that claims Sarah formed kind of a "Mean Girls" clique with the other girls on the set, and left Kim out.
It's worthwhile to note that when Cynthia Nixon offered her condolences, Kim responded, "Hearing your voice meant so much to me. Thank you for reaching out."
Britney Spears is doing really great right now and she wants to keep it that way. For that reason, the cast and crew on her upcoming tour can expect there will be lots of rules. In addition to the confidentiality clauses, backup dancers will be banned from consuming alcohol and drugs, and will even be subjected to random testing. Alcohol will also be removed from each venue ahead of Britney's arrival. They clearly will be doing everything they can to make sure Britney stays on the rails.
Gigi Hadid has called out critics who said she looked "too skinny" while walking the runway at New York Fashion Week last week. She says she is healthier than she used to be and that yes, her body is different at 22 than it was at 17. She said she actually eats the same as she always has, but is no longer dealing with Hashimoto's disease which is a condition where your immune system attacks your thyroid (and makes you retain water).
Coming up with Josie and the City, I'll give you a reason to hate Jennifer Aniston… details at 8:40.
Celebrities like expensive things. And hey, they can afford them, right? But there just seems to be something morally wrong with buying a sofa that costs more than what most of us paid for our homes.
"Architectural Digest" recently visited Jennifer Aniston's house, and one of the pictures shows a Jean Royère Polar Bear sofa. Only about 150 of these were made in 1947, so they're pretty rare.
There's no word how much Jennifer paid for hers, but two of them were sold at auction in 2016. One went for $358,000, and the other sold for $754,000. For a couch! Ellen DeGeneres and Kanye West apparently have them too.
John Stamos and his new wife Caitlin McHugh spent their honeymoon at Disney World over the weekend. John captioned a photo of himself and Caitlin writing, "#OneWeek (and they said it wouldn't last) #HappiestManOnEarth #HappiestPlaceOnEarth @WaltDisneyWorld." The happy couple (who married earlier this month) are expecting their first child together later this year.
Last week it was reported that The Spice Girls were planning a reunion tour, WITH Victoria Beckham. They were supposed to hit up the U.K., the U.S., and possibly more.
But over the weekend, Victoria insisted that's not happening. Posh said, "I'm not going on tour. The girls aren't going on tour."
She admitted that the girls did recently reunite to discuss future plans. She said, "There's something so strong in the message of what the Spice Girls stood for. What is that in the future? What does that look like?
"We were just bouncing ideas around. Brainstorming."
She didn't really elaborate, so it's unclear what the options are. It's possible that they could be getting together for a one-off show . . . or to do a couple of gigs. Or maybe it has nothing to do with music.